My Paranormal Encounter With An Iconic Dog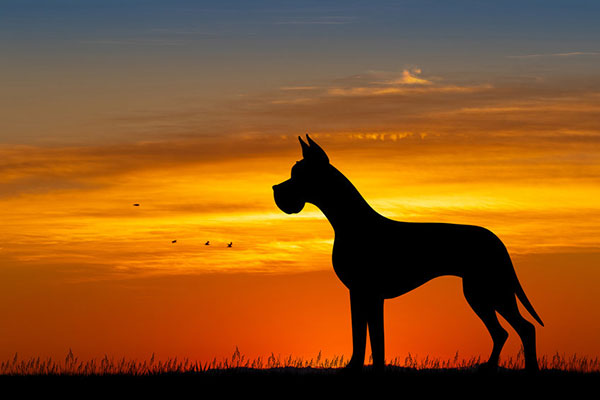 Do our dearly departed pets also cross over to the other side, and do they still communicate with us from the afterlife? As a psychic medium I have indeed had contact with the spirit energies of animals in readings, and more recently an especially profound encounter during a paranormal investigation.
The investigation site was a privately owned property that is rich with history. It is not accessible to the public, as it is used by a corporation. The paranormal investigation team that I am a member of explored every room in the historic home, as well as other areas of interest located on the land around it. We would rotate in split teams to various area in order to investigate all the possible locations on the property.
Having already been in the home on several occasions, the group I was with decided to investigate the sitting room adjacent to the kitchen. Upon entering we got some response with little consistency. Other investigators had previously reported some activity in the same room, so we decided to see if we might be able to add to those experiences.
I generally don't carry any equipment for these expeditions, except a pen, notepad, and a flashlight. While the other members of the group were doing an electronic voice phenomenon (EVP) recording session, I felt drawn to an area to the left, closest to the door through which we entered. At first it seemed odd, as I was being drawn to two porcelain figures of dogs: one of an adult Great Dane, and a smaller figurine of a puppy.
I picked up the puppy statuette and intuitively asked if I could 'take it home with me'. Almost immediately one of the investigators got a response on one of our devices. She then asked if the responder was male or female, and she got a response. I handed her the puppy and she continued.
Sitting on the floor next to the other porcelain dog, I began to feel a very cold wave of air around me. There were no vents or drafts, as all outside doors were closed. I asked the others to verify the temperature change, which they did.
If there is a heaven, it's certain our animals are to be there. Their lives become so interwoven with our own, it would take more than an archangel to detangle them ~ Pam Brown
Soon, I could feel the energy presence of a very large dog. We began to communicate with this energy, and I asked if he was happy here. We got a positive response. I also perceived a sense of pride and ownership of not only the home, but also the land. Unfortunately, we didn't get any further responses and the entire encounter lasted only a few minutes.
I have requested to never have any prior information about any investigation site we visit, in order to not interfere with my psychic perceptions while we are there. Background information and previous reports from other paranormal investigators is only shared with me after the investigation has been completed.
I was therefore only later told that both the founder and co-founder of our paranormal investigation group had been exploring the property in the past, and they had indeed come across the grave-site of dog named 'Brutus.'  He had obviously been well-loved and most likely the guardian of the property.
Another thing I was not aware of is that the people who owned the property in the 1930s, also owned a company that made trailers, and it still exists to this day. So, next time you're in Savannah, Georgia and see a red-and-white logo of a Great Dane on the back of a trailer, then say hello to Brutus!

About The Author: Randy

Randy is a Clairvoyant, Empath and Remote Viewer, from Upper Louisiana who discovered and embraced his gifts after a life altering event that took away two of the most important people in his life. This hardworking, detailed and devoted Virgo has worked professionally as a psychic since 2000, and has skillfully applied his talents online, in person, on the radio and at renaissance fairs, psychic fairs, and expos. Randy can see images, symbols and remotely view any situation, clearly connecting his clients with the information he receives. His talents are so accurate and amazing, he's assisted law enforcement in North Alabama and Seattle, and has helped clients, family, and friends to find lost children, relatives and lost objects. Not only a reader, Randy is also a giver, raising money for charities, and helping others to expand their own gifts through teaching and mentoring. If you'd like to find solutions and a clear path, this sports medicine practitioner, athlete, coach, mentor, musician, and highly attuned reader has the all-psychic-pass you need to succeed! You can find Randy at PsychicAccess.com.