Grandma Two Cookies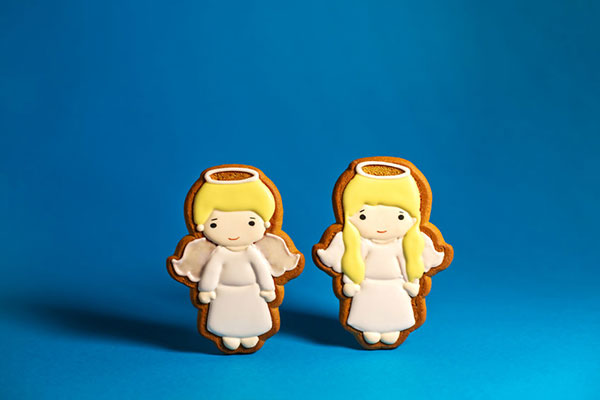 I never had the intention to further develop my psychic abilities.  Specifically, I did not want to be a medium.  But I've been scoffed at by my mentor and told to just 'suck it up,' as it really doesn't matter what I want… if they want me to be medium, then I will simply have to relay the messages I receive. My guides also instructed me to properly listen to what spirit has to say, and to trust their requests. I used to get the messages loud and clear, but I was still sometimes reluctant to deliver it.
I have several friends on social media who I went to school with. There is a woman on my friends list who I remember from junior high was as a sweet, kind and quiet teenager.  She recently attended her daughter's wedding in Hawaii. I loved the wedding venue so much that I even downloaded one of the pictures to use as a desktop wallpaper.
A couple of days later, I received an unusual request from spirit to reach out and ask her about her 'grandmother's cookie recipe'? So, I did exactly that by sending her a private message. But she had no idea what I was talking about and assumed I was actually wanting a recipe. She even referred me to a couple of websites where I might find what I was looking for.
A week later the 'push' was there again, so once again I pulled up the private messaging window. And here's how the conversation went:
"I started 'talking to dead people' about 6 years ago, and I don't like it anymore now than I did back when it started, but my mentor says it doesn't matter what I want, I have to deliver the messages. So, this is why I am reaching out to you today. I know that there is no part of your life that is any of my business and that you're a very private person. I respect that. That being said…just yes or no… is there some drama, trauma or major illness going on in your family right now?
Oh, you are kind to ask! Nothing really major, but I do have days I feel I'm living a soap opera! Lol.
Ancient Egyptians believed that upon death they would be asked two questions and their answers would determine whether they could continue their journey in the afterlife. The first question was,'Did you bring joy?' The second was, 'Did you find joy? ~ Leo Buscaglia
I am sorry to hear that, but I have some good news! But first I have one more question: is there a special cookie recipe that you got from a grandmother?
No, I can't think of one. I have several from my mom, who is also a grandmother.
Okay, well there's something about 'cookies' that may be connected to your mother's side of the family. But this grandmother tells me she has passed. So, it might be a recipe that your mother got from her mother?
I really don't know, but I can ask my mom about it.
Anyway, your grandmother wants you to know that she's close, keeping an eye on you, your mom, and the rest of the family, and that everything will be fine with the complicated relocation that you are planning, as well as your older daughter's health concern.
Wow. I just realized now…my mom was telling me recently how she remembers eating pears and ginger snaps with her mom and what a happy memory it was. Also, my grandmother always had cookies for us to eat at her house. My youngest daughter called her 'Grandma Two Cookies,' because whenever she asked if my girls could have cookies I would say: "Just one." And then she would always reply: "Two won't hurt."

About The Author: Indigo

Indigo lives in the Pacific Northwest, her considerable gifts going back many generations, traveling along the matriarchal line. She has always listened to the inner voice of her Guides, and began what would become her higher life's calling as early as tweenhood. Though her inner talents were always powerful, Indigo remains highly active in the outer world, particularly her community, nurturing and feeding her treasure trove of knowledge through study and practice. For 10 years, Indigo ran her own business, servicing 10 or more clients at a time. She's worked on the very best psychic phone lines and websites, honing her craft, and relaying important messages through the snapshot images she receives. She employs many tools, such as Tarot, Astrology, Numerology, to name but a few, and has mastered disciplines that include Shiatsu Reflexology and Touch Therapy. Indigo is a practicing Wiccan for 30 plus years. She's helped find runaway children, assisted clients with PTSD, sexual abuse, bipolar disorder, and abandonment issues. Her personal breakthrough with trauma linked to past-life incarnations eliminated negative blockages holding her back. Her own inner work has afforded clients the same great opportunity to release their own blockages and to find the peace and happiness they crave.
You can get a reading from Indigo at PsychicAccess.com


This site uses Akismet to reduce spam. Learn how your comment data is processed.