Numerology Forecast For The 2022 Universal 6 Year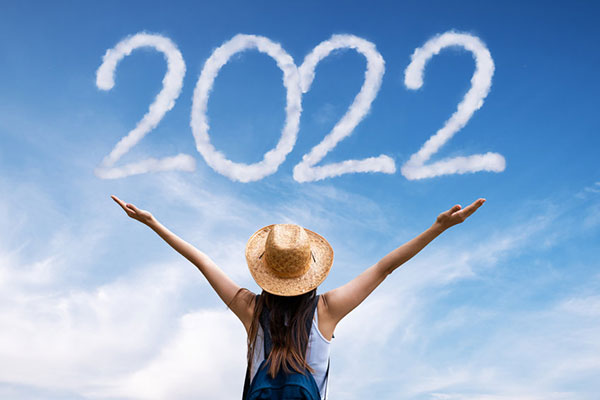 Looking ahead at the metaphysical energy influences we can expect in 2022 one sees a definite positive shift compared to 2021. Although aspects of the pandemic will linger on, spirit says this will be a much brighter year. This hope is further confirmed by both Numerology and Astrology.
The year 2021 was a 5 Universal Year in Numerology, which represents energies of instability, volatility, change,  and the unexpected. For this reason, it was a dramatic, somewhat erratic year that seemed to fly by!
The new year 2022 is a 6 Universal Year in Numerology, which represents a very different energy.  The energy of a 6 Year is centering, calming and grounding after the unstable, volatile energy of the preceding 5 Year.
Pertinent features of a 6 Year pertains is an increased focus on stability, security, domestic matters, and the sanctuary of home. A 6 Year is also about accepting personal responsibility and a renewed focus on family, social life and relationships.
In 2021 many of us reexamined our jobs, careers, businesses and personal relationships.  This was one of the blessings that came from of all the chaos. In 2022, I see energy available to us for making lifestyle choices that will be more fulfilling and in alignment with what we are truly passionate about. But it will be up to us to pursue the opportunities presented to us by the changes presented by the past year.
The number 6 is also The Lovers Card in Tarot which not only speaks of love and romance, but also choices, especially in what calls to our hearts.
Of course, the calculation of the 6 Year is the result of adding up the numbers 2+0+2+2. The repeating numbers 2 represent the powerful energies of intuition, love, marriage, partnership, patience, choices, commitments and contracts of all types, especially when you pair it with the 6 Universal Year.
Yesterday is gone. Tomorrow has not yet come. We have only today. Let us begin. ~ Mother Teresa
We must take specific care to focus our attention on our intuition and inner guidance this year. With all the 2s our psychic awareness will greatly enhanced in 2022.
On the flip side, the abundance of 2 can also leave us highly sensitized and prone to psychic overload.  Spiritual self-care and energy balancing should therefore be a priority this year for those of us with heightened psychic awareness.
The number 6 belongs to the 'creative family' in Numerology, so we have this to look forward to as a boost for 2022. This vibration holds the potential for birthing new things as the world rebuilds.  It's an excellent energy frequency for business and new ventures.
One caution is to remember to not take on too much responsibility for others. There is a time to know when you have done your part and let others do theirs. Personal responsibility, self-care and boundaries are all very important for our well-being this year. Do not allow other to drain your creative energy and lower your vibration, as you will need it to support your own ventures, lifestyle changes and new projects.
The number 22 is a master number in Numerology, known as the 'master builder.' The energy of 22 will inspire the rebuilding and reorganization of our lives to greater heights this year. We will also more easily manifest our wishes and desires this year.
And now we welcome the new year. Full of things that have never been ~ Rainer Maria Rilke
The root number of 22 is 4, so there may be some hesitation this year about taking risks, as well as an emphasis on structure and securing the foundation of whatever we are creating. Balance and temperance will also be important to keep in mind in all our affairs.
The energy for 2022 will also be about family and community – our own family, but also extending our service and compassion to our community and global society. The number 6 is also referred to as 'the parent.' It is all about home life and being part of the community.
We are likely to find that new home we've been looking for that has now become more affordable, or we might have the urge to remodel our current home.  It is also a good year for pregnancies and creating a nurturing environment for the people in our life, including ourselves. Our inner child will be seeking encouragement and care this year.

About The Author: Maggie

Maggie helps people turn the radio dial up on their vibrations to hear the messages you're meant to receive. It all began as a teen with a dog-walking job in the neighborhood that—if you'll excuse the pun—unleashed Maggie's innate Gifts as a powerful Intuitive Reader. What followed was a rewarding career as a Tarot Reader, Numerologist, Reiki Master, and Angel Card Reader—to name just a few of her remarkable skills. Maggie's accomplishments include on-air co-host for Blogtalk Radio, several published articles on Tarot and Numerology, she's an endorsed reader for The Tarot Guild, and a much sought after Intuitive Reader hired for both corporate and private events. In addition, she has a YouTube channel where you can view and subscribe to her weekly vibes. If you'd like to personally tune-in to Maggie's unique and highly accurate vibe, for yourself, you can find her at PsychicAccess.com.