Self-Fulfilling Prophecy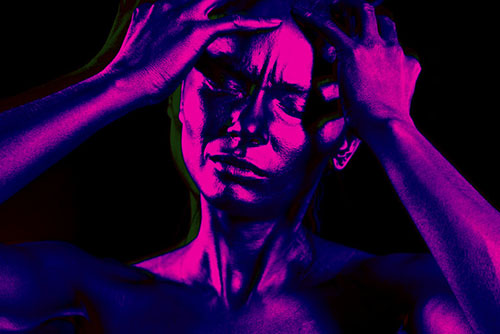 In 2015, my friend and colleague on Psychic Access, Salome, peacefully departed from this life. This blog is a tribute to her legacy and the important lessons I learned from her.
Before I met Salome, she had already made a name for herself in the pagan community. She was talked about in almost reverent whispers.
"Have you met her?"
"Isn't she the psychic who helped the police find that missing girl?"
"You should take a class from her, she really knows her stuff."
When I finally met Salome, I remember thinking that there was an almost regal bearing to the way she carried herself. Her posture always seemed completely correct, her make-up flawless, not a hair out of place. She seemed to know who she was and was confident in everything about her person, her talent, and her work.
As we got to know each other, she soon recognized something in me as a diviner that she felt needed to be nurtured and encouraged. So, she decided to mentor me. She watched how I handled my Tarot cards and how I applied them to the questions being asked. Her wise guidance added more depth to my readings and boosted my confidence. She also helped me get my first professional psychic job online.
Over the years she became my sister, my confidant, my counselor, one of my very best friends.  Every time we met, I learned more about our craft, about being a better psychic reader, and how to practice Wicca, and the consequences and responsibilities that go with it.
She taught me how to connect with my inner guidance and listen to my guides. She taught me how to read auras and what the changes in colors meant. She taught me about energy work, the chakras and how to cleanse and balance my energy flow.
When you say something or sing something enough times, it becomes a self-fulfilling prophecy. It's almost like casting spells ~ Feist
In early 1999, I increasingly began receiving messages from the afterlife. It totally freaked me out and called Salome right away! I never signed up for this? She explained that I was entering the next phase of my psychic development, namely mediumship.
But I didn't want to be a medium, I told her. She merely laughed and said it didn't matter much what I wanted – this is what spirit wants, and I'm the messenger, so I simply had to deal with it. I trusted her, so I decided to just go with it and see where it went.
Since spirit mostly came to me in the shower, she also helped me with psychic shielding to set up a 'safety zone,' so that spirit would no longer approach me while I am in the shower.
My health and wellness is not always the best. Ironically, a few weeks before she passed, Salome scolded me for being negligent and begged me to start taking better care of myself, because she couldn't stand it if she had to lose me too. So, imagine my shock when I received notice of her passing.
The day after she passed, I was in the shower…and guess who stopped by to say hello!  Yup, Salome . I said, "Really? In the shower?" She just laughed mischievously as she always used to, and then she zipped off.
Words have energy and power with the ability to help, to heal, to hinder, to hurt, to harm, to humiliate, and to humble ~ Yehuda Berg
Although we also had our disagreements from time to time, she was a very important part of my life for 20 years. She was a guru and mentor. These days, I still talk to her, and she still answers, but I also deeply miss her.
I have often reflected on Salome's passing and its possible metaphysical implication. She used to experience these unbearable, raging headaches, and would often say, "My dear friend, my head is killing me again."
In December 2010 she was rushed to the hospital with an extreme headache. Initially they thought she might have meningitis, but it turned out to be an aneurysm – a very small one that was treatable. About two years later she had another episode, again treatable. In February 2015, she had a third aneurysm, this time at her brain stem. This time it proved fatal.
I do believe that some health conditions and illnesses may be the physical manifestation of a long-held metaphysical belief or thought. Self-help author Louise Hay cautioned that our subconscious mind doesn't have a sense of humor. It simply accepts whatever our conscience mind thinks.
You have the power to heal your life, and you need to know that. We think so often that we are helpless, but we're not. We always have the power of our minds…Claim and consciously use your power ~ Louise L. Hay
For this reason, we must always be careful of what we say, what we believe, what we focus on, and what we wish for. "Because words have power, I pay attention to them and carefully select them. I know my thoughts and my words shape my life, like a potter shapes clay."
Salome's 'head' literally 'killed' her, and I can't help but wonder, if she had changed her choice of words, might it have changed her fate?
My ex-husband suffered severe back pain and would often also rant about his back 'killing him.' He underwent surgery for it several times, but within months he would be in pain all over again. During his last surgery, he passed away on the operating table. He was only 61 years old.
I can't help but wonder if the way he worded his malady was a self-fulfilling prophecy?

About The Author: Indigo

Indigo lives in the Pacific Northwest, her considerable gifts going back many generations, traveling along the matriarchal line. She has always listened to the inner voice of her Guides, and began what would become her higher life's calling as early as tweenhood. Though her inner talents were always powerful, Indigo remains highly active in the outer world, particularly her community, nurturing and feeding her treasure trove of knowledge through study and practice. For 10 years, Indigo ran her own business, servicing 10 or more clients at a time. She's worked on the very best psychic phone lines and websites, honing her craft, and relaying important messages through the snapshot images she receives. She employs many tools, such as Tarot, Astrology, Numerology, to name but a few, and has mastered disciplines that include Shiatsu Reflexology and Touch Therapy. Indigo is a practicing Wiccan for 30 plus years. She's helped find runaway children, assisted clients with PTSD, sexual abuse, bipolar disorder, and abandonment issues. Her personal breakthrough with trauma linked to past-life incarnations eliminated negative blockages holding her back. Her own inner work has afforded clients the same great opportunity to release their own blockages and to find the peace and happiness they crave.
You can get a reading from Indigo at PsychicAccess.com


This site uses Akismet to reduce spam. Learn how your comment data is processed.