Take Better Care Of Yourself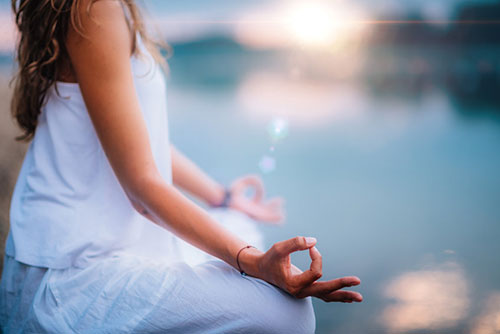 I believe that we are given the opportunity to learn many valuable spiritual lessons by having many life experiences that bring us closer to enlightenment. I also believe that if we don't learn a certain lesson, the Universe will simply provide another opportunity to learn that same lesson again, and this time it will be even more challenging and difficult.
A few years ago, I had been running at almost a break-neck pace. There was work; funeral arrangements twice; the birth of twins to one of my daughters; making sure the other daughter got to her radiation and chemotherapy cancer treatments; running my own household; helping my daughters with their children; and taking care of the two children who live with me.
I was worrying about everyone and everything, whether I had control or not over what was happening to them. The stress and lack of self-care took a toll, but I did what I always did: push through it as much as I could, getting as much done as I could, helping everyone around me as much as I could, and collapsing at the end of the day.
Eventually, I became severely ill with pneumonia. It got so bad my husband woke up one morning to find me passed out on the dining room floor. I have no idea how I got there or even why I would go there, I don't remember any of it!
For months I was back and forth between home, the doctor's office, and the hospital. I was not beating the illness and I was permanently fatigued, listless, depressed and kept losing my voice. But my solution was simply to drink more coffee, and push, push, push through it, keep going.
I became increasingly frustrated and impatient, more at myself than anyone else. I felt like a cat chasing its tail. I was not taking care of myself, and it got worse, because I pushed myself beyond my own ability to endure, unable to accomplish much, and failing all around. Then my doctor warned me in no uncertain terms that I am living my life with my thumb on the 'self-destruct button.' The time had come for me to make up my mind: live or die.
Rest and self-care are so important. When you take time to replenish your spirit, it allows you to serve others from the overflow. You cannot serve from an empty vessel ~ Eleanor Brown
The Universe will let you know when you need a break, and if you fail to take care of things, the Universe will insist, more and more. The moment I started questioning my ability to cope should have been my wake up call.  But I kept going. If we don't take the time for self-care, things will only get worse.
I've known many spiritually aware people and well-intended over-achievers over the years who should have known better, but who have slipped, fallen, and suffered compound fractures just because they chose to resist and push, instead of release and flow.
Take time out for yourself, especially if you're injured or sick. Nurture and be kind to yourself. Everything you're 'missing' by taking the time out can never be more important than your health and well-being. When you make decisions and take actions, factor in what is beneficial for you too. If you don't take good care of yourself, how are you going to properly take care of anyone else?
Take it from me, if the Universe is guiding you to slow down, pay attention. For if you don't, divine intervention will step forward to stop you in your tracks and protect you from your foolish human choices. You are a wise spiritual being in human form. Act more like it. Listen to your inner guidance. It could save your life.

About The Author: Indigo

Indigo lives in the Pacific Northwest, her considerable gifts going back many generations, traveling along the matriarchal line. She has always listened to the inner voice of her Guides, and began what would become her higher life's calling as early as tweenhood. Though her inner talents were always powerful, Indigo remains highly active in the outer world, particularly her community, nurturing and feeding her treasure trove of knowledge through study and practice. For 10 years, Indigo ran her own business, servicing 10 or more clients at a time. She's worked on the very best psychic phone lines and websites, honing her craft, and relaying important messages through the snapshot images she receives. She employs many tools, such as Tarot, Astrology, Numerology, to name but a few, and has mastered disciplines that include Shiatsu Reflexology and Touch Therapy. Indigo is a practicing Wiccan for 30 plus years. She's helped find runaway children, assisted clients with PTSD, sexual abuse, bipolar disorder, and abandonment issues. Her personal breakthrough with trauma linked to past-life incarnations eliminated negative blockages holding her back. Her own inner work has afforded clients the same great opportunity to release their own blockages and to find the peace and happiness they crave.
You can get a reading from Indigo at PsychicAccess.com