Looking Back To Move Forward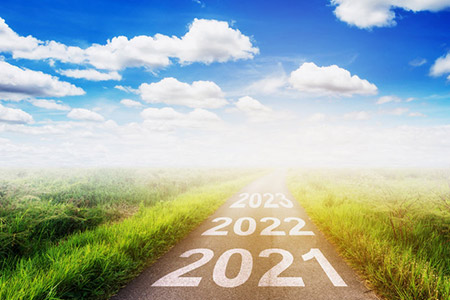 My favorite quote for this liminal time, at the end of the year and before the beginning of the new year is by self-help author Melody Beattie , who wrote, "The new year stands before us, like a chapter in a book, waiting to be written." It reminds me that we always have the power to write new chapters and weave new threads into our life tapestry. We truly are the masters of our own destiny.
As a Numerologist I've looked at the energy of the vibrations of 2021, a number 5 World Year. It's been quite the ride as we all know!  The energy of the 5 is fast moving, sometimes chaotic, adventurous, dramatic, risky. It is literally 'mind-blowing' in many ways as the number 5 is considered to be the 'mind' energy in Numerology.
We indeed had to think, and rethink things very deeply over this past year. There have been many starts, stops, pauses, and pattern interrupt,  false alarms, recoveries, and amazing breakthroughs.
This year we've had to come up not only with a Plan A and B, but also a C, D and even an E. And we had to rekindle our courage and faith. Many of us learned the true meaning of the Serenity Prayer – some for the first time in their life.
God to grant me the serenity to accept the things I cannot change, the courage to change the things I can, and the wisdom to know the difference.
As we look back on this year, there are many illuminating questions we may ask. Where did our own serenity come from? What things did we have the courage to change, and what things were not ours to change? Did we embrace the spiritual wisdom of release and acceptance? What spiritual insight and personal growth did we gain from this challenging year?
You can't connect the dots looking forward; you can only connect them looking backwards ~ Steve Jobs
Why look back, you may ask? Well, unless we look back , before we walk through the door of the New Year, the life lessons and spiritual wisdoms this past year brought us would have been mostly in vain.  How can we truly create the next chapter of our life with more love, wisdom, happiness, joy, fulfillment and successful achievement, if we skip this crucial step towards personal growth and spiritual expansion? Will we not simply find ourselves doing the same old things, while remaining stuck and missing the many wonderful opportunities life may bring us in the year that lies ahead.
When I do this kind of life review, I like to break  it down into distinct categories of reflection:  spiritual, health, finances, business, relationships, as well as self-care and free time to do whatever my heart desires.
In the spiritual category, the past two years has been huge for me, because it offered many opportunities for meditation, prayer, Reiki, energy therapy and other practices that boosted my personal spiritual growth and metaphysical knowledge. It also allowed me to show up for myself and others in many good ways: centered, clear, calm and with healthy boundaries.
In the health department, I had some minor health issues. But rather than postponing dealing with it another day, or next year, the '5 mind energy' of 2021 motivated me to make solid changes with regards my lifestyle choice, including nutrition, exercise, stress-managements and better sleep.
I have been developing some healthy new habits and enjoyable lifestyle changes. I never knew how many mushroom powders and extracts existed, for example, and the many ways one can make smoothies and extract juices, not to mention the numerous ways cauliflower can be prepared. Most of all I discovered what's really on the labels of some of the stuff we consume every day. I tend to loiter a lot in the produce section these days!
We keep moving forward, opening new doors, and doing new things because we're curious and curiosity keeps leading us down new paths ~ Walt Disney
As far as finances go, it has been a positive year for me. Most importantly 2021 has made me more aware of how I value my resources and time, and I discovered certain areas where I have been too careless and even wasteful. The year 2021 has made me much more aware of my relationship to money and material resources, and how I wish to share it and be a good steward. Money like everything else is energy.
I managed to eliminate, for example, a good chunk of unnecessary expenses each month once I started tracking this more purposefully. It's amazing how many ongoing subscriptions and underutilized services one can eliminate once you truly make an effort.  These days many of the services we pay and signup for all 'auto-renew' themselves and can often slip though unnoticed.
Relationships and social life were a major focus for me this year.  Making time to connect with our loved ones and friends is important for our health and well-being. Without love, connection and support we cannot thrive.
My self-care improved this year with a new awareness as to what is my personal responsibly and what responsibility rest upon others.  Being able to detach from what is not your duty or responsibility in a loving way brings great freedom by releasing shame, sadness, resistance, or any anger around a situation. This is a continuing journey for me.
There are some things which have not had enough of my attention. Clutter in my home is one of them! I will definitely be taking this challenge on with renewed enthusiasm in the new year. Denis Linn says, "clutter-clearing is modern day alchemy."
By the way, some of it is not mine to clear out, but approaching it with patience and humor will be my strategy. I mean, how many coffeemakers and the like does one really need? Everyone has their non-negotiables. Let me see what new insights and courage the new year will bring.

About The Author: Maggie

Maggie helps people turn the radio dial up on their vibrations to hear the messages you're meant to receive. It all began as a teen with a dog-walking job in the neighborhood that—if you'll excuse the pun—unleashed Maggie's innate Gifts as a powerful Intuitive Reader. What followed was a rewarding career as a Tarot Reader, Numerologist, Reiki Master, and Angel Card Reader—to name just a few of her remarkable skills. Maggie's accomplishments include on-air co-host for Blogtalk Radio, several published articles on Tarot and Numerology, she's an endorsed reader for The Tarot Guild, and a much sought after Intuitive Reader hired for both corporate and private events. In addition, she has a YouTube channel where you can view and subscribe to her weekly vibes. If you'd like to personally tune-in to Maggie's unique and highly accurate vibe, for yourself, you can find her at PsychicAccess.com.