How I Do Channeled Tarot Readings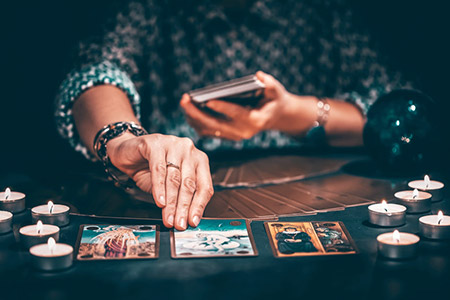 I use Tarot cards in my readings, for which I have developed a spread I frequently use because it is so effective. It gives me all the information I need to answer a starting question and, as time allows, also a few follow up questions, or even an entirely new set of questions.
It's always easier to start with a specific question, especially if time is limited. I prefer these 'kickstart' questions to be one that can be simply be answered with a 'yes' or 'no.' Starting a reading with a specific question maximizes the information and makes a reading more efficient and meaningful.
But, if there is no specific question to provide me with a context for interpretation, I can only read the cards as they lay and channel whatever I receive from my guides. My guides are invaluable to me with the information they channel through me. It is then up to the client contextualize the information for themselves and interpret how it applies to their life.
While I'm laying the cards out, I look out for specific cards in combinations and proximity to other cards that have specific meanings to me personally. Several court cards, for example, usually mean there are way too many people involved in your business! And if the court cards are reversed, it can mean there are certain people who cannot be trusted. Of course, it all depends on the placement of the cards.
Doing a quick phone reading it can be a lot of information to process in just a few minutes, but years of experience helps me to get it done. Once again, starting with a clear question helps to move things along more quickly. Sometimes a card will pop up in the spread that at first glance doesn't seem to fit at all, until the follow up or additional question comes. Whatever comes up in Tarot spread, none of it is ever random or coincidental.
Tarot readings are an attempt to understand ourselves better and discover how we might live better in the future ~ Theresa Cheung
Guided by the cards, the information I channel comes to me in different ways. For example, I 'see' clairvoyant images to explain what or why something is happening, or what should be done.  I clairaudient 'song' will repeat in my mind, or I will have a claircognitive recall of a plot narrative from one of the thousands of books I've read over my lifetime, from Stephen King to The Bible. No matter what I perceive, it's always somehow relevant.
My readings usually offer information about how to change course or serve as confirmation that the client is headed in the right direction. I'm not a 'feel good' psychic and I don't 'sugarcoat' anything. Sometimes a caller might not like what I have to tell them, but if they don't like my answers, we can look at how to change, or even prevent the unwanted outcomes.

About The Author: Indigo

Indigo lives in the Pacific Northwest, her considerable gifts going back many generations, traveling along the matriarchal line. She has always listened to the inner voice of her Guides, and began what would become her higher life's calling as early as tweenhood. Though her inner talents were always powerful, Indigo remains highly active in the outer world, particularly her community, nurturing and feeding her treasure trove of knowledge through study and practice. For 10 years, Indigo ran her own business, servicing 10 or more clients at a time. She's worked on the very best psychic phone lines and websites, honing her craft, and relaying important messages through the snapshot images she receives. She employs many tools, such as Tarot, Astrology, Numerology, to name but a few, and has mastered disciplines that include Shiatsu Reflexology and Touch Therapy. Indigo is a practicing Wiccan for 30 plus years. She's helped find runaway children, assisted clients with PTSD, sexual abuse, bipolar disorder, and abandonment issues. Her personal breakthrough with trauma linked to past-life incarnations eliminated negative blockages holding her back. Her own inner work has afforded clients the same great opportunity to release their own blockages and to find the peace and happiness they crave.
You can get a reading from Indigo at PsychicAccess.com