Always Be True To Yourself!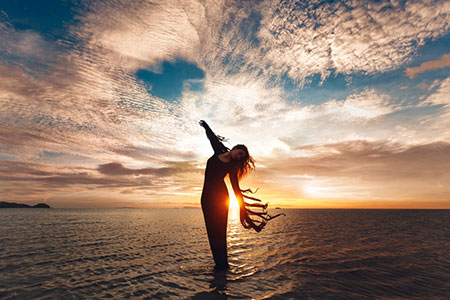 I have noticed over the past year some interesting changes in our social behavior. It seems people have begun to project not only their energy differently, but also their presence at home and in public. Our socialization and interaction habits appear to have shifted significantly. Many people are now having to 'relearn' how to interact with each other in social settings, after many months of lockdowns and social distancing.
Now, I don't see this as a bad thing at all! I am witnessing people being more aware of their personal space, and less worried about of the perception of others around them. Social interaction seems more authentic and less dressed up. We have become less concerned about how we appear to others in public. Finally, people are letting their hair down and the customary 'keeping up appearances' does not appear so important these days.
This suits my approach to life perfectly, as I have always been a proponent of 'being my own beacon.' First, and foremost it means be true to yourself, instead of trying to be what you believe others will approve of. However, this does not give us permission to be selfish and rude. We must always treat other as we expect to be treated ourselves. If you like a certain type of music, it doesn't mean others also enjoy it. Wear a headset! If you don't feel like interacting with a certain group of people, kindly and gracefully decline that social invitation.
Too often I see people doing things because someone else expects them to, and you can literally see the miserable, uninterested, bored look on their faces. Why put yourself through all that? Why comply with peer pressure, when you can walk your own path of happiness?
I have an acquaintance who has been miserable in their job and due to recent worldly events they have given the opportunity to break free from that toxic workplace and start doing something they have always enjoyed doing. But they were to fearful to take the leap. A wasted opportunity!
About all you can do in life is be who you are. Some people will love you for you. Most will love you for what you can do for them, and some won't like you at all ~ Rita Mae Brown
I know a middle-aged couple who have been happily married since college, but due to a lack of communication they missed out on years of shared joy and fulfillment. He has never been very enthusiastic to go bike riding with her, because she always wanted to ride on paved paths or streets.
Finally, I convinced him to tell her what he really would prefer to do. So, he did! She was shocked to learn that he would prefer to purchase some trail bikes and go on adventurous trails in the woods and mountains.
Well, to his surprise she instantly agreed to give it a try and now you can't keep the two of them off the most treacherous park trails! She thought she was making it easier for him by sticking to the main roads, because he never seemed to enjoy it very much. If only they had explored the possibilities sooner. This is why we must always be true to yourself. The results may just surprise you.
My motto is to live every day as if it is your last. And why do it the way others think you should? Be yourself and you'll find you have a new 'pep in your step.' You will also find there will be less stress in your life. Throw the curtains open and let your light shine.
But always remember to be kind and considerate to others. Because without compassion and consideration there will never be true freedom for any of us.

About The Author: Randy

Randy is a powerful Clairvoyant, Empath and Remote Viewer, from Upper Louisiana, discovering and embracing his gifts after a life altering event that took away 2 of the most important people in his life. This hardworking, detailed and devoted Virgo has worked professionally as a Psychic, since 2000, and has skillfully applied his talents on radio, at local renaissance fairs, at local and regional psychic fairs, expos, online and in one-on-one individual client readings. Randy can see images, symbols and remotely view any situation, clearly connecting his clients with the information he receives. His talents are so accurate and amazing, he's assisted law enforcement in North Alabama and Seattle, and has helped clients, family, and friends to find lost children, relatives and lost objects. Not only a reader, Randy is also a giver, raising money for charities, and helping others to expand their own gifts through teaching and mentoring. If you'd like to find solutions and a clear path, this sports medicine practitioner, athlete, coach, mentor, musician, and highly attuned reader has the all-psychic-pass you need to succeed! You can find Randy at PsychicAccess.com.