Practical Guidelines For Aromatherapy – Part 3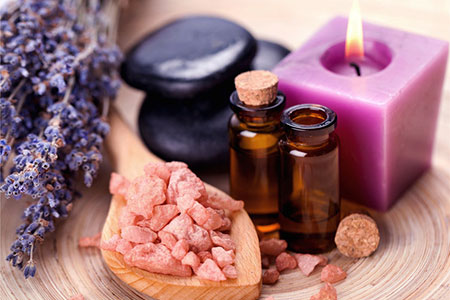 Aromatherapy and essential oils are often used in spiritual and metaphysical practices, but it can also enhance our health and well-being in many ways, including relaxation, relieving tension, calming the mind improving concentration, and increasing mental clarity.
Below are five practical ways to use your favorite essential oils in your home, as well as personal health and beauty.
CANDLES
Any essential oil can be used in a candle to infuse your home, or any space where energy needs to be shifted, cleansed, or recalibrated.
Candle-making is an art and a fun craft for the entire family. You can use molds, tall fireproof glasses, dixie cups.  Just be sure to add the oil while melting the wax, not after the candle has been poured, I learned this the hard way!
SOAPS AND LOTIONS
Soap making is also an art and especially useful in gift-making around the holidays. Making a personalized gift of soap, lotion or candles is inexpensive and always treasured instead of commercial retail products.  Soaps can be either in liquid form, or a bar form (or any shape you can think of).
There are a lot of easy recipes available online. I also like the inexpensive starter kits available at leading online stores and in craft shops, especially those who include several molds. Always use safety glasses and rubber gloves when making soap! And remember to write everything down, the exact amounts and the results. Your notes will be what you're working from in the next batch you make and it may just save you a lot of hassle.
BODY POWDER
Rumor has it that using talc powder may be a contributory factor in ovarian and other forms of cancer. According to the American Cancer Society it is not yet clear if consumer products containing talcum powder increase cancer risk, but until more information is available people concerned about using talcum powder may want to avoid or at least limit their use of consumer products that contain it.
Which leaves us cornstarch. When I started using cornstarch only powder, the only one I could find on the market was created for babies, and while smelling like a baby's 'fresh derriere' is okay for the office, it often clashed with my perfume.
Now I use this essential oil recipe to make my own body powder.
1 cup cornstarch
1/4 cup baking soda
25 drops of any essential oil.
Put the essential oil on top of the dry materials in a blender and run the blender for a minute or two.
BATH SALTS
There's nothing better than a hot bath after a stressful day. I love giving bath salts as a gift to my friends; they're always so appreciative. When I make bath salts, I prepare a large batch of the salt base, and then just add the various essential oils as I need to make a gift or just a scoop for my personal use.
1 part baking soda
1 part sea salt
2 parts Epsom salt
When adding an oil, I use 50 to 80 drops of oil per one cup of salts.
If you're making this for a child, cut the oil in half.
A bath salt good recipe for aching muscles is 1 cup salt mix with 50 to 80 drops total combination of lavender, clary sage, peppermint, and chamomile.
TEAS AND TREATS
Most essential oils are not fit for consumption and should not be ingested, but as you work with oils more regularly you'll discover how you can also incorporate some of them in your diet.
Having trouble sleeping? Occasionally, I put a half a teaspoon of vanilla extract in a mug with milk and add a little stevia to sweeten it. Works great with children too!
You can also steep herbs in water to use as a tea or in your bath, getting the full benefit of the natural oils.
One of my favorite applications is in sun tea. Sun tea is brewed naturally in a warm place. You don't have to boil water like other iced tea methods. In my recipe, I just add water to 6 green tea bags in a glass jar, with 1 drop Bergamot (only one drop!). Let it steep in the summer sun or on a kitchen counter and the tea is ready to drink within a few hours.
One of the major tea marketers here in the US has a bergamot flavored green tea. My version is less costly. Bergamot helps us stay in balance. It can also be diffused or used in bath salts.
NOTE: none of the information in this blog post should be used as a substitute for medical treatment. Only use essential oils in conjunction with professional medical advice.

About The Author: Indigo

Indigo lives in the Pacific Northwest, her considerable gifts going back many generations, traveling along the matriarchal line. She has always listened to the inner voice of her Guides, and began what would become her higher life's calling as early as tweenhood. Though her inner talents were always powerful, Indigo remains highly active in the outer world, particularly her community, nurturing and feeding her treasure trove of knowledge through study and practice. For 10 years, Indigo ran her own business, servicing 10 or more clients at a time. She's worked on the very best psychic phone lines and websites, honing her craft, and relaying important messages through the snapshot images she receives. She employs many tools, such as Tarot, Astrology, Numerology, to name but a few, and has mastered disciplines that include Shiatsu Reflexology and Touch Therapy. Indigo is a practicing Wiccan for 30 plus years. She's helped find runaway children, assisted clients with PTSD, sexual abuse, bipolar disorder, and abandonment issues. Her personal breakthrough with trauma linked to past-life incarnations eliminated negative blockages holding her back. Her own inner work has afforded clients the same great opportunity to release their own blockages and to find the peace and happiness they crave.
You can get a reading from Indigo at PsychicAccess.com