Practical Guidelines For Aromatherapy – Part 2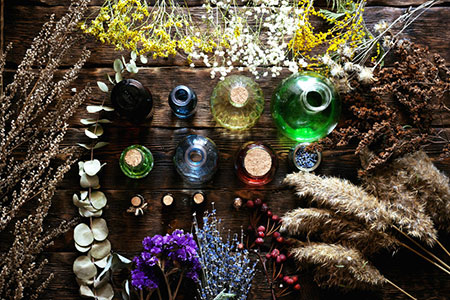 Aromatherapy and essential oils are often used in spiritual and metaphysical practices, but it can also enhance our health and well-being in many ways, including relaxation, relieving tension, calming the mind improving concentration, and increasing mental clarity.
Below are three of my favorite essential oils and the best ways to use them.
PEPPERMINT
I use peppermint oil regularly. It has a crisp, clean scent that is both energizing and soothing. It evaporates rapidly and has an intense aroma.  Peppermint is one of the essential oils commonly used for gastric issues and in muscle rubs. I used it for morning sickness and my mother put a few drops on a cotton ball pinned to her collar to help with nausea caused by chemotherapy.
It's expectorant and decongestant properties make it excellent with upper respiratory ailments, colds, chronic bronchitis, sinus headaches, and seasonal allergies. Diffuse it in an oil diffuser, put 10 drops in a bathtub (4 for children), or make an alcohol plaster.
If you choose to use a tea light diffuser, be sure to put water in with the oil, or the oil will burn, and smell unpleasant. When using an oil diffuser start with 4 or 5 drops, then adjust as desired.
You will need a dish towel, or another rag that will fit around your person's neck, rolled to fit, 2 or 3 inches wide. Pour 2 or 3 caps full of rubbing alcohol on a 2 to 3 inch square, put 3 or 4 drops of peppermint on the alcohol, place the square on the throat and pin to keep in place.  The alcohol will help the oil evaporate evenly through the night.
I believe that for every illness or ailment known to man, that God has a plant out here that will heal it. We just need to keep discovering the properties for natural healing ~ Vannoy Gentles Fite
It has anti-inflammatory and analgesic properties that make it a great muscle rub.  It's strong on skin and although it doesn't have to be, it should be diluted. Mix 1 part oil, with 2 parts carrier oil. Olive oil or mineral oil seem to work best but just about any oil will work.  You could also get special oils like vitamin E, lanolin or rose hip, but I pretty much stick with olive oil.
You can also make a bath with 1/2 cup Epsom salts, 1/4 cup baking soda, 12 drops peppermint oil, or 6 drops peppermint oil and 6 drops eucalyptus oil in a very warm bath and soak the aches away.
One drop of peppermint oil and 1 drop of tea tree oil and 1 tablespoon of salt in 8 oz warm water is an effective mouthwash. It will help eliminate bacteria and make your breath clean and fresh.
CHAMOMILE
Chamomile oil can be used topically by diluting with water or can be made into a tea using the leaves. Chamomile is also good for gastric issues and is soothing to the nerves. It is photo-toxic so if you get undiluted chamomile oil directly on your skin be sure to wash it off, or make sure you're protected from the sun.
Chamomile is frequently used for skin problems, acne, psoriasis, varicose veins, and contact allergies, just to name a few. Mix 12 drops in a 12 oz bottle of distilled water, shake well before each use. Use a cotton ball to blot on skin, or spray using a fine mist.
Chamomile has a calming effect that helps with frayed nerves and will calm you down at the end of a stressful day. You can also take a calming bath by using 10 drops chamomile, 1/2 cup Epsom salts and 1/4 cup baking soda in a hot tub, kick back and relax.
For children we mix 3 drops chamomile, 3 drops lavender and 3 drops frankincense in a 12 oz spray bottle and spray it on the children's' beds, under the beds, in the closet and it 'chases away the monsters' while soothing your children to dream land.
It doesn't get much greener than essential oils: when used correctly, they are among Mother Nature's most potent remedies ~ Amy Leigh Mercree
LAVENDER
Lavender is one of those fragrances everyone should have on hand. You can grow it pretty easily and fresh lavender in a vase in your kitchen or living room just makes the room feel bright and clean.
Lavender is good for skin inflammation, sunburns, acne, eczema, and psoriasis. Mix 6 drops lavender in 6 to 8 oz distilled water and use a cotton ball to blot the mixture on the skin. Do not use with severe sunburn!
It helps reduce scarring caused by cuts, and other wounds, it can be helpful with labor as well as other female pain. Helps with headaches, sprains, and muscle spasms, calm your nerves, help you sleep and calm hysteria.
Lavender pillows can be made by sewing a small bag stuffed with dried lavender flowers. Place one with your bed pillow, your dreams will be easier. Place one in your closet or a dresser drawer to keep your clothes stay fresh.
NOTE: none of the information in this blog post should be used as a substitute for medical treatment. Only use essential oils in conjunction with professional medical advice.

About The Author: Indigo

Indigo lives in the Pacific Northwest, her considerable gifts going back many generations, traveling along the matriarchal line. She has always listened to the inner voice of her Guides, and began what would become her higher life's calling as early as tweenhood. Though her inner talents were always powerful, Indigo remains highly active in the outer world, particularly her community, nurturing and feeding her treasure trove of knowledge through study and practice. For 10 years, Indigo ran her own business, servicing 10 or more clients at a time. She's worked on the very best psychic phone lines and websites, honing her craft, and relaying important messages through the snapshot images she receives. She employs many tools, such as Tarot, Astrology, Numerology, to name but a few, and has mastered disciplines that include Shiatsu Reflexology and Touch Therapy. Indigo is a practicing Wiccan for 30 plus years. She's helped find runaway children, assisted clients with PTSD, sexual abuse, bipolar disorder, and abandonment issues. Her personal breakthrough with trauma linked to past-life incarnations eliminated negative blockages holding her back. Her own inner work has afforded clients the same great opportunity to release their own blockages and to find the peace and happiness they crave.
You can get a reading from Indigo at PsychicAccess.com