Practical Guidelines For Aromatherapy – Part 1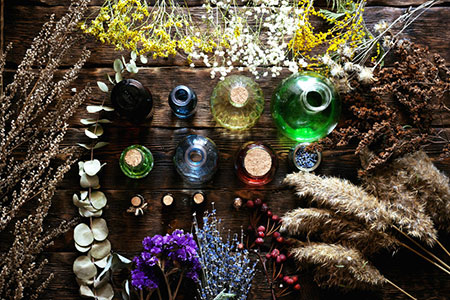 Aromatherapy and essential oils are often used in spiritual and metaphysical practices, but it can also enhance our health and well-being in many ways, including relaxation, relieving tension, calming the mind improving concentration, and increasing mental clarity.
According to Dr. Brent Bauer of the Mayo Clinic, some studies have shown that aromatherapy might also have health benefits, including relief from anxiety and depression, improved quality of life, particularly for people with chronic health conditions, as well as improved sleep.
But I believe it is important to use only good quality oils. There are several ways the oils are extracted from the plant. Distillation and expression create the purest form of oil, which is the kind of the essential oils I prefer to use for health purposes. Other ways are infusion and extraction which create perfume oils, the ones you can buy in any store that also sells perfumed candles and related products. These can used as room deodorizers, but not for treatments.
Furthermore, not all oils are created equally. Most are easy to use, but some can be too strong and must first be diluted with other ingredients before it can be used. Some oils are simply too toxic and should never be applied directly to the skin. Before using any oil, please do some research online or talk with someone knowledgeable who can advise you.
Diffusion Methods
Light bulb rings. I recommend the ceramic ones, the metals in the brass rings aren't good for the lungs, no matter how safe they seem to be, plus they're harder to clean. The biggest advantage in using a ring is that the oils fill the room quickly. The biggest disadvantage is that it needs to be placed on a traditional rounded top bulb, but in my house I have energy efficient bulbs, which have a twisted shape.
Bath. A few drops of oil in a bathtub can clear your mind, soothe achy muscles, and help you relax after a stressful day. It can even calm a fussy baby to sleep more soundly. The caution I would use here is to be careful of how much oil you use, make sure it's appropriate for the purpose and the age of the person using it.
Tea light diffuser. In case you haven't seen or used one, it's a two-tier container, usually ceramic, but I use a metal one that I love. The oil goes in the top level and a tea light candle is lit in the bottom level. I always have a few of these spread all over my home. Some of them are to deodorize the house and for a specific purpose, such as clearing energy, alleviating symptoms, meditation, and so on.
If you believe in Aromatherapy…it works! If you don't believe in Aromatherapy…it works! ~ Cristina Proano-Carrion
Fountains. I have a fountain diffuser that I received as a gift. You add just a few drops of oil into the water to create a mist. The oil misted reaches every corner of the room. So simple!
Muscle rub. Mixed with a carrier oil, there are oils that can be used as a muscle rub. They are very effective and smell much better than standard, over-the-counter muscle rubs.
Spray bottle. Oil mixed with water in a spray bottle is another simple way to diffuse oils. I like to use a combination of lavender, chamomile, and sandalwood, mixed with water, to calm the little ones. We call it 'monster spray' and the kids are convinced it 'chases away the monsters,' but the adults know it's just a spray to help relax the kids.
Other ways to use aromatherapy are shampoos, bath powders, lotions and soaps. The uses are endless.
I used to think I needed a lot of blenders and mixers in order to make useful aromatherapy concoctions. After I started working with scents, I discovered I needed very little. A good blender, a measuring cup, and a set of measuring spoons is pretty much all you need. I also keep some decorative jars around in case I want to whip up a last-minute gift.
NOTE: none of the information in this blog post should be used as a substitute for medical treatment. Only use essential oils in conjunction with professional medical advice.

About The Author: Indigo

Indigo lives in the Pacific Northwest, her considerable gifts going back many generations, traveling along the matriarchal line. She has always listened to the inner voice of her Guides, and began what would become her higher life's calling as early as tweenhood. Though her inner talents were always powerful, Indigo remains highly active in the outer world, particularly her community, nurturing and feeding her treasure trove of knowledge through study and practice. For 10 years, Indigo ran her own business, servicing 10 or more clients at a time. She's worked on the very best psychic phone lines and websites, honing her craft, and relaying important messages through the snapshot images she receives. She employs many tools, such as Tarot, Astrology, Numerology, to name but a few, and has mastered disciplines that include Shiatsu Reflexology and Touch Therapy. Indigo is a practicing Wiccan for 30 plus years. She's helped find runaway children, assisted clients with PTSD, sexual abuse, bipolar disorder, and abandonment issues. Her personal breakthrough with trauma linked to past-life incarnations eliminated negative blockages holding her back. Her own inner work has afforded clients the same great opportunity to release their own blockages and to find the peace and happiness they crave.
You can get a reading from Indigo at PsychicAccess.com