Taking Time Out On Life's Park Bench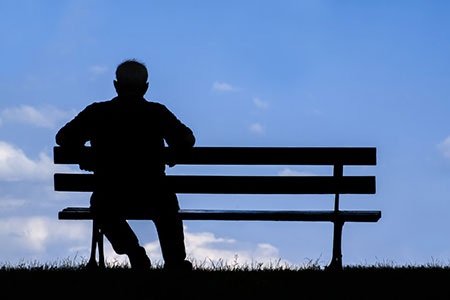 Recently, I had the wonderful experience of meeting a mature gentleman who was sitting in the park on a bench. As I approached the bench, I noticed he was smiling and writing on a manila notepad. I sat down on the next bench to enjoy the sounds of the wind, and the birds, and the barking of a dog playing nearby with a little boy.
The gentleman introduced himself and we began talking. I asked him what he was so furiously writing about in his notepad?
"Life," he said and smiled.
I obviously had a puzzled look on my face and he laughed. I asked what was so funny? He answered with a puzzling question.
"Well, what does the word 'life' mean to you?"
We then began a very pleasant philosophical conversation about metaphysics. I confided that I was in fact a psychic and we talked about energy, manifesting, meditation, and psychic phenomena.
At one point he asked me how I handle crossroads or major decisions in my life? Now it was my turn to laugh. He cocked his head and seemed curious as to my reaction.
"Well, we all deal with life changes and crossroads differently," I said, "but since you are writing about 'life' on your notepad, I suspect you're busy making a list of all the pros and cons of the dilemma or life choice you're currently facing?"
"Yes," he admitted. "That's exactly what I'm doing."
People are sent into our lives to teach us things that we need to learn about ourselves ~ Mandy Hale
Then I asked if he had any luck so far coming to a conclusion, and he said no, not really.
"One thing I've learned in my life, as well as helping many others, is that sometimes we only see things from a singular, limited point of view," I explained.
"We see things only from our personal experience or unique frame of reference. We tend to not look at things from alternative points of view. To do this we must take ourselves out of the situation and try to see the matter as others might in a similar situation.
If we see it from another person's point of view, sometimes that clears our own view and helps us see things in a different perspective. It is easier to see things more clearly when we take our own emotions and ego out of the equation."
He simply smiled and began writing again. I let him be and decided to walk around the park, leaving him with his thoughts.
Later, I returned to the bench with two bottles of water I purchased at the kiosk and offered him one.
"How is the problem-solving coming along," I asked.
He had tears in his eyes.
Self-reflection is a humbling process. It's essential to find out why you think, say, and do certain things…. then better yourself ~ Sonya Teclai
"Thank you," he replied. "I would have missed out on understanding things much more clearly if you had not come by today. You see I was only thinking of myself, and not others. It's so clear to me what I need to do now."
He then revealed that he was planning to quit his job and relocate far away. He has children who live nearby, but they rarely see or speak to each other, because of bad choices he made years ago. He felt there was no reason anymore for him to stay.
"Until today, I did not fully realize how some of my past actions may have affected the other people in my life. So, I've decided to finally have a heart-to-heart conversation with my three adult children. I owe them an explanation for my actions instead of running off and leaving things unresolved."
The he laughed and said, "You know, I was asking for a sign when I came to the park today. Well, careful what you wish for, because my prayer was certainly answered!"
He then thanked me for my advice, and we exchanged phone numbers to keep in touch. He called me about three weeks later, telling me how happy and excited he was, because the meeting with his family went even better than expected. The air was cleared and all differences and misunderstandings resolved.
We all face crossroads and life challenges from time to time. And we often make decisions in these situations based on ego-based emotions. I guess we all need a little time-out sometimes on our personal 'park bench' to get some clarity. Sometimes we just need to take a step back and be brutally honest with ourselves. It is often the only way to really figure out what is the best, or right thing to do.

About The Author: Randy

Randy is a Clairvoyant, Empath and Remote Viewer, from Upper Louisiana who discovered and embraced his gifts after a life altering event that took away two of the most important people in his life. This hardworking, detailed and devoted Virgo has worked professionally as a psychic since 2000, and has skillfully applied his talents online, in person, on the radio and at renaissance fairs, psychic fairs, and expos. Randy can see images, symbols and remotely view any situation, clearly connecting his clients with the information he receives. His talents are so accurate and amazing, he's assisted law enforcement in North Alabama and Seattle, and has helped clients, family, and friends to find lost children, relatives and lost objects. Not only a reader, Randy is also a giver, raising money for charities, and helping others to expand their own gifts through teaching and mentoring. If you'd like to find solutions and a clear path, this sports medicine practitioner, athlete, coach, mentor, musician, and highly attuned reader has the all-psychic-pass you need to succeed! You can find Randy at PsychicAccess.com.


One Response to Taking Time Out On Life's Park Bench