Taking Your Spiritual Practice To A New Level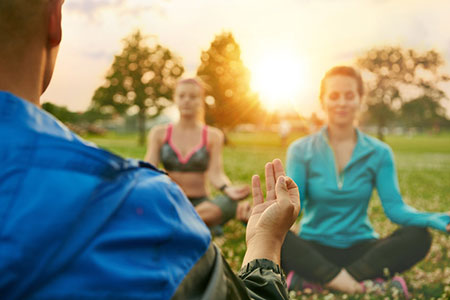 Every person will go through several metaphysical growth spurts and changes in their spiritual practices throughout their lifetime. Whether we are pursuing Transcendental Meditation, Tai Chi, Yoga, Reiki, Tarot, or Dreamwork, it is inevitable that we will at some point begin to question what we might be doing wrong, or how we could do be doing it better?
This usually happens when we have reached a point where our growth or development seems to have reached a point where we need to take our practice to the 'next level.' But this is often easier said than done and this shift can be tricky to navigate.
First, examine what you feel or sense to be different or missing in your existing practice. Tap into your intuition and listen to your gut. Following our inner guidance at this point helps us better recognize which direction our personal and spiritual growth needs to go. Ask spirit to guide and direct you.
Second, research how others, who have gone through similar changes, have evolved and mastered their practice. Get a sense of a benchmark or an aspirational goal as to where you should be heading yourself. Then dive in by taking on new challenges in your chosen practice and start working towards that goal. Don't feel rushed or panicked. Just take it one step and one day at a time.
A key element to building one's spiritual practice I find most people do not make use of enough is the spiritual communion of sharing your learning and development journey with others. Find a group learning venue, development circle, or support group that will allow you to share your learning and experimentation with other seekers and practitioners. Finding such a like-minded group to get involved with on your journey can be very empowering!
You are not the only one going through the growth spurt or developmental phase you're experiencing. Why go through it alone, if you can learn and grow along with others, and share your insights and concerns with the group? But, always keep in mind that everyone has different speeds of growth and development. So, never feel like your falling behind. Trust that you are progressing exactly how you are supposed to in your own unique way.
Spiritual maturity is neither instant nor automatic; it is gradual, progressive development that will take the rest of your life ~ Rick Warren
A wonderful aspect of structured group learning and development is often the greater access to information and resources. In all the spiritual and metaphysical groups I've ever participated in, I discovered amazing resources that I was able to dive into and explore. This may bring more questions than answers at first, but isn't that what true learning is all about?
A group setting also allows you to practice what you've learned in a safe space with the bonus of constructive feedback. Practice with other seekers means no pressure, no mistakes, just learning what works best for you.
Apart from group work, I also recommend seeking out reputable authors and teachers. Find blogs, articles, videos, and online courses that can help you take your spiritual practice to the next level. In conclusion, keep in mind that as long as you are seeking, you are learning and growing.

About The Author: Randy

Randy is a powerful Clairvoyant, Empath and Remote Viewer, from Upper Louisiana, discovering and embracing his gifts after a life altering event that took away 2 of the most important people in his life. This hardworking, detailed and devoted Virgo has worked professionally as a Psychic, since 2000, and has skillfully applied his talents on radio, at local renaissance fairs, at local and regional psychic fairs, expos, online and in one-on-one individual client readings. Randy can see images, symbols and remotely view any situation, clearly connecting his clients with the information he receives. His talents are so accurate and amazing, he's assisted law enforcement in North Alabama and Seattle, and has helped clients, family, and friends to find lost children, relatives and lost objects. Not only a reader, Randy is also a giver, raising money for charities, and helping others to expand their own gifts through teaching and mentoring. If you'd like to find solutions and a clear path, this sports medicine practitioner, athlete, coach, mentor, musician, and highly attuned reader has the all-psychic-pass you need to succeed! You can find Randy at PsychicAccess.com.