A New Challenge To Break The Spell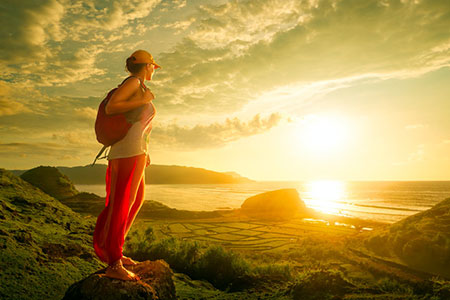 I have been feeling a gentle pull to spend less time on social media and to be more present and engaged in real life, with  people and activities I love. Not only has this shift been giving me a greater sense of time and space, but also less 'noise' and inner peace. When we are overly engaged in social media platforms, we tend to develop a skewed sense of reality. It also becomes a time thief. Things are not really as good as they look in other people's lives, neither are they as bad in the world as it may appear online.
We all like to put our best foot forward in life, but on social media it is often pushed to the extreme, tempting the rest of us into futile comparisons, 'fear of missing out,' anxiety and poor self-esteem.
Most of all, we are wasting many precious hours of our lives every day in an alternative reality consisting of fake news and filtered photos. The truth is that less is more when it comes to social media. Social media obsession can become like an evil spell or self-inflicted curse. It is a hex that can keep us trapped in a negative mindset and lead us down a destructive mental health path.
According to AddictionCenter.com "social media addiction is a behavioral addiction that is characterized as being overly concerned about social media, driven by an uncontrollable urge to log on to or use social media, and devoting so much time and effort to social media that it impairs other important life areas."
If you find it extremely difficult to control your daily social media use and think you may be addicted, then please contact a dedicated treatment provider for addiction in your area or a join a support group. If you are simply feeling the need to break away from being overly engaged with social media, then I recommend setting a new goal or challenge for yourself that shifts your daily focus to something else.
If you are on social media, and you are not learning, not laughing, not being inspired or not networking, then you are using it wrong ~ Germany Kent
New challenges and learning curves stretch us and make us stronger. It also leads us to reexamine our life goals and our mental, physical and spiritual well-being. I personally enjoy doing some of the structured challenges that increasingly popup these days in meditation apps, spiritual forums and self-help groups. These types of projects are at least one positive thing that is coming out of social media and it is a good way to transition into new activities and interests.
Some examples include the 21-Day Meditation Experience with Oprah Winfrey and Deepak Chopra; meditation guru Davidji's Your 10-Day Path to Becoming the Calm Amidst the Chaos; and Mariëlle S. Smith's book Get Out of Your Own Way: A 31-Day Tarot Challenge. Spiritual author Gabby Bernstein is also doing another 21-Day Manifesting Challenge that is set to start on January 1, 2022.
You can also create your own challenge in any area of your life that you want to change, heal, grow or improve. It can be as simple as just keeping a daily journal. I have found it helpful to journal about how each day went: my thoughts, feelings, anxiety or calm.
The reason we struggle with insecurity is because we compare our behind-the-scenes with everyone else's highlight reel ~ Steven Furtick
Here are some more suggestions:
Declutter your home one room at a time and create a donation box for charity
Do a day of fasting and prayer
Donate one thing from your home every day for a month
Download an app to learn a new language.
Go for a walk in the park every day.
Keep a gratitude journal
Light incense or a candle every morning and say your affirmations
Meditate for 15 minutes every day
Read one chapter of an inspirational book every night at bedtime
Take a walk rain or shine
Take up oil painting, oracle card reading, or scrap-booking
Try a new recipe every day for 10 days.
Volunteer time every weekend at a local charity animal shelter
Watch a TED talk video on YouTube every day for a month
I have found that after engaging in such challenges for several weeks, I have either modified certain behaviors or discontinued them altogether. Focusing our daily awareness on uplifting and self-empowering activities and pursuits raises our energy vibration for our highest good. But it takes time to break old habits, cultivate new ones and find your bliss. So, what will your next challenge be?

About The Author: Maggie

Maggie helps people turn the radio dial up on their vibrations to hear the messages you're meant to receive. It all began as a teen with a dog-walking job in the neighborhood that—if you'll excuse the pun—unleashed Maggie's innate Gifts as a powerful Intuitive Reader. What followed was a rewarding career as a Tarot Reader, Numerologist, Reiki Master, and Angel Card Reader—to name just a few of her remarkable skills. Maggie's accomplishments include on-air co-host for Blogtalk Radio, several published articles on Tarot and Numerology, she's an endorsed reader for The Tarot Guild, and a much sought after Intuitive Reader hired for both corporate and private events. In addition, she has a YouTube channel where you can view and subscribe to her weekly vibes. If you'd like to personally tune-in to Maggie's unique and highly accurate vibe, for yourself, you can find her at PsychicAccess.com.