My Little Guardian Angel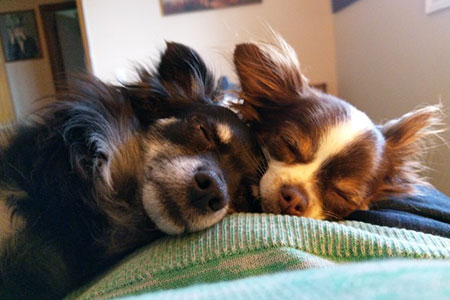 In a recent blog post, I told the story of the rescue dog I found at the vet, and how he became my emotional support animal. He He was my wise little totem, my spirit animal. But Cody's heart health gradually began to deteriorate. With this in mind, I talked to my husband about getting another Chihuahua, so Cody could teach it to take his place someday.
So, I went online to find our new dog. There were many pages of puppies for sale, as well as rescue dogs. Then I saw Rocky – a small, anxious-looking dog. I contacted the breeder and she said he was the last one from the litter, because he was a little "different." Well, that is all I needed to hear!
So, we loaded up the car with both Cody and Luke, my German Shepard, and went to meet the new pack member. Mr. Cody Simpson had to come along, since he was a pack leader. He always had the final say about who could join our tribe.
Cody took a sniff at Rocky and instantly started to play with him. Luke immediately followed his lead and joined in the fun and excitement. Animals are much more in tune with each other's energy signature than humans. If more of us were intuitively in touch with the 'vibes' of others, there might be more love, tolerance and compassion in the world.
Now, you may be thinking an 80-pound German Shepard could be dangerous around a tiny Chihuahua, but you don't know my dog. Luke is convinced he is a Chihuahua. To play with the small dogs, he simply lays down and allows them to play with him.
Rocky was, however, so small for his age, that I was somewhat concerned, so I took him to the vet. The doctor confirmed that he was slow in development and needed special care to grow and become a healthy dog.
When I look into the eyes of an animal I do not see an animal. I see a living being. I see a friend. I feel a soul ~ A.D. Williams
In August 2018, Cody crossed the Rainbow Bridge in my arms. The other dogs also said their goodbyes. I was heartbroken. We all are missing him so badly, and I will never forget him. Cody lived for another nine months, despite being in an advanced stage of heart failure. He outlived his illness way beyond our worst expectations.
After his passing, Cody came to me in spirit  and told me that he stuck around for so long because he first wanted to make sure he properly trained Rocky, and that I would be okay without him. Our vet later agreed that he also believed this to be true. Cody also assured me that he would be sending another new puppy my way, to help Rocky keep up the good work.
Cody did not disappoint. I work with several rescue organizations, offering support and fostering. I recently received a call from one of them and asking if I could foster a small puppy from a puppy mill. She was in bad shape. I immediately sensed this was Cody's doing. Without hesitation we took all the dogs to meet and greet our new pack member, and Rocky immediately took her under his wing.
Mr Rocky and Ms Adrianne Balboa are now both my emotional support dogs, with a third Chihuahua as my little guardian angel, keeping an eye on us from Heaven.

About The Author: Sabina

Sabina was born in Germany but is now a Canadian resident in a happy relationship with her partner and their many Chihuahuas. She entered this world with powerful, predictive gifts she displayed at a young age. Later she learned to accurately read poker cards, using them like Tarot, while channeling answers for her many thousands of clients. She's worked on TV with a psychic show that ran for 10 years, and has read for many celebs, including J.Lo, accurately predicting her pregnancy with twins. She's read for 61,000 callers on a European site and has proven her gifts time and time again on radio call-in shows. Though her mom once called her crazy for making predictions at the age of 4, her eerie accuracy has proven that what is unusual and impossible for most, is normal and highly possible for Sabina. In 2008, she wrote a book about her uncanny technique of reading poker cards, and she has held many of her own seminars, sharing her techniques with others. A survivor of a very bad relationship, she dove into every book she could get her hands on to dissect the mechanics of unhealthy relationships and to help others understand that they are survivors and not the guilty ones in that scenario. If you'd like a reading with this lovely, celebrity psychic and channeler, you can find Sabina at PsychicAccess.com.


This site uses Akismet to reduce spam. Learn how your comment data is processed.