The Soul Gold Of Dysfunctional Relationships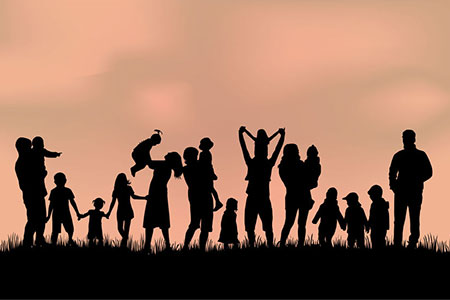 When I was younger, I actually searched for my birth certificate, just to see if I really was a member of my family! I've witnessed some close-knit and very loving families among my friends and acquaintances, which I admire and applaud. But not everyone is that fortunate. It seems some of us are thrown together in families we cannot help but wonder where we all fit in. For many of us our family and romantic relationships are complicated.
We typically grow up seeing perfect families on television and in the movies. We also observe them during summer vacations and winter holidays. But I have always preferred the exceptions to the rule, the alternative families, the dysfunctional, weird and wonderful family stories, because they portray real life with humor.
Growing up my family did the best they could with what they had and what they knew at the time. In our family there was much avoidance, secrets, Catholic school and the constant overhanging threat of being 'sent to a nunnery.' Role-models for how to build healthy, constructive I did not have. So, I had to figure it out on my own, making many mistakes along the way.
I have even attributed my sense of not belonging in my family to the planets: my Aquarius Sun sign and Sagittarius Rising sign. I assumed my tendency to be a bit of a star child, moving to the strange music in my own head, just needed its own space? Upon a closer look, as the years went by, my father and I had many similar traits, with some of my mother's mixed in on the spectrum.
I was constantly searching for that next subject to study and different ways to escape through my imagination. I also closed down when people came too close and moved along as quickly as possible.
A dysfunctional family is any family with more than one person in it ~ Mary Karr
A friend was just the opposite, with his Capricorn Sun and Taurus Rising. He was determined to make his relationships work, even when it was a bad situation he would have been better off abandoning. We both had our own work to do.
It's been my experience, as well as what I have been shown by my guides and Spirit, that we partly come here to also learn from each other. We each chose a part to play for ourselves and each other for the greater good. But this doesn't always feel so good.
The people I have been in relationships with over the years have all offered me a variety of lessons and gifts, both the good and the bad. For example, one of my romantic relationships came along to assist me in my career, while I introduced him to spiritual practices and retreats from which I hope he found a sense of peace from his anger and childhood trauma. He also met his next partner at one of those retreats and last I heard they were still together.'
Family and friends are hidden treasures, seek them out and enjoy their riches ~ Wanda Hope Carter
When you take some time to look at your relationships from the past to the present, you will find that they have all offered you an opportunity to learn, grow and gain wisdom. Some relationships teach us to become stronger, because we simply had to, while others give us a greater awareness of ourselves or show us how to be more loving.
Contrasting experiences and failed relationships also cast a clarifying light on the things we don't want in our life. It repeatedly asks the questions, again and again, to make us go deeper for that 'soul gold.' As Ram Dass said, "We're all just walking each other home."

About The Author: Maggie

Maggie helps people turn the radio dial up on their vibrations to hear the messages you're meant to receive. It all began as a teen with a dog-walking job in the neighborhood that—if you'll excuse the pun—unleashed Maggie's innate Gifts as a powerful Intuitive Reader. What followed was a rewarding career as a Tarot Reader, Numerologist, Reiki Master, and Angel Card Reader—to name just a few of her remarkable skills. Maggie's accomplishments include on-air co-host for Blogtalk Radio, several published articles on Tarot and Numerology, she's an endorsed reader for The Tarot Guild, and a much sought after Intuitive Reader hired for both corporate and private events. In addition, she has a YouTube channel where you can view and subscribe to her weekly vibes. If you'd like to personally tune-in to Maggie's unique and highly accurate vibe, for yourself, you can find her at PsychicAccess.com.