Signs, Messages And Synchronicities From Spirit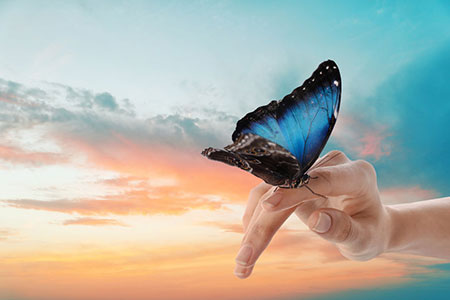 There has always been skepticism when it comes to psychic phenomena, mediumship and spiritual experiences. However, one instance where I have often seen this kind of skepticism dissolve is at wakes, funerals, or when people gather for the celebration of someone's life after a passing.
I have attended several such gatherings with skeptical relatives, friends and strangers, listening to the stories of their loved ones and the signs and messages they have received from the dearly departed. I have also noticed that once someone in the group had the courage to tell their story, others feel more comfortable to start sharing theirs.
I have heard many, many stories over the years of angels feathers, symbolic numbers, butterflies, visitation dreams, mysterious phone calls, electrical disturbances, smells, sounds, and apparitions. And when people talk about the signs, messages and synchronicities, I have observed a softening in their voice, face and body. Our body language changes when we discuss these experiences.
Death and bereavement tends to change people's outlook, even if it is only temporary with the more cynical among us. A loved one's passing connects us all and affects us all. And like our ancestors before us, we will all go through that door someday. People experience an opening of the heart and mind at these times and are more willing to share their personal experiences.
Most of us have our own unique stories of spirit communication and paranormal visitations. I believe it is vital that these stories be shared, so others may feel more comfortable in sorting through the signs, messages and synchronicities they have received. Instead, those who grieve are often made to feel these things are superstitious or unnatural, and encouraged to disregard their experiences.
There are many reasons why they return to visit. Thankfully, you don't have to be a medium or even go to one to experience the presence of a deceased loved one that you know personally ~ Amanda Linette Meder
Our loved ones send us signs and message to comfort us. They want to let us know they are at peace and that they will continue to love and protect us. This is true for our pets also because they are part of our soul family too.
When my beloved and beautiful Betty June, Junie, a Bichon Frise breed, passed this year at the age of 16, I was deeply distraught. I named her after my mother and her personality was one of being a very motherly dog to my family and our other dogs.
Junie was a true friend, an older sister, a loyal companion. She travelled with us on many road trips and she loved sleeping over in hotels! She enjoyed life and good food.
As she was dying, a little white feather floated down in front of us. Tears came to my eyes. I knew it was my mother's way of welcoming her home and letting me know Junie would be alright.
Later that week, as I was packing suitcases and selecting reading material for a beach vacation, which she loved, I noticed a book I haven't read in years. When I picked it up, a card fell out.
Many years ago, a fellow Tarot reader was designing a new deck and saw a photo I had posted on social media of June standing up against the door of our sunroom, looking into the house. The Tarot deck was digital, so she asked if she could use June's image for one of the cards. She later sent me a copy of the deck.
Junie's card was the Six of Swords, which symbolizes moving from difficult times into calmer waters; as well as charting our own course. In the image Junie is on a little boat, facing forward, looking into the horizon. Around her in the card on the shore were suitcases and flowers – forget-me-nots.
Basically when someone dies, we must speak to them differently than we did before. We can look for signs and symbols and things that remind us of them to continue the relationship.  We can pay attention and wait for them to come to us or speak to us in a different way ~ Doug Marshall
It was no coincidence I picked up that particular book with the card inside that day. June was letting me know she was off on new adventures and for us to go on our trip and enjoy it. She also showed me she would never forget us.
We have all had signs, messages and synchronicities from departed people and animals in our lifetime, but too often we do not notice them. Sometimes they are messages of comfort, or just to say hello. Sometimes they are a validation of a hunch we have about a situation, or to warn us, or to assist us if there is something we need to be aware of.
My dad, mom, and aunts often visit me, especially at night. It's always a gentle, but firm message, and I have no doubt of it's authenticity, as it has consistently proved helpful and even lifesaving.
So, when you receive such signs and messages, have an open and curious heart and embrace their communication unconditionally. Signs, messages and synchronicities are not just stories intended for wakes and funerals.

About The Author: Maggie

Maggie helps people turn the radio dial up on their vibrations to hear the messages you're meant to receive. It all began as a teen with a dog-walking job in the neighborhood that—if you'll excuse the pun—unleashed Maggie's innate Gifts as a powerful Intuitive Reader. What followed was a rewarding career as a Tarot Reader, Numerologist, Reiki Master, and Angel Card Reader—to name just a few of her remarkable skills. Maggie's accomplishments include on-air co-host for Blogtalk Radio, several published articles on Tarot and Numerology, she's an endorsed reader for The Tarot Guild, and a much sought after Intuitive Reader hired for both corporate and private events. In addition, she has a YouTube channel where you can view and subscribe to her weekly vibes. If you'd like to personally tune-in to Maggie's unique and highly accurate vibe, for yourself, you can find her at PsychicAccess.com.


This site uses Akismet to reduce spam. Learn how your comment data is processed.