A Guardian Angel Named Christopher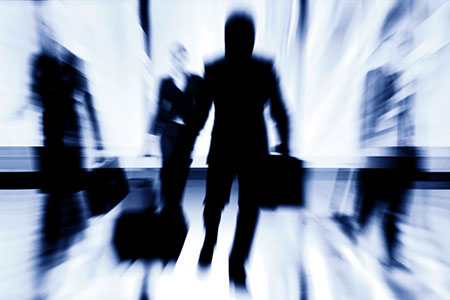 My entire world collapsed Christmas of 1990. It was Christmas Eve to be exact. I had prepared a four-course dinner for my fiancé and I was so excited to spend my first Christmas with him alone, ready to talk about our wedding plans.
He arrived at 4pm and fifteen minutes later he had broken up with me. He simply informed me that he had met "the woman of his dreams." Then he took back the keys to his apartment and wished me well.
I was beyond devastated. Broken. My heart ripped into a million shreds.
I did not know what to do, so I called the one person I thought would understand and support me: my best friend. She had recently relocated here with her husband, who was in the US Army. Her husband was waiting at the time to be deployed to the war in Iraq.
She answered the phone right away and immediately insisted I book a flight to her nearest city, where she would come to pick me up. So, I took the last money I had and booked a flight for the next day.
After two exhausting days of travel and a long layover on a connecting flight, I was sitting in the airport with red, swollen eyes in a freezing blizzard, that further delayed my final flight. There was no way to call my friend. It was the time before mobile phones. So, there I was, heartbroken, alone in one of the biggest airports of the world, stranded and not knowing a soul.
While the blizzard was raging through the airport, I witnessed more than one emergency landing through the thick clouds of needles like snowflakes. It was chaos. Thousands of stranded passengers and more arriving by the minute.
Part of the reason guardian angels are so devoted to you is because they chose you. The vow your guardian angels took to stand by your side and guide you through life was a very sacred one made with heaven and Spirit itself as witness ~ Tanya Carroll Richardson
I was scared and kept holding on to my medallion of Saint Christopher that my grandmother had gifted me. Those who wear his medal are paying respect and asking for his blessing on their travels. In addition to being the patron saint of travelers, St. Christopher is believed to protect people from epilepsy, lightning, storms, pestilence, and floods.
To make things even worse, I also started to feel feverish and this made me even more anxious. The last thing I needed was to come down with an illness in the middle of such a mess!
I started praying with my medal in hand. Tears were flowing down my cheeks. "Saint Christopher," I said, "please protect me. I am desperate. Please surround and shield me with protection." I did not realize that I was talking, instead of whispering my prayer.
A guy was standing nearby. He had long black hair and a smile that could melt ice in his angelic looking face. Then he spoke. "Hi, my name is Christopher. Are you okay? Do you need help?" I did not know what to say. My English was not great in those days. So, I just stared at him dumbfounded, like he had fallen out of the sky or something.
He noticed that I was shivering, disappeared for a while, and soon returned with a cup of hot tea for me. I tried to tell him that I was stranded, because no flight was leaving due to the weather conditions. It was my first long-haul flight ever and I had no clue what to do.
We must not think of having a tender plump cherub at our side playing the harp. Our Angel is a warrior, a strong and courageous fighter, who ranks at our side in every battle of life and protects us when we are too fragile to do it alone ~ Holyart.com
He smiled and said, "well, let's go and find out together." Turned out he was also waiting to fly to my destination. He soon managed to get us boarding tickets for the next available flight in four hours. He then also went to wait with me at the check-in area. At one point I passed out from sheer exhaustion and he let me sleep, while watching over me the entire time.
He eventually managed to get me on the aircraft, holding me tight. I fell asleep again. Finally, we arrived at our destination at 5am in the morning. Christopher called the army base to let my friend's husband know that he will take me with him to the Holiday Inn, where they can come and pick me up.
I was in bad shape by then, with a high fever. Chris managed to get all my luggage and then brought me to his hotel. My friend picked me up at noon and took me straight to the army hospital. I had pneumonia.
I never saw Christopher again, but I will be forever grateful to him for saving me. I believe God sent me a guardian angel that day. I also believe God had other plans for my life. There was something I still needed to do, but this will be a story for another time.

About The Author: Sabina

Sabina was born in Germany but is now a Canadian resident in a happy relationship with her partner and their many Chihuahuas. She entered this world with powerful, predictive gifts she displayed at a young age. Later she learned to accurately read poker cards, using them like Tarot, while channeling answers for her many thousands of clients. She's worked on TV with a psychic show that ran for 10 years, and has read for many celebs, including J.Lo, accurately predicting her pregnancy with twins. She's read for 61,000 callers on a European site and has proven her gifts time and time again on radio call-in shows. Though her mom once called her crazy for making predictions at the age of 4, her eerie accuracy has proven that what is unusual and impossible for most, is normal and highly possible for Sabina. In 2008, she wrote a book about her uncanny technique of reading poker cards, and she has held many of her own seminars, sharing her techniques with others. A survivor of a very bad relationship, she dove into every book she could get her hands on to dissect the mechanics of unhealthy relationships and to help others understand that they are survivors and not the guilty ones in that scenario. If you'd like a reading with this lovely, celebrity psychic and channeler, you can find Sabina at PsychicAccess.com.