We Don't Find Love, It Finds Us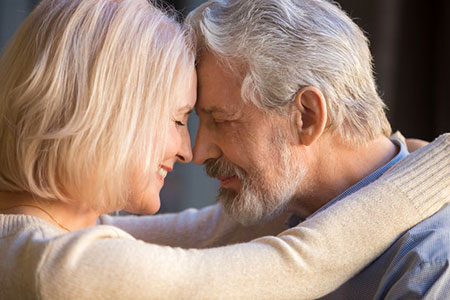 I simply started to believe in myself a little more every day, love myself, trust my intuition, recognize my goodness and that I am enough. That is how love found me. This is how I found my life partner, friend, lover and husband.
Over the years, I have seen the same with family, friends and clients. I see how love finds them. We don't find love, it finds us.
For me finding that special person seemed elusive and impossible for a long time. We all have our stories of failed past relationships, love wounds and broken hearts. My mother would say, "The third time is the charm." She was the eternal optimist, I thought.
Yes, there were interested, available guys, but not one I felt I could truly be myself with. Someone who shared my interests and would accept and love me for who I was.
It wasn't until I decided to spread my wings and start pursuing my interests and the things close to my heart, that my situation changed for the better. It introduced me to many like-minded people who were in alignment with the things I loved.
Increasingly, an event, gathering, lecture, seminar, weekend retreat, charity fundraiser or social opportunity would pop up and find me, and I would always say yes! This way I met many wonderful and diverse people who shared my values and interests.
Interestingly, the wonderful man I eventually met and fell in love was not at any of those social events. He turned out to be a colleague from my place of work. You see, I could have met him anywhere in many ways, but not until I started to love myself and worked through my own insecurities. I first had to claim my own space in life and create the lifestyle I wanted.
In the process of learning to love myself more, celebrating my uniqueness, pursuing my interests and following the intuitive breadcrumbs on my spiritual path, I was allowing the light inside of me to shine brighter in an authentic way.
You don't find love, it finds you. It's got a little bit to do with destiny, fate, and what's written in the stars ~ Anaïs Nin
I remember people would comment that something was somehow different about me. I was doing fun things, working less and open to taking on different assignments and new challenges. Everyone wanted to know what my secret was. They would even open up and share things with me about their dreams and fears.
I also started to notice how other people were finding love. They were also throwing out all the old rules and releasing the things that didn't work for them in the past. They abandoned some of their old haunts and habits started to fall in love with themselves and their true passions.
When we are true to ourselves and become more open and curious about life, we are no longer afraid to walk into a room alone, and less worried about how someone might perceive us. We become more interested in listening to their stories and getting to know them as fellow travelers in life, without any agenda.
If you aren't good at loving yourself, you will have a difficult time loving anyone, since you'll resent the time and energy you give another person that you aren't even giving to yourself ~ Barbara De Angelis
Even with the current state of the world, I'm still seeing evidence that there is no need to give up on our dreams and goals. There are many ways of loving ourselves more and ways of meeting people passionate about the things we love.
This is how we can begin to attract people who are living on the same vibration as we are. We must recognize the goodness in ourselves and others, knowing that love will always find us.

About The Author: Maggie

Maggie helps people turn the radio dial up on their vibrations to hear the messages you're meant to receive. It all began as a teen with a dog-walking job in the neighborhood that—if you'll excuse the pun—unleashed Maggie's innate Gifts as a powerful Intuitive Reader. What followed was a rewarding career as a Tarot Reader, Numerologist, Reiki Master, and Angel Card Reader—to name just a few of her remarkable skills. Maggie's accomplishments include on-air co-host for Blogtalk Radio, several published articles on Tarot and Numerology, she's an endorsed reader for The Tarot Guild, and a much sought after Intuitive Reader hired for both corporate and private events. In addition, she has a YouTube channel where you can view and subscribe to her weekly vibes. If you'd like to personally tune-in to Maggie's unique and highly accurate vibe, for yourself, you can find her at PsychicAccess.com.