Venus In The Underworld A Time Of Transformation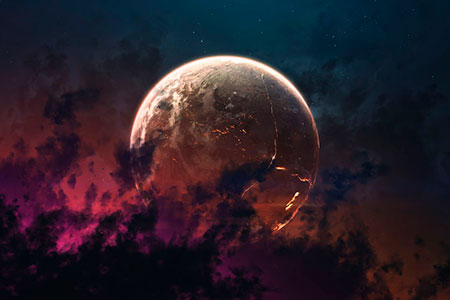 The ancient Sumerians associated the 18-month cycle of planet Venus to the story of the goddess Inanna's descent into the underworld. It is a story of transformation, healing and rebirth. It is a process of letting go of the old, dying to who we were and being reborn.
Two months ago, on February 13th, the planet Venus disappeared from view behind the Sun as part of her orbit cycle. During this conjunction with the Sun she becomes invisible to us. When Venus disappears behind the Sun, she is said to be in the Underworld and at this point in the story, Inanna is killed by her sister who is Queen of the Underworld.
This is one of the most transformational parts of her journey and it is valuable to understand what is going on, so we can use the cycle and consciously work within it.
By paying attention to what may have been disrupted in your life in the last few months, you may see a pattern of recurring issues or triggers, where you are being encouraged to release the past fully, so you are ready to be transformed into a new and better version of yourself.
This often requires a process of surrender and letting go of the need to control, or constantly having to know what the outcome will be. It also can involve the need to grieve what is dying or being lost, or what is gone, even if it is a negative part of yourself that has been with you for too long.
This process is an important part of our soul's evolution in life. It can bring us more fully home to who we truly are and a greater expression of our purpose. Astrologically speaking, Venus represents love, pleasure, beauty and harmony. In our natal chart it reflects what we love and value.
In the Shamanic Astrology interpretation, Venus, which is a personal planet, also represents our individual feminine nature for both women and men. It can be helpful to look at your own astrology chart to understand your Venus qualities and see what your feminine essence is.
Sometimes you have to kind of die inside in order to rise from your own ashes and believe in yourself and love yourself to become a new person ~ Gerard Way
The Venus cycle is a time to deepen into your own feminine essence by using what is going on in your life at this time and consciously applying the feminine qualities of receiving, being, nurturing, and creating in your unique way.
Keeping a journal of what is happening in your life and what synchronicities may happen can help you process and be conscious in this process.
On May 3rd, Venus will rise again as the Evening Star emerging from behind the Sun, when Inanna reborn begins her ascension from the Underworld. This signals our own rebirth and re-emergence of our Divine Feminine in the process of transformation.

About The Author: Suzenn

Suzenn is a gifted intuitive reader, channel, counselor and guide, and is currently a staple at two local fairs in Texas, where she currently resides. She has been providing accurate readings for over twenty-two years, and she has followed the synchronicities that have led her to new and exciting territories, outside the norm. Her practice has included readings at a large metaphysical bookstore, at conventions, and for clients on-line, all of which have helped her to cultivate an established client base. Clients include CEOs, fitness personalities, and she's the reader that other psychics go to for advice! Her readings include remote energy sessions, Mediumship, inner child healing, chakra balancing and psych-soma healing. If you'd like to experience a major shift in your life, release past trauma, or just be able to embrace your inner child, you'll not encounter a more caring, non-judgmental, and uniquely gifted reader. You can find Suzenn at PsychicAccess.com.