The Little Angel Who Rescued Me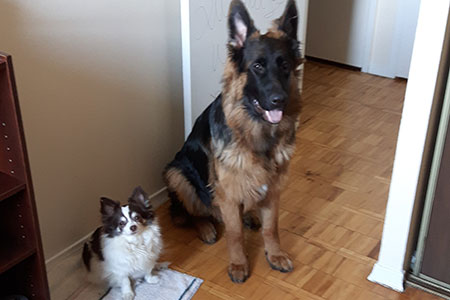 In 2017, I visited the vet with Max, my German Shepherd, for dental work. Max was a rescue from Germany surrendered by his previous owner because he was considered a "too active" puppy.
While we were waiting at the clinic, he suddenly started pulling his leash into the operating room and began barking at me to move faster. I was caught totally off guard. He had never behaved like this before.
At the time he had been with me for over 10 years and had the typical issues coming from being an elderly dog. But he was the most people and dog-friendly dog you could imagine. He was never unruly or aggressive and he seldom barked.
I followed him and soon found the reason for his excitement. A small Chihuahua was tied to the examining table and looking at us. I then realized that Max had sensed the little dog was scared. He started to comfort him by lying beside him and gently playing with him.
When the vet entered the room, she was astonished to see the two dogs comforting each other with face licking and wagging tails. She then revealed that Cody the Chihuahua had been surrendered to the shelter she did volunteer work for. Mr. Cody had not found a forever home yet, because had been labelled "aggressive towards other dogs."
Also, he was a hospice adoption because he was in an awfully bad shape. He suffered from serious heart failure and had never had dental work done before. The previous owner had him for 9 years and did nothing to ease his pain and suffering. No wonder he was acting aggressive – who wouldn't be with 13 rotting teeth in their muzzle!
At the time, I had recently immigrated to Canada and I had to start over from scratch. I arrived here with only suitcases and my dog. I was definitely not planning on adopting another dog. But that was not what destiny had in mind for me.
The world would be a nicer place if everyone had the ability to love as unconditionally as a dog ~ M.K. Clinton
Max spent the whole day at the clinic with Cody and he was not at all happy to leave him. Both dogs became frantic and started barking. They did not want to leave each other side. Cody then came up to me and looked at me with pleasing eyes. The left me no choice. So, I asked about adoption and my vet said she knew the owner of the rescue operation.
She did call her, but they rejected my application! They felt that Cody was too aggressive with other dogs and should instead be placed in a home as a single dog, ideally with senior citizens. I was devastated to say at least.
Then a miracle happened.
My vet was terribly upset with their ridiculous decision. Fortunately, she recorded a short video clip of the two dogs cuddling and comforting each other, after the traumatic extraction of Cody's 13 bad teeth. There was clearly no sign of aggression or drama at all! She sent the video to the rescue organization and informed them that they do not allow me to adopt this dog, she would no longer be doing any volunteer work for them, period.
The rest is history. Cody had to stay another two days with the vet, because of his wounds and to monitor his heart murmur. Then I got a call from the rescue organization that they would like to do a house inspection. They went through the whole house to see if Cody would be safe with us. Then my application was finally approved!
If you don't own a dog, at least one, there may not necessarily be anything wrong with you, but there may be something wrong with your life ~ Roger Caras
Cody marched in like he owned the place. He was running up to his buddy Max and they both instantly got comfy on my bed. The agent from the shelter said he had never seen anything like it before in his life. They were clearly a match made in Heaven.
The first night, Cody seemed to be restless, until he finally settled onto my pillow and slept right beside my ear.
But I did not rescue Cody. He rescued me. Due to traumatic events in my personal life, I used to suffer from post-traumatic stress and panic attacks. Cody seemed to understand this instantly. Since his arrival, he has never left my side. Whenever he felt that I had an anxiety attack in my sleep, he would cuddle even closer and put his tiny paw onto my cheek to comfort me.
Before he showed up in my life, I had been praying for a solution for my anxiety. I was sent the utmost helpful creature. Mr. Cody Simpson the Chihuahua. My healer and comforter. My little spirit animal. Our prayers are always answered. Sometimes in a unique way, but always for the greater good.

About The Author: Sabina

Sabina was born in Germany but is now a Canadian resident in a happy relationship with her partner and their many Chihuahuas. She entered this world with powerful, predictive gifts she displayed at a young age. Later she learned to accurately read poker cards, using them like Tarot, while channeling answers for her many thousands of clients. She's worked on TV with a psychic show that ran for 10 years, and has read for many celebs, including J.Lo, accurately predicting her pregnancy with twins. She's read for 61,000 callers on a European site and has proven her gifts time and time again on radio call-in shows. Though her mom once called her crazy for making predictions at the age of 4, her eerie accuracy has proven that what is unusual and impossible for most, is normal and highly possible for Sabina. In 2008, she wrote a book about her uncanny technique of reading poker cards, and she has held many of her own seminars, sharing her techniques with others. A survivor of a very bad relationship, she dove into every book she could get her hands on to dissect the mechanics of unhealthy relationships and to help others understand that they are survivors and not the guilty ones in that scenario. If you'd like a reading with this lovely, celebrity psychic and channeler, you can find Sabina at PsychicAccess.com.