Guardian Angels Come In All Shapes And Sizes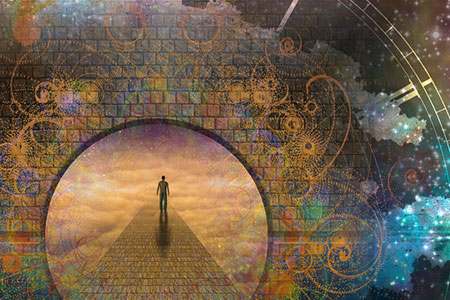 In my late 20s, I was working as a make-up artist in a department store located in a busy train station in Germany. The shop was only 700 square feet and had no bathroom. We had to close the shop and go upstairs to a restaurant to use the restroom. I used to work the late shift from 2pm to 10pm. On weekends, there were often rowdy football and soccer fans crossing the station. Fortunately, the local police were always there to channel the masses on to the stadium.
One evening, I had a nagging sense of unease. It was already dark outside when two young men entered the store and one tried to shut the door from the inside, which was always open and supposed to remain open. Something was very wrong. I did not even need to be a psychic to know that something bad was about to happen.
My father passed away a few months before this and the only thing I could think in that moment was, "Dad, please I need help, please!" A few seconds later, an elderly homeless man showed up with two police officers in tow. They immediately arrested the two men. Apparently, they were trying to hide out in my little store after they had committed a robbery elsewhere in the station.
That ragged man was my hero…a guardian angel! He usually sat on the platform to watch the trains come and go. He was homeless, but he was not a beggar. I tried a few times to offer him food or money, but he always declined and said he was fine, he wanted for nothing. After that we greeted each other every day with friendly smile, and that was it.
After the two robbers were arrested, the old man brought me a cup of coffee and my favorite hamburger. Now, it was my turn to ask him, how did he know about my favorite burger. He smiled at me and said I reminded him of one of his favorite former students.
You should never feel alone there's always someone to turn to, it is the Guardian Angel who is watching over you ~ K. Sue
He said it always made him happy to see that I was friendly with all the other workers at the train station, no matter what their rank was, and that I was kind to the homeless people who used to shelter there. He often saw me give food away to young homeless people and that was how he saw me purchase that particular hamburger.
He was at the other end of the big train station when the robbery occurred and said he heard a voice in his head saying, "Please help my daughter, she needs assistance now." He did not know where the robbers had gone, but he knew exactly who the 'mystery daughter' must be. So, he approached a police officer he knew and begged him to come with him. And that was how he saved me, with the help of spirit, from becoming a hostage!
I never learned his real name, we all just called him "the professor." According to one police officer, they let him sleep at night at the train station, because he had nowhere to go and that he hated small spaces. I was said that he used to be an eminent professor of psychology, but at that time he was already in his 80s and his wife had passed a long time ago. Out of loneliness he decided to move into the train station and spend his days there.
Make yourself familiar with the angels, and behold them frequently in spirit; for, without being seen, they are present with you ~ St. Francis of Sales
He never ever told me anything about his life, but he was a source of many interesting stories and a good teacher in humanity. He made sure that I was okay after the robbery drama, and came by every other hour, when I was on shift, to check on me. He never entered the store while I was busy with a customer. The coffee and burgers we shared during my shifts soon became regular. Even my boss joined us a few times and they had good conversations too.
One day, he announced that he had to leave for hospital. Then he told me that my dad can be proud to have raised me so well. I told him that guardian angels come in all shapes and sizes, and hugged him for the first and last time in my life. He passed two days later.

About The Author: Sabina

Sabina was born in Germany but is now a Canadian resident in a happy relationship with her partner and their many Chihuahuas. She entered this world with powerful, predictive gifts she displayed at a young age. Later she learned to accurately read poker cards, using them like Tarot, while channeling answers for her many thousands of clients. She's worked on TV with a psychic show that ran for 10 years, and has read for many celebs, including J.Lo, accurately predicting her pregnancy with twins. She's read for 61,000 callers on a European site and has proven her gifts time and time again on radio call-in shows. Though her mom once called her crazy for making predictions at the age of 4, her eerie accuracy has proven that what is unusual and impossible for most, is normal and highly possible for Sabina. In 2008, she wrote a book about her uncanny technique of reading poker cards, and she has held many of her own seminars, sharing her techniques with others. A survivor of a very bad relationship, she dove into every book she could get her hands on to dissect the mechanics of unhealthy relationships and to help others understand that they are survivors and not the guilty ones in that scenario. If you'd like a reading with this lovely, celebrity psychic and channeler, you can find Sabina at PsychicAccess.com.


This site uses Akismet to reduce spam. Learn how your comment data is processed.