What You Can Expect From The Year 2021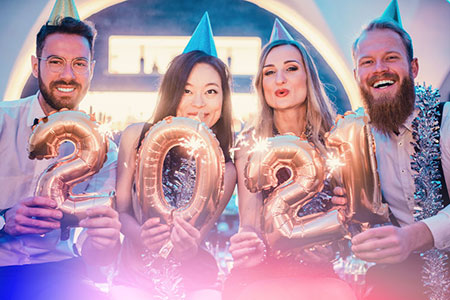 Next year, the world's energy imprint will be a 5, according to Numerology. During a 5 year, one can typically expect lots of activity, and after all the turmoil of 2020, we will now have even more catching up to do than usual. The energy of the 5 is fast moving and encourages us to meet life's challenges with renewed vigor.
Some aspects of life will gradually begin to return to normal in the new year, but bear in mind that some things have changed and shifted more permanently, pulling us forward to embrace new innovations and alternatives for 2021. It calls us to find new ways to do old things.
If you find it challenging to keep up, ask for help. There is always someone helpful you can reach out to, who can show you the nuances and tips.  It reminds me of my first encounter with video back in the day. My son had to show me the tricks and secrets of Nintendo's Mario game, which of course he loved sharing! Who says you cannot teach an old dog new tricks?
The keywords for next year's 5 energy are freedom, change, fun, travel and adventure. And we could certainly use some of all that! The energy of the 5 makes it especially a great year to travel. Finally, we will be able to do so, as the year progresses. So, start planning that dream vacation now, and look into one or more of those exotic destinations you have had on your bucket list for so many years.
But beware, in a 5 year we can also feel that our energy is scattered, so focusing on what's most important is key.  There will be many shiny objects to distract us in a 5 year, so if we are not mindful, we may find that nothing of importance will get done.
With all the energy of novelty and excitement we may encounter in 2021, we will have to pace ourselves, stay grounded and maintain our self-care practices. If you will be taking risks, first take a closer look, because not all that glitters is gold.
Never before in history has innovation offered promise of so much to so many in so short a time ~ Bill Gates
The year 2021 will probably also go by in the blink of an eye, so plan out things that are high on your list of priorities and be sure to take action as soon as you can.
In Tarot, the number 5 card is the Hierophant, also known as the Teacher or Wise Counselor.  We will be both the student and teacher next year, learning and sharing new ways to improve how we do things. This will be especially true in business and finance. The Hierophant is also about customs and tradition, as opposed to innovation and new paths. Some of the old traditions we treasure may need to make way for new customs and non-traditional ways.
When we break 2021 down into to two Tarot card numbers, we find that 20 is the Judgement or Awakening card, and 21 is the World card.  In the coming year, we are being called to become more aware and awake in the world.  The World card shows the cosmic dancer celebrating a cycle ending, a new one beginning!
Curiosity also speaks the language of the 5 energy, so we must be open next year to make those changes we have been thinking about, whether it's in our lifestyle or spiritual practice.  The 5 year is very physical, and it will be important to look after our health and fitness.  Find an exercise or activity you enjoy doing and get started.
The year 2021 is also the year of the Ox for the Chinese New Year, which begins mid-February.  The Ox's energy prompts us to forge forward with strength and determination, especially with tying up loose ends remnant from 2020.  The Ox is most closely related to the Zodiac sign of Capricorn, and as you may know…you can't keep a Capricorn down!
Discoveries are often made by not following instructions, by going off the main road, by trying the untried ~ Frank Tyger
Astrology also supports the 5 transformation. On December 21st, the Winter Solstice of 2020, Jupiter and Saturn will move into the sign of Aquarius, which is an important Astrological event. It is a great conjunction which begins a 200-year Air cycle moving from the Earth conjunctions.  This shift supports the innovations in technology, finance, and the joining of psychic awareness and brain science in the scientific community.
Also, it assists humanity to hit the reset button, breaking us free from limiting beliefs, and calling us all forward to make this a better world.  Saturn holds a container and keeps us accountable for Jupiter to spark ideas and expand our mind, and Aquarius takes flight on a magic carpet ride for which we all are invited.

About The Author: Maggie

Maggie helps people turn the radio dial up on their vibrations to hear the messages you're meant to receive. It all began as a teen with a dog-walking job in the neighborhood that—if you'll excuse the pun—unleashed Maggie's innate Gifts as a powerful Intuitive Reader. What followed was a rewarding career as a Tarot Reader, Numerologist, Reiki Master, and Angel Card Reader—to name just a few of her remarkable skills. Maggie's accomplishments include on-air co-host for Blogtalk Radio, several published articles on Tarot and Numerology, she's an endorsed reader for The Tarot Guild, and a much sought after Intuitive Reader hired for both corporate and private events. In addition, she has a YouTube channel where you can view and subscribe to her weekly vibes. If you'd like to personally tune-in to Maggie's unique and highly accurate vibe, for yourself, you can find her at PsychicAccess.com.