Starting Over…Now What?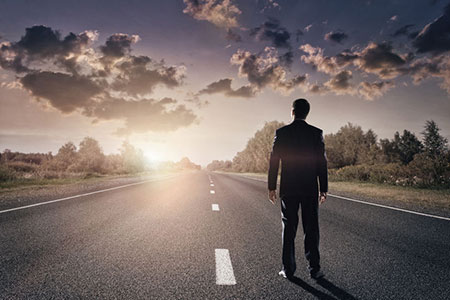 There is a time in our life for most of us when we have no choice but to start over. Many of us will have to start over after a relationship or marriage ends, a loved one or pet is lost, a friendship turns sour, or a career hits a dead end. And in these challenging moments you may well ask yourself, what do I do now?
As a psychic reader, working with many people over the years, I have seen some common mistakes people make in these times of their lives. The main misconception, I have found, is that many people believe their mistakes and failures are something negative or shameful.
The truth is every ending and new beginning is a learning experience. It is an opportunity to grow, if you approach them calmly with honesty. It is never a good idea in these situations to let your emotions get in the way.
Next time you face the challenges of a new beginning, try the following exercise. Before you start, get a notepad and pen. Next, take note of the 'rules' for this exercise.
1. You have to be willing to admit your part or role in what has happened.
2. You have to be completely honest with yourself, even if it hurts.
3. You have to approach this exercise from a third person perspective, so you can observe everything more clearly andobjectively.
4. This is not a blame game, or a pity party. There are no losers here, only winners.
Now, draw a vertical line on the page to create two columns. In one column write down all the negatives concerning what has happened, and in other all the positives. Be totally honest. Look at the situation as a bystander, and do your best to take all emotion out of it.
It's humbling to start fresh. It takes a lot of courage. But it can be reinvigorating. You just have to put your ego on a shelf and tell it to be quiet ~ Jennifer Ritchie Payette
Before you write down each entry, first carefully consider your thoughts and feelings about the situation, and why you feel that way. Then, observe or visualize it from an objective third person's point of view, and release the negativity, anger, bitterness and resentment you may harbor about the matter. Then write down your objective conclusion.
The other thing people don't do well is accepting the truth, no matter how bad it hurts. Facing the truth brings release and acceptance. It is like cutting the anchor on a ship, that is then free to sail, or releasing the hand brake on a car, that is then able to drive on with less obstacles.
Recreate your life, always, always. Remove the stones, plant rose bushes and make sweets. Begin again ~ Cora Coralina
Healing doesn't happen overnight. There's no fast track to it. True healing takes time and patience. Be gentle with yourself. To often people try to rush the recovery and healing, and then end up having to deal with the past issues and baggage in their new situations – not good for starting out on a strong new foundation.
Last, but not least, don't ever be afraid to ask for help. Sometimes all you need is a compassionate, understanding ear to listen to you. Find a support or counseling group in your area. Talk to a trusted friend or relative. Get a psychic reading with a reputable spiritual advisor. Connecting with people creates opportunity for social interaction that will go a long way in helping you processing the trauma, loss or disappointment you have suffered.

About The Author: Randy

Randy is a powerful Clairvoyant, Empath and Remote Viewer, from Upper Louisiana, discovering and embracing his gifts after a life altering event that took away 2 of the most important people in his life. This hardworking, detailed and devoted Virgo has worked professionally as a Psychic, since 2000, and has skillfully applied his talents on radio, at local renaissance fairs, at local and regional psychic fairs, expos, online and in one-on-one individual client readings. Randy can see images, symbols and remotely view any situation, clearly connecting his clients with the information he receives. His talents are so accurate and amazing, he's assisted law enforcement in North Alabama and Seattle, and has helped clients, family, and friends to find lost children, relatives and lost objects. Not only a reader, Randy is also a giver, raising money for charities, and helping others to expand their own gifts through teaching and mentoring. If you'd like to find solutions and a clear path, this sports medicine practitioner, athlete, coach, mentor, musician, and highly attuned reader has the all-psychic-pass you need to succeed! You can find Randy at PsychicAccess.com.