A Happy Ending To A Familiar Psychic Confession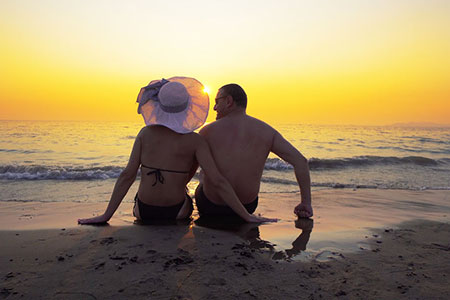 It's an all-too-familiar tale many professional psychics can tell. A classic, common, tragic tale. One of my clients ignored my advice and put her trust in the wrong man – and lost everything. "The man is not honest. Don't send him money," I cautioned her early on. "He's using you." But she was madly in love and threw all caution to the wind.
"Your warnings echoed in my head," she told me later, once she ended up standing in front of the shambles that was her life. "I ignored your advice, didn't want to hear the truth, and I got it all wrong," she confessed.
Her story is rife with deceit, betrayal, and bad judgment – even worse than I could foresee when she first consulted me about her relationship with this man.
"A few months ago, my new fiancé decided to build a house for us in his homeland, and I gave him financial support for this project," she explained. "Little by little, I had transferred all of my savings to him, until I had just enough money left to actually fly to him. I was curious about the vacation paradise that he called home, and that was soon to become my new home too, once we got married. But a disaster awaited me."
"My future husband did not want me to go there yet, and after my arrival I soon understood why. He was already living in that house, the one he built for us with my money, but with his wife of many years! Yes, he is married. My world collapsed. I actually fell for a fraud, a total scam!"
"I wish I had listened to you Sabina. You warned me from the start," she cried. "Don't send him any money, he's a fraud,' you told me in no uncertain terms. You also told me that he was not being faithful, and to expect a nasty surprise once I go there."
You always do what you want to do. This is true with every act. You may say that you had to do something, or that you were forced to, but actually, whatever you do, you do by choice. Only you have the power to choose for yourself ~ W. Clement Stone
She then thanked me for not reproaching her when she finally got the courage together to call me again, with her nerves shot and seemingly at her wits ends. Instead, I was just there for her as always, patiently listening to her, and sending her healing energy to ease her despair.
Fortunately, with clairvoyance, and some help from the Tarot, I was also able to see that here was still much hope. I also sensed what she needed to do next. "Find a lawyer," I advised her. "If you seek and find legal help, you will be happy again. It will change your life for the better, in ways you cannot even imagine right now."
Our conversation indeed changed her life. She decided to listen to me, and found a lawyer who advised her very well on the matter. But not only that! They got along really well on a personal level, and she just felt good around him. A few meetings later, she couldn't deny it. "I fell in love, again," she blurted out.
Whether transition is forced upon us or comes about by personal choice, making it to the other side requires that we intentionally process the loss, celebrate the victories, and plan for the next productive season ~ Tim Austin
Of course, at first, she was afraid of falling into another trap, but this time I was able to give her the green light from the start. What a pleasure and privilege! Today she is happily involved in a loving, honest relationship with her new 'legal counsel,' living in a tropical paradise. The Universe indeed works in mysterious ways.
"Despite the fact that I had suffered major losses with that disastrous affair, in the end it has made me so much richer," she happily told me. "Not just with greater wisdom and life experience, but also with real love… for the first time in my life."

About The Author: Sabina

Sabina was born in Germany but is now a Canadian resident in a happy relationship with her partner and their many Chihuahuas. She entered this world with powerful, predictive gifts she displayed at a young age. Later she learned to accurately read poker cards, using them like Tarot, while channeling answers for her many thousands of clients. She's worked on TV with a psychic show that ran for 10 years, and has read for many celebs, including J.Lo, accurately predicting her pregnancy with twins. She's read for 61,000 callers on a European site and has proven her gifts time and time again on radio call-in shows. Though her mom once called her crazy for making predictions at the age of 4, her eerie accuracy has proven that what is unusual and impossible for most, is normal and highly possible for Sabina. In 2008, she wrote a book about her uncanny technique of reading poker cards, and she has held many of her own seminars, sharing her techniques with others. A survivor of a very bad relationship, she dove into every book she could get her hands on to dissect the mechanics of unhealthy relationships and to help others understand that they are survivors and not the guilty ones in that scenario. If you'd like a reading with this lovely, celebrity psychic and channeler, you can find Sabina at PsychicAccess.com.