Slow Down, Relax And Let Go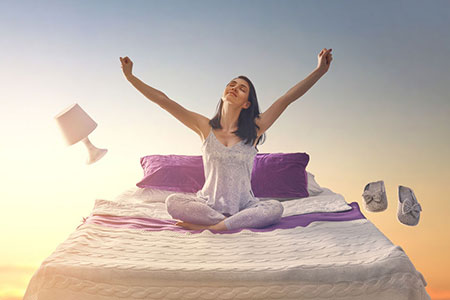 A friend recently mentioned that when she finally made up her mind to just allow herself to relax, let go and feel safe in the presence of spirit, she felt her shoulders spontaneously lowering from her ears back down to their natural position. "It was such a surprising relief," she sighed.
Indeed, when we slow down and relax, we can let go of the worries and fears that are beyond our control. When we give ourselves permission to just let go, it allows deep healing to begin, and to be more in-tune and connected to our body and its needs.
There is no need for us to control everything. It serves our highest good to release the past, the limitations, the fears and anxieties, the unforeseen circumstances, and the constant criticisms and judgements. Instead, we must allow the Universe to work on our behalf.
As a child I was an obsessive worrier, over-achiever and a classic Type A personality – harder on myself than anyone else could ever be! I even refused to use an eraser doing my school work. My mother would say that's why they put erasers at the end of pencils, to easily correct our mistakes. But I felt I had to do everything perfectly the first time. It was exhausting.
Mom also would say that most of the things we worry about never actually happen. My mother had many such words of wisdom, which my daughter today calls grandma's "nanaisms." Well, Nana was spot on! We tend to waste so much precious time and energy on worrying about absolutely nothing.
Lost time and wasted energy, however, is not all we sacrifice to our fears and worries. When we constantly anticipate problems or disasters in every life situation, we create unnecessary stress and anxiety, which can also lead to illness, relationship problems, depression, and even premature aging and death.
When I look back on all these worries, I remember the story of the old man who said on his deathbed that he had had a lot of trouble in his life, most of which had never happened ~ Winston Churchill
To be fair, in today's world it can be difficult to slow down, relax, surrender control, and trust that Spirit or the Divine is guiding, supporting and protecting us. More and more is demanded of us in our careers, businesses, education, family and social life, and our intimate relationships. The current pandemic and economic upheavals have not made it any easier either. But we must strive to find ways to allow ourselves to feel safer, to slow down, and take it easy.
Sleep is often overlooked as a way to reduce stress and anxiety. It plays a major role in our wellness and happiness. In her book, The Sleep Revolution: Transforming Your Life, One Night at a Time, Arianna Huffington writes, "By helping us keep the world in perspective, sleep gives us a chance to refocus on the essence of who we are. And in that place of connection, it is easier for the fears and concerns of the world to drop away."
Sleep is just one of the simple ways to slow down, restore our mental clarity and inner peace, and feel safe. I also find journaling to be very helpful to deal with my worrying thoughts. For me it has a healing effect. Dreamwork and keeping a dream journal is also a powerful way to process our deepest fears and anxieties. Most of us do not pay enough attention to our dreams.
I recently started a new gratitude journal that came with scrap-booking stickers and colored prompts. I write my gratitude entries both in the morning and evening, using colored pens and pencils. I love to be grateful in a creative way! By the way, if you're a busy parent, this is a great spiritual practice for getting your children involved with.
Worry is a thin stream of fear trickling through the mind. If encouraged, it cuts a channel into which all other thoughts are drained ~ Arthur Somers Roche
Even if you have no time at all for any special activities or spiritual practices, there are quick and easy little things you can do to better manage your worrying mind.
For example, try my favorite breathing hack. Simply take three deep breaths in through your nose, and exhale through your mouth. Then breathe in four breaths through your nose, hold for a few seconds, and then very slowly let it out through your nose. Do this for a just a minute or two, and you'll notice a greater sense of calm and relaxation.
So, today, I would like to give you permission to feel safer, to slow down, to relax and just let go of all your fears and worries. Hold space for yourself and for others, and feel the depth of love, joy and gratitude that the human heart can hold.

About The Author: Maggie

Maggie helps people turn the radio dial up on their vibrations to hear the messages you're meant to receive. It all began as a teen with a dog-walking job in the neighborhood that—if you'll excuse the pun—unleashed Maggie's innate Gifts as a powerful Intuitive Reader. What followed was a rewarding career as a Tarot Reader, Numerologist, Reiki Master, and Angel Card Reader—to name just a few of her remarkable skills. Maggie's accomplishments include on-air co-host for Blogtalk Radio, several published articles on Tarot and Numerology, she's an endorsed reader for The Tarot Guild, and a much sought after Intuitive Reader hired for both corporate and private events. In addition, she has a YouTube channel where you can view and subscribe to her weekly vibes. If you'd like to personally tune-in to Maggie's unique and highly accurate vibe, for yourself, you can find her at PsychicAccess.com.