Think Of Your Life As Creating A Painting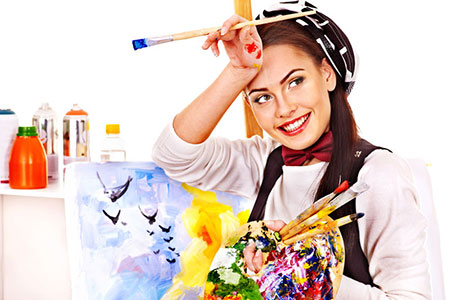 When I do a psychic reading, I often use words to paint a picture of the situation. I like to talk in images, because the human mind is designed to be drawn to the visual. Archetypal imagery is also the foundation of the Tarot.
I prefer for this reason to start most of my readings with the Rider-Waite Tarot deck, and the Celtic Cross spread, to get an overall picture of the situation and the key players.
The Celtic Cross for me creates a visual psychic map with several different 'streets' leaving from a roundabout, with time standing still for that moment.
It features four directions. North for our thoughts; South for the facts of the situation that we can rely on; West for the past and our previous experiences; and East for the next step, or path forward.
To accurately interpret this map, I also intuitively read the feelings, thoughts and intentions of the people involved in the situation.
Every reading outcome also offers a 'quick fix' that is usually only a temporary solution, as well as a long-term, more advisable solution. I give my clients the possible outcome of each way to achieve their goal or fulfill their wish. The client must then make the final choice once the reading is over.
Building your future is like building a house. It would make no sense to ask if the roof will be leaking one day, if you haven't even bought the land to build the house on. No land, no foundation. No foundation, no house. No house, no roof. The same holds true for any relationship, as well as friendships, careers, hobbies. No work, no imagination, no pain… no gain.
Art is not a mirror held up to reality, but a hammer with which to shape it ~ Berthold Brecht
To manifest the life and love you truly deserve, I recommend you create a similar psychic map of your own. Visualize what you want for your future. Make a list of the goals you want to achieve in life, in a certain period of time. Make a picture collage or vision board of things you would like to do, make, buy, enjoy, experience. Think of your life as creating a painting. Express yourself, and show your colors.
A psychic reading will help to shape your vision for a better future. Together we can paint your new destiny. Your psychic advisor will help you find the potential outlines, and then you can fill in the blanks, with as much brightness and shades of colors as you desire.

About The Author: Sabina

Sabina was born in Germany but is now a Canadian resident in a happy relationship with her partner and their many Chihuahuas. She entered this world with powerful, predictive gifts she displayed at a young age. Later she learned to accurately read poker cards, using them like Tarot, while channeling answers for her many thousands of clients. She's worked on TV with a psychic show that ran for 10 years, and has read for many celebs, including J.Lo, accurately predicting her pregnancy with twins. She's read for 61,000 callers on a European site and has proven her gifts time and time again on radio call-in shows. Though her mom once called her crazy for making predictions at the age of 4, her eerie accuracy has proven that what is unusual and impossible for most, is normal and highly possible for Sabina. In 2008, she wrote a book about her uncanny technique of reading poker cards, and she has held many of her own seminars, sharing her techniques with others. A survivor of a very bad relationship, she dove into every book she could get her hands on to dissect the mechanics of unhealthy relationships and to help others understand that they are survivors and not the guilty ones in that scenario. If you'd like a reading with this lovely, celebrity psychic and channeler, you can find Sabina at PsychicAccess.com.