Embrace Change In Your Life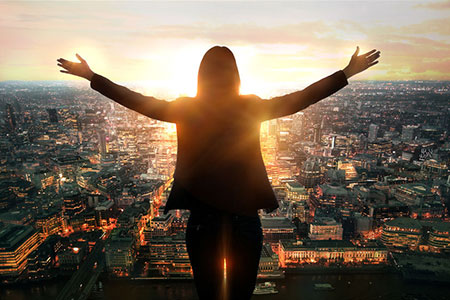 As a professional psychic advisor, one encounters a wide variety of people in various stages of life transition and change. And some deal better with these changes, than others.
Some people, for example, refuse to accept that nothing ever stays the same. People evolve. Spouses fall out of love. Children grow up. Circumstances change. Life goes on. Constantly looking back on an unpleasant past, or desperately holding on to the past, is not the way to live one's life in the now.
To make the most of life's challenges and opportunities, we must deal with present realities. Clinging to the past, or obsessing over the future, only causes immense stress to everybody involved. If we go around in circles, repeating the past, we will also not be able to conquer the future.
Some people also tend to be easily disappointed when others do not always cater to their needs and wishes. Then there are those who insist on always being right, while doing a lot of wrong themselves. This kind of selfishness does not make things right either.
As a psychic reader, I can explain the actions and reactions of people in your life. I can also offer you different perspectives and guide you towards potential solutions in dealing with others, as well as changing situations. But, I cannot change people or circumstances for you. I can also not turn back time.
If you feel stuck and you are repeating cycles, I can help you to break the pattern and give you the insight of change. Embrace change. Don't try to change others, or change the world. The only way this works is if you adapt yourself to the whatever changes may be happening in your life.
Change is inevitable in life. You can either resist it and potentially get run over by it, or you can choose to cooperate with it, adapt to it, and learn how to benefit from it. When you embrace change you will begin to see it as an opportunity for growth ~ Jack Canfield
In my view the journey is the destination – how you get there is your decision. What do I mean with this? Well, there is an old saying, "All roads lead to Rome." And if you want to go to Rome, there is more than one possibility way to get there: by airplane, bicycle, horse and carriage, car, train, bus, boat, or your feet. So, which option will you choose? As a psychic advisor I can guide you towards the 'best route and mode of transport' for your future happiness.
To achieve a future goal, you also have to make decisions about how you want to achieve the outcome, with the tools and resources that you currently have at your disposal: time, money, opportunity, desire, therapies, spiritual practices. As a psychic advisor, I can help you recognize your available resources, and advise you on how to best put them to use for your highest good.

About The Author: Sabina

Sabina was born in Germany but is now a Canadian resident in a happy relationship with her partner and their many Chihuahuas. She entered this world with powerful, predictive gifts she displayed at a young age. Later she learned to accurately read poker cards, using them like Tarot, while channeling answers for her many thousands of clients. She's worked on TV with a psychic show that ran for 10 years, and has read for many celebs, including J.Lo, accurately predicting her pregnancy with twins. She's read for 61,000 callers on a European site and has proven her gifts time and time again on radio call-in shows. Though her mom once called her crazy for making predictions at the age of 4, her eerie accuracy has proven that what is unusual and impossible for most, is normal and highly possible for Sabina. In 2008, she wrote a book about her uncanny technique of reading poker cards, and she has held many of her own seminars, sharing her techniques with others. A survivor of a very bad relationship, she dove into every book she could get her hands on to dissect the mechanics of unhealthy relationships and to help others understand that they are survivors and not the guilty ones in that scenario. If you'd like a reading with this lovely, celebrity psychic and channeler, you can find Sabina at PsychicAccess.com.