Navigating The 'Soul School'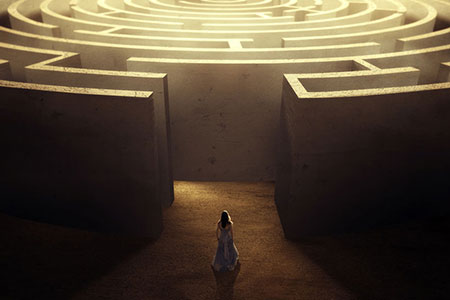 Based on my communication with the ancients, my guides, angels, and those who have passed before me, it is my belief that we were born into our bodies as a soul, and we are in 'soul school' during our time here on Earth.
I also believe we chose to take our particular body, and chose other souls with whom we would interact during this lifetime, which can be referred to as our 'soul family.' We each agreed to play certain roles in each other's soul growth.
Just like in school, once we learn certain concepts and master the fundamentals, our soul can choose to continue with advanced studies. Judging from my own accomplishments and challenges in human school, it made me stronger. When I stuck with it, I received the lesson of that particular subject and didn't have to repeat it. I was then able to move on. The same I believe holds true for the soul.
When we keep doing the same thing we get the same result. When we master the spiritual lesson, we get to move on to things which has a greater match to the vibration we are expressing and desire.
When we get stuck, which we all will at some point, we keep repeating that pattern with either a person, situation or circumstance. The good news is we don't have to stay there.  Often they are not meant to be permanent; they are there only for a season in our life.
The latter can be difficult, sad, hurtful, and hard to understand sometimes. Because we often 'want what we what, period.' We can too often not imagine the greater possibilities. Also what we know, can feel safe and predictable.
Spirituality is not adopting more beliefs and assumptions but uncovering the best in you ~ Amit Ray
But it doesn't  have to be that way. If we take one step toward our dreams and purpose; we are one step closer. Some might choose to take a big jump, and that's okay too. In any situation we will know what's right when we listen to our own body and intuition.
What is usually helpful, is gaining some distance from the situation. It can afford us more clarity and be able to see the bigger picture. Take a break, a vacation, pause, be out in nature, have dinner or lunch with a friend, add some quiet time or meditation to your day.
I can recall a time, during a particularly difficult relationship, when I went to lunch with a friend knowing I was taking the rest of the afternoon off. It was a beautiful sunny day, we dined outside, and my friend was talking about all things she was doing. Maybe it was the sunshine, the time off, or my friend's excitement, I don't really know, but something changed inside me that day.
I felt lighter about myself, and the relationship. My cloud lifted and things became clearer. I wanted something more in that relationship, and for myself. But rather than end the relationship at that time, I started doing the things that excited me. Yes, he was invited to join me, but if he didn't choose to go, that was okay too. I always had a great time either way. I knew we would either grow closer, or drift further apart, and I was no longer so attached to the outcome.
Growth is painful. Change is painful. But nothing is as painful as staying stuck somewhere you don't belong ~ Mandy Hale
In the end we did not stay together, but what was interesting is that he later started to do those same things I wanted to do, but with someone else. We were just at different places in our lives at that time.
One of my lessons from this relationship was not to give up on important parts of yourself in an attempt to please another person, or to keep the relationship together. It does not serve you, or your partner. Another gift from this relationship was that he helped me with my professional skills. I applied and was offered an engineering position in a top corporation I had been eyeing. After many other relationships, and some years later, I met my future husband at that company.
Now, being in these uncertain times in our world, the one certainty is knowing that our soul has come here for certain purposes and goals, and we are meant to fulfill these. There will be setbacks, experiments, bumps in the road, and successes along the way. As a collective, all souls are participating in this 'soul school' together. We must have each other's back, we're in our life experiments together. You are not alone. As Ram Dass said, "We're all just walking each other home."

About The Author: Maggie

Maggie helps people turn the radio dial up on their vibrations to hear the messages you're meant to receive. It all began as a teen with a dog-walking job in the neighborhood that—if you'll excuse the pun—unleashed Maggie's innate Gifts as a powerful Intuitive Reader. What followed was a rewarding career as a Tarot Reader, Numerologist, Reiki Master, and Angel Card Reader—to name just a few of her remarkable skills. Maggie's accomplishments include on-air co-host for Blogtalk Radio, several published articles on Tarot and Numerology, she's an endorsed reader for The Tarot Guild, and a much sought after Intuitive Reader hired for both corporate and private events. In addition, she has a YouTube channel where you can view and subscribe to her weekly vibes. If you'd like to personally tune-in to Maggie's unique and highly accurate vibe, for yourself, you can find her at PsychicAccess.com.