The Key To Healing Your Relationship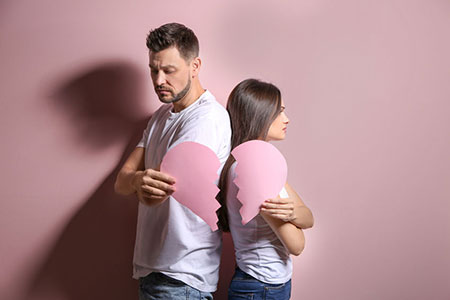 Our emotions and feelings are not always perceptions that originate within. Many are caused by external events or outer circumstances. For example, a motivational speech can lift you up, while a scolding can bring you down. So too can a healthy, or toxic relationship.
Much of our modern lifestyle is based on our reactive feelings to external influences. Social media influencers, popular culture and news sources tell us how we should feel, but do we really know what is going on in our heart? Marilyn Manson expresses this modern dilemma brilliantly in the song Coma White:
A pill to make you numb
A pill to make you dumb
A pill to make you anybody else
But all the drugs in this world
Won't save her from herself
In my experience, the reason there are so many dysfunctional relationships and broken marriages these days is the fact that many of us no longer know our own true feelings.
We are all the result of life experience. Experience is what gives us knowledge of success, or failure. The only person you can change, or whose behavior you can alter, is yourself. Every other thing follows suit. That is how we heal our relationships. We must lead by example.
The best and most beautiful things in the world cannot be seen or even touched. They must be felt with the heart ~ Helen Keller
Show love and kindness to others. Use the words 'please' and 'thank you.' You will get smiles in return, and a good feeling. Do not expect others to confess their love to you, if you are afraid of showing them love.
Loyalty is always a two-way street. Respect is to be earned and must not be requested, if you want a fair outcome. Trust is like a white sheet of paper. Handle it with care, because once it becomes crumpled, you can flatten it out again, will it never be the same – unless both you and your partner make a conscious, concerted effort to repair it.
If you feel frustrated and not respected in your relationship, then I can guide you on the way back to happiness, but I can't change you or your partner. I can help you to see the opportunities to stabilize and make your relationship work again, or to liberate yourself from its abusive clutches. But I cannot fix, or leave, your relationship for you. That is your job.
It will take a lot of time and effort. Rome was not build in one day. But as long there is love, there is hope, and with some spiritual guidance and psychic advice you can be back on track in no time.

About The Author: Sabina

Sabina was born in Germany but is now a Canadian resident in a happy relationship with her partner and their many Chihuahuas. She entered this world with powerful, predictive gifts she displayed at a young age. Later she learned to accurately read poker cards, using them like Tarot, while channeling answers for her many thousands of clients. She's worked on TV with a psychic show that ran for 10 years, and has read for many celebs, including J.Lo, accurately predicting her pregnancy with twins. She's read for 61,000 callers on a European site and has proven her gifts time and time again on radio call-in shows. Though her mom once called her crazy for making predictions at the age of 4, her eerie accuracy has proven that what is unusual and impossible for most, is normal and highly possible for Sabina. In 2008, she wrote a book about her uncanny technique of reading poker cards, and she has held many of her own seminars, sharing her techniques with others. A survivor of a very bad relationship, she dove into every book she could get her hands on to dissect the mechanics of unhealthy relationships and to help others understand that they are survivors and not the guilty ones in that scenario. If you'd like a reading with this lovely, celebrity psychic and channeler, you can find Sabina at PsychicAccess.com.