Are You An Old Soul?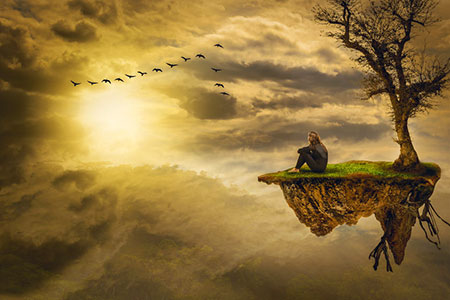 An 'old soul' is a person who wise beyond their years. It is someone who has a deeper understanding of human nature and the world we live in. I also believe that an old soul is a person who has learned valuable life lessons from their past incarnations or former lifetimes.
How do you know you are an old soul? Well, if you can see the bigger picture of things, and you are always wanting to learn more, then your current lifetime is probably not your 'first rodeo.' Old souls are typically highly intuitive and empathic. Their psychic senses are heightened, and they understand who they are in this life.
Old souls are attracted to wisdom and truth. They are not much for superficial lifestyles and trivial pursuits. They are not materialistic. Instead, they focus more on the beauty and simple joys of life, instead of the indulgences of material wealth and luxuries.
They feel the need to follow their own path in life, seeking their own truth and understanding, free from the opinion and views of others. They want to understand more about life and what makes things tick They live their lives the way they want to, and they find purpose and inner peace on their own terms.
There is a beautiful thing inside you that is thousands of years old. Too old to be captured in poems. Too old to be loved by everyone but so loved so very deeply by a chosen few ~ Nikita Gill
They are discerning about the people they hang out with and will not put themselves in superficial relationships. They would rather be alone, than deal with people that they cannot relate to. They typically prefer the company of older people. They do not usually have much interest in pursuing friends and partners from their own age group. They want to engage with people that they can relate to on a more mature level. They generally have no time for toxic people, energy thieves, and idle gossip – it tends to annoy them.
Some old souls do not see their own value or worth. Their wisdom and tendency towards deep contemplation of life's mysteries, tend to make them humble, self-deprecating, and even shy or introverted. Sometimes this can cause them to feel very alone, isolated or misunderstood.  If you are an old soul, embrace it and be proud, for you are extraordinary, and truly blessed.

About The Author: Andrea Grace

A Psychic, Medium and Paranormal Investigator living in New Jersey, Andrea has been a top featured internet psychic for many years. She was born with psychic gifts that made her unique in her family. At 17, she was in a horrific car accident and recalls traveling to the other side, describing the beauty beyond explanation. She received last rights, but returned with gifts that were enhanced considerably--a blessing she treasures to this day. It was her calling to stick around to help people, and this is exactly what she's been doing ever since! Her ability to help clients recall their past lives has helped many to understand where they're headed in the future. With the help of her Spirit Guides and Angels, she gives clarity on any issue, always respecting her clients, while telling it like it is. If you'd like an accurate reading with a caring, kind, and accurate Psychic and Medium, you can find Andrea at PsychicAccess.com.


One Response to Are You An Old Soul?