Psychic Readings Are Not A Magic Wand!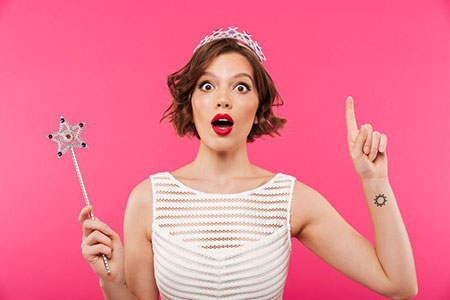 My main responsibility as a psychic empath is to help my clients identify an overcome obstacles and energy blockages in their lives, and make empowering choices and decisions to manifest the abundant life of joy, success, happiness and fulfillment they truly deserve. This, however, does not mean that I am able to wave some sort of magic wand to fix their life.
Every psychic has their unique way to connect with the unseen realm, and perceive the energies of the past, present and future. In my experience, the best psychic readers are also people who have suffered much personal adversity, and faced many challenges in their own lives. We also tend to be keen, lifelong students, constantly diving into deeper knowledge of all the many mysteries of metaphysics and spiritual life design, to better support the dreams of others, and help them reach their goals.
Being a professional psychic brings a lot of responsibility with it. We have to make sure that you understand the messages and gain clarity on pursuing your goals. Sadly, some clients have unrealistic expectations, expecting us to wave a magic wand during a psychic reading to instantly fix their lives and relationships.
For example, I just had a call from a new client who refused to speak to me. She was also determined not to ask me any questions. "I can give you the name," is all she said. I had no idea what to focus on first, or where to begin. "Do you have a question about this person," I asked. Silence on the other end. I had only a few brief minutes to transform her life, and it was going to have to happen without her saying a word about it!
Every day I sit and watch random people holding the wands with the power that can turn the world either into a graveyard or into a paradise, and yet roam around without believing in the magic that it possesses ~ Akshay Vasu
So, not being someone who backs down from a challenge, I braced myself and started with the reading as best I could. It was soon evident to me that the caller was in a very toxic relationship and dealing with constant conflict. No wonder she was so sullen! Fortunately, I was able to reassure her that the love between them was still there, despite all the fights and arguments.
Finally, she broke her silence and demanded that I now do something to make the person change his lifestyle and behavior towards her. She wanted a miracle cure. And I had to then tell her, very politely, that interfering with someone's free will was not in my power, and certainly not advisable even if it was. "This is not at all what I had hoped for," she said. She wanted that magic wand, period.
Now, I do everything in my power to advise my clients to the best of my ability, and help them find lasting solutions to their life questions. As an empath, I am willing to walk in their shoes to understand them, and best advise them. I am also willing to walk the extra mile in those shoes, when someone desperately needs my help. My goal is always to guide my clients towards success, happiness and fulfillment. But, sadly, I do not have a magic wand.
There is a time for everything in life, and it takes some effort, willingness and sacrifice to achieve what we desire in life. Life can be an obstacle course. A good life is hard work. If you are on a hiking trip and your path is blocked by a big rock, you have three options. You could go round it. You can climb onto it, and get a full view of what is waiting on the other side. Or you can just sit on your path and wait until someone else removes the rock for you.
This is where the 'magic wand mentality' comes in. There is no magic wand to get life's obstacles out of our way. If you do not wish to sit in front of a rock on your path, then let us talk about the possibilities and potentials you do have. It is never a sign of weakness to ask for help or support. It is a sign of being aware of an upcoming situation, and sincerely trying to solve it.
Everything you do is based on the choices you make. It's not your parents, your past relationships, your job, the economy, the weather, an argument or your age that is to blame. You and only you are responsible for every decision and choice you make. Period ~ Wayne Dyer
One of the best ways to get the most out of your psychic readings is to ask clear and direct questions, and keep notes of the psychic's answers. With this system you know which psychic reader told you what and when, preventing misunderstanding and confusion in subsequent readings with the same, or other readers.
In time this will enable you to keep track of what has already to come to pass. Little things mentioned during a reading will likely come to pass much faster than 'the big event,' which provides hope and encouragement along the way. As you can cross them off the list, you will have a feeling of achievement and success.
Next time you get a psychic reading from a reputable practitioner, take the sincere hand that is offered to help you, instead of insisting on a quick-fix miracle. The most powerful and transformational psychic readings are about personal empowerment, self-awareness, authentic dialogue and facing truths, and not about performing instant miracles or magic tricks.

About The Author: Sabina

Sabina was born in Germany but is now a Canadian resident in a happy relationship with her partner and their many Chihuahuas. She entered this world with powerful, predictive gifts she displayed at a young age. Later she learned to accurately read poker cards, using them like Tarot, while channeling answers for her many thousands of clients. She's worked on TV with a psychic show that ran for 10 years, and has read for many celebs, including J.Lo, accurately predicting her pregnancy with twins. She's read for 61,000 callers on a European site and has proven her gifts time and time again on radio call-in shows. Though her mom once called her crazy for making predictions at the age of 4, her eerie accuracy has proven that what is unusual and impossible for most, is normal and highly possible for Sabina. In 2008, she wrote a book about her uncanny technique of reading poker cards, and she has held many of her own seminars, sharing her techniques with others. A survivor of a very bad relationship, she dove into every book she could get her hands on to dissect the mechanics of unhealthy relationships and to help others understand that they are survivors and not the guilty ones in that scenario. If you'd like a reading with this lovely, celebrity psychic and channeler, you can find Sabina at PsychicAccess.com.