Time To Follow Your Heart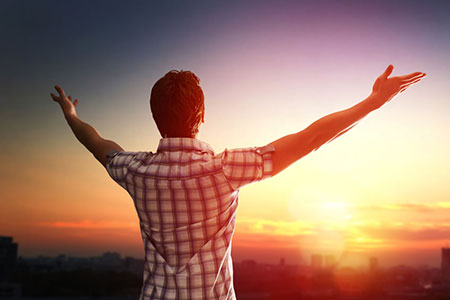 The Covid-19 pandemic has been causing many of us to face some of our life issues that may not have come up otherwise, had we not been under so much stress, while isolated from external social support.
The times we are going through remind me a lot of what the United States went through after 9/11. People were scared, and our lives changed. Some of us questions our purpose and our future: our lifestyles, our goals, our dreams. Many homes overnight became fortresses of self-isolation. Air travel became an issue. Many things we took for granted changed literally overnight. Sound familiar?
At first it was a matter of fear, anxiety and self-preservation. Then the effect on our emotions, choices and attitudes kicked in. Many people became more humble, patient and kind. We were more unified than ever, similar to our mindset during World War II, when a nation came together with one goal: to protect and defend what they loved.
Back then, people planted gardens, and bought bonds to support the cause. Industry became a place where women could play a more significant role in manufacturing and engineering. All for one thing, and one thing only: to secure our freedom. Covid-19 has brought with it similar challenges and adversity. What remains to be seen is how we will choose to respond and what good might come from it. I believe we will ultimately beat this crisis in the same way we have done in the past, both as individuals and as a nation. We have done it before, and we will do it again.
Do more of what makes you happy. Make memories that you will cherish forever. Remember that health, family and happiness are the most important things in life. Follow your dreams and don't hold back ~ Aysel Gunar
We have been facing many difficulties in recent months. At the top of the list has been the loss of income and employment for many, as well challenges with our physical and mental health. This has been leading to emotional stresses that many people are ill-equipped to handle very well, but there are ways to reduce and combat this. Exercise, meditate, take up a new hobby, read those books you never had time for, learn to play an instrument, get an internet group together, or simply talk to someone to alleviate some of the stress and anxiety. Talk to a friend, neighbor, a psychic, or even the cat or dog. Yes, the pets! Animals are amazing counselors and they love you no matter what.
Relationships are also more challenging for many in these circumstances. Adjusting to being together in close quarters for so long, and having to work from home, and homeschooling the kids, has placed a lot of strain on relationships and marriages. Some partners don't know how to adjust, or simply become frustrated, withdrawn, or depressed. And yes, some have become extremely quarrelsome. Some have come to believe that they have fallen out of love, when it is not really the case.
Your time is limited, so don't waste it living someone else's life. Don't be trapped by dogma – which is living with the results of other people's thinking. Don't let the noise of others' opinions drown out your own inner voice. And most important, have the courage to follow your heart and intuition ~ Steve Jobs
If this is the case in your relationship, then seek help. Consult someone you trust. There' always a safe, constructive way to handle these situations. Again, this is all trauma and stress-related and can with some concessions be a life-changer. Remember, love brought you together, so love can be the cure too.
The coronavirus pandemic has given many of us the chance to rediscover ourselves. Maybe now is the time to further your education towards that new career you always dreamed of, or remodel your home, or change your lifestyle for the better. Maybe it's time to follow your dreams. To follow your heart, and your passion. Maybe it's time to finally step into the unknown, allowing the Universe to guide you. There is never the promise of another sunrise. The future is waiting.

About The Author: Randy

Randy is a powerful Clairvoyant, Empath and Remote Viewer, from Upper Louisiana, discovering and embracing his gifts after a life altering event that took away 2 of the most important people in his life. This hardworking, detailed and devoted Virgo has worked professionally as a Psychic, since 2000, and has skillfully applied his talents on radio, at local renaissance fairs, at local and regional psychic fairs, expos, online and in one-on-one individual client readings. Randy can see images, symbols and remotely view any situation, clearly connecting his clients with the information he receives. His talents are so accurate and amazing, he's assisted law enforcement in North Alabama and Seattle, and has helped clients, family, and friends to find lost children, relatives and lost objects. Not only a reader, Randy is also a giver, raising money for charities, and helping others to expand their own gifts through teaching and mentoring. If you'd like to find solutions and a clear path, this sports medicine practitioner, athlete, coach, mentor, musician, and highly attuned reader has the all-psychic-pass you need to succeed! You can find Randy at PsychicAccess.com.