Your Spirit Guides And Guardians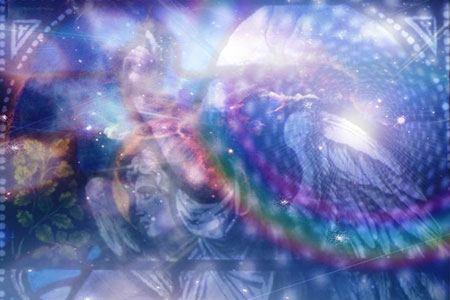 We all have trusted friends, family members and others we seek support and guidance from, but what about our helpers in the spiritual realm? They can be powerful allies, not only in our mundane day-to-day activities, but also when we need assistance in more important and urgent matters.
Our spiritual helpers are always there for us. I have felt throughout my life that I'm never alone, that I have constant protection and guidance. Just like friends, we have our favorites in the spirit realm too. They may be a family member that has passed, whose presence you can feel. They often also give us signs that they are here. Our favorites may also be the Archangels and Saints we adore, or some of the Ascended Masters like Jesus Christ, the Buddha, Vishnu, Quan Yin, Mother Mary, Parvati, Guru Nanak, Krishna, Lakshmi, Merlin, Saint Germain and Maitreya.
There may be one spirit guardian or guide you would like to have a closer relationship with, to form a bond and have them on your side as spiritual advisor, guru and friend. Well, all you need to do is ask! It makes a world of difference. They always have our backs in ways we often don't see, and can intercede for us in matters of the material realm, as well as with other beings here and on the Other Side.
It has been my experience that the more we check in with our helpers in spirit, show them gratitude and build a closer relationship with them, the deeper the bond and connection that will be formed. It's the same as relationships here on earth.  When we reach out and communicate with our friends, that bond grows stronger too. In both realms, as we connect and get to know them more, we also learn to better understand their gifts and how they can help us, as well as how we can honor them and carry on some of their work in this life.
You are never alone or helpless. The force that guides the stars guides you too ~ Shrii Shrii Anandamurti
Since I was young, I felt a strong personal connection to Saint Francis of Assisi, who was not only the saint named for my elementary school, but is the patron saint of animals and the natural environment. Having a deep love for animals of all kinds, I would often implore St. Francis to help when I found an animal was hurt, or in need of a healing.
To this day he comes to my aid when I am communicating with, or doing my Reiki and energy healing with the animals. He is one of the protectors in my garden for all animals, including m beloved pets. I admire his devotion and the work he accomplished while he was here on Earth, and in my life I constantly strive to follow his example by doing my part to help and care for the animals of our planet.
I say the Prayer of St. Francis every day before I start my day. And if ever there has been a a time this prayer is need in our world, then it is certainly now.
Prayer of St Francis
Lord, make me an instrument of your peace.
Where there is hatred, let me bring love.
Where there is offence, let me bring pardon.
Where there is discord, let me bring union.
Where there is error, let me bring truth.
Where there is doubt, let me bring faith.
Where there is despair, let me bring hope.
Where there is darkness, let me bring your light.
Where there is sadness, let me bring joy.
Divine Master, let me not seek as much
to be consoled as to console,
to be understood as to understand,
to be loved as to love,
for it is in giving that one receives,
it is in self-forgetting that one finds,
it is in pardoning that one is pardoned,
it is in dying that one is raised to eternal life.
Amen.
Some of my other spiritual allies and favorite guides include my Guardian Angel, who has been with me since birth, the Divine Mother, Father God, Mother Mary, Buddha, Archangel Metatron, St. Anthony, Archangel Michael and Raphael, as well as my mom and dad and grandparents in spirit. I also have other spiritual acquaintances in my 'contact list.'
St. Anthony, for example, has helped me find lost objects for myself and others on numerous occasions. I was constantly losing things as a child, and my mother would say, "If your head was not attached to your body, you might lose it too!" She originally gave me the prayer for St. Anthony for this reason. The older I get, and in these times of information overload, St. Anthony has helped me locate what was once lost. I always acknowledge him, his help, and say a prayer of thanks.
If you knew who walked beside you at all times, on the path that you have chosen, you could never experience fear or doubt again ~ Wayne Dyer
A client contacted me one day, asking me to help him find a lost object. I was telling him about St. Anthony and he said he was a former priest and remembered "Tony," as he called him. He said the prayer I provided him, and sent me a note a week later that St. Anthony actually came through to save the day. He was now going to reacquaint himself with "Tony," because, like me, he is  also losing things all the time.
Archangel Michael is my protector. He helps me release beliefs and patterns that are rooted in the past, as well as past lives, that no longer serve me today. Archangel Raphael works through me in my healing work, and all of my guides in the spirit realm bring messages through for clients during readings. I am always open to those whom are known to my clients, who wish to bring through help, guidance and hope.
There are many ways we can love and honor our spirit guides. Just thinking of them, and recognizing the work they do for us, already goes a long way. I enjoy lighting candles and ringing a bell or playing the singing bowl to make the connection with them. I was raised Catholic – a tradition steeped in candles, incense and ritual. I have therefore carried some of these traditions over to my spiritual life and work. I also light a candle each time I have a client call to honor them and their dreams.
Before I go to sleep at night, I invite those in spirit to visit me in my dreams, and I include them in my gratitude time before bed. When we sleep, our mind and body are relaxed and we receive messages more easily and vividly. You can also place a candle or flowers near the picture of a loved one, with the intention of remembrance. I like to pour an extra cup of tea for my mother, while I drink mine, whenever I sense her presence.
Think of times in your life when you have called on someone in spirit for help. Answered prayers and communication not only comfort us, but that spiritual connection is a pure and beautiful one. I invite you to seek out those in the spirit realm who wish to comfort, guide and support you. Learn more about them, develop a bond, and check in with them. They love to help us develop our spiritual gifts, intuition, and earthly talents to create and manifest what we desire in this lifetime.

About The Author: Maggie

Maggie helps people turn the radio dial up on their vibrations to hear the messages you're meant to receive. It all began as a teen with a dog-walking job in the neighborhood that—if you'll excuse the pun—unleashed Maggie's innate Gifts as a powerful Intuitive Reader. What followed was a rewarding career as a Tarot Reader, Numerologist, Reiki Master, and Angel Card Reader—to name just a few of her remarkable skills. Maggie's accomplishments include on-air co-host for Blogtalk Radio, several published articles on Tarot and Numerology, she's an endorsed reader for The Tarot Guild, and a much sought after Intuitive Reader hired for both corporate and private events. In addition, she has a YouTube channel where you can view and subscribe to her weekly vibes. If you'd like to personally tune-in to Maggie's unique and highly accurate vibe, for yourself, you can find her at PsychicAccess.com.


This site uses Akismet to reduce spam. Learn how your comment data is processed.