Signs, Sigils And A Solstice Frith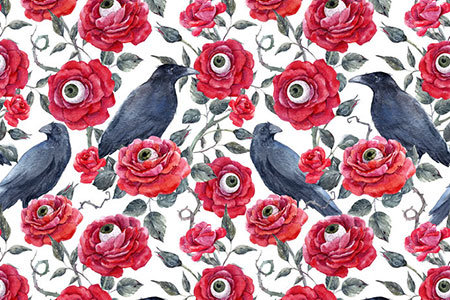 As we arrive at the mid-year this weekend, with the solstice on June 20th, we have an opportunity to consider what needs to unfold next, for the remainder of this unusual year. The solstice is the ideal time for signs, sigils and spiritual messages.
This has been a curious time for everyone on the planet. It is as if we've been trapped in an alternate reality, where we can no longer accurately sense what lies ahead. With this much upheaval and uncertainty, it's natural to experience a range of extreme emotions. We've had to adapt, and reflect, and confront our inner demons.
During these interesting times it's important to nourish what we know feels good and true in our lives. The situation also opens up the space to be curious and be willing to try new things.
We have been living with one foot in the past, and one foot in the future. The good news is, however, that there is a change in the wind. We can't successfully continue living between two worlds forever. There is a shift coming. When the winds starts to blow in a new direction, one can feel it 'in your bones.' There is anxiety, excitement, anticipation, a sense of renewal. For me, when this happens with the changing winds, I look for signs and spiritual guidance.
Recently, on the day a new wind blew for me, my first question was, "What's next?" I was drawn to step on the threshold of my door, touching the door frame. The first thing I saw and heard was a murder of crows sitting on the fence around one of the rose bushes, cawing loudly. Then I noticed a significant change in the rose buds.
The day before I was pruning the bushes, and it looked as if many of the buds were not going to open this season, as several branches seemed to be dying. Fortunately, I had some other chores and didn't finish the pruning, and left them as they were. Now, I saw a few of those buds were actually beginning to open, and new leaves were sprouting.
The day came when the risk it took to stay tight inside the bud was more painful than the risk it took to blossom ~ Anais Nin
This used to be one my mother's rose bushes. They were her favorite flowers. She would say, when a bud starts to open, "there is new life." Bud was also my father's nickname. So, for me, this was the message that the crows were showing me. Look and listen for new life, for things are blossoming.
In a virtual conference, soon after that day, I learned of an old Gaelic practice of divination known as the Firth or Freer. The Frith is a Scots Gaelic method of augury, or seeking out divine information, by observing signs in nature. It was traditionally done every quarter, around the equinoxes and solstices of the year.
The Frith is performed with your eyes closed, concentrating on your question at a doorway or window, then touching the frame of the window or door, opening your eyes, and seeing, hearing, or smelling what nature is communication to you. It will show you your answer, in the form of an omen or premonition.
It's interesting that there is something deep in our spirit, in 'our bones,' that without learning about a certain practice, we instinctually know it. Or maybe it's a soul memory? So, this is what I was doing, without realizing it at the time. I was doing a Frith. I was seeing and hearing what the crows came to show me.
Try doing your own Frith this week, with the coming solstice, and note what you see. The message will be just for you.
Knowledge of truth rather than knowledge of lies, that I myself may see my word's vision. Son of Fair Mary, King of Nature, give me vision of my own word ~ Caitlín Matthews
We are currently renewing ourselves, our relationships and our lives. This is a time to become more clear about our desires, wishes and goals, both short-term and long-term, and coming into alignment with our inner being.
This is an auspicious time. We might have felt like a flower that is tight in its bud, and was not going to bloom. But the light is shining now, and the bud is beginning to open. We are waking up as if from a dream, or a long sleep.
A new landscape awaits outside our door, and we get to decide how we will participate. I see opportunities for all of us, but we will need to reach out, communicate with others, and be willing to test the waters without guarantees.
And if the first thing we try does not work, it will lead us to another 'right place.' Without the first step we wouldn't have seen it. There will be new ideas to examine and new ways of being. We will want to connect to others in a deeper way. We have an opportunity now to go about life being more intentional.
Do not, however, be tempted to take your eyes off your goals and become distracted. Check-ins throughout your day can remind you to stay focused. I put reminders on my phone, that pop up at different times to keep me focused on fueling the flames of my desire, of my goals, rather than fueling those destructive little thought fires, that tend to flare up to distract me. For if I let them grow too big, it takes m so much longer to put them out and get back on track.
It is not surprising that the frith is associated with the Quarter Days. Such times of sacredness marked shifts in livelihoods as the stages of the year shifted through seasons ~ Jon Keeyes
Another technique I use is to create a sigil. A sigil is a symbol or glyph with mystical properties. The purpose of a sigil is to focus the subconscious mind to accomplish the desires or needs of your conscious mind. Because I read charms, which are  also powerful mystical symbols, I love this practice.
You can find a traditional sigil or symbol that corresponds to what you desire, but it is best to create your own. Even if you use a standard one, add something of your own flair to it. You can draw it in your daily calendar, journal or keep it in a place where you will see it during the day, to keep you focused on your goal. Sigils can also be used in designing a talisman that you can wear on your person to empower you.

About The Author: Maggie

Maggie helps people turn the radio dial up on their vibrations to hear the messages you're meant to receive. It all began as a teen with a dog-walking job in the neighborhood that—if you'll excuse the pun—unleashed Maggie's innate Gifts as a powerful Intuitive Reader. What followed was a rewarding career as a Tarot Reader, Numerologist, Reiki Master, and Angel Card Reader—to name just a few of her remarkable skills. Maggie's accomplishments include on-air co-host for Blogtalk Radio, several published articles on Tarot and Numerology, she's an endorsed reader for The Tarot Guild, and a much sought after Intuitive Reader hired for both corporate and private events. In addition, she has a YouTube channel where you can view and subscribe to her weekly vibes. If you'd like to personally tune-in to Maggie's unique and highly accurate vibe, for yourself, you can find her at PsychicAccess.com.


This site uses Akismet to reduce spam. Learn how your comment data is processed.