Learning To Trust Your Gut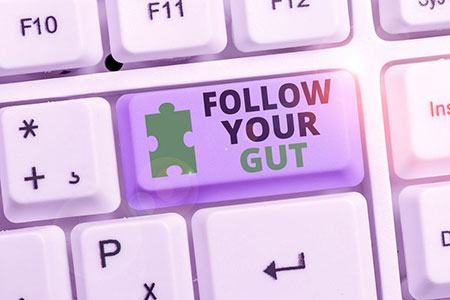 As a psychic advisor, I have noticed over the years that there is one issue that seems to come up in many psychic readings. It is an important matter that is seldom sufficiently addressed, namely trusting your own gut.
Now, don't get me wrong, a psychic reading is a wonderful tool to confirm your intuitions, or to get further clarification on your inner guidance and most any life situation. What I'm talking about is that 'gut feeling' most people either don't listen to, or fail to trust. A gut feeling is your physical body's expression of your instinct, in the form of a tangible feeling or physical response.
Yes, a psychic can help you to better see the bigger picture, and give you valuable guidance and options with regards the direction to go, but the first step should always be to trust your own gut.
How often have I heard a client complain, "I felt it in my gut, but I ignored it. I knew I should not do it, but I did it anyway, and now I regret it!" Yes, a gut feeling is the body's way of trying to tell you something important, but too often it is ignored by the logical brain, or the senses.
You have to be able to trust your inner being to make decisions, good or bad. Trusting yourself empowers you to take ownership and move in the direction of your life's purpose. Any decision is better than no decision at all. At least you are being proactive. Indecision and not trusting your instincts will only cause stagnation.
The most successful people are often very intuitive. Consciously or unconsciously, they follow their gut feelings. Following intuition puts us in the flow – a very alive, productive, and desirable state ~ Shakti Gawain
Meditation is key to developing this self-trust. Meditation allows for quieting the mind, as well as calming the body, and assists in controlling the emotional state. The combination of these three key areas being reset, so to speak, allows you to better focus on both your external environment and your inner awareness, as well as the situation at hand.
Balancing your energy with cleansing visualizations, and recharging your chakras on a regular basis, will ensure that your mind, body and emotions are more fine-tuned to your inner guidance, and in a proactive state of positive problem-solving.

About The Author: Randy

Randy is a powerful Clairvoyant, Empath and Remote Viewer, from Upper Louisiana, discovering and embracing his gifts after a life altering event that took away 2 of the most important people in his life. This hardworking, detailed and devoted Virgo has worked professionally as a Psychic, since 2000, and has skillfully applied his talents on radio, at local renaissance fairs, at local and regional psychic fairs, expos, online and in one-on-one individual client readings. Randy can see images, symbols and remotely view any situation, clearly connecting his clients with the information he receives. His talents are so accurate and amazing, he's assisted law enforcement in North Alabama and Seattle, and has helped clients, family, and friends to find lost children, relatives and lost objects. Not only a reader, Randy is also a giver, raising money for charities, and helping others to expand their own gifts through teaching and mentoring. If you'd like to find solutions and a clear path, this sports medicine practitioner, athlete, coach, mentor, musician, and highly attuned reader has the all-psychic-pass you need to succeed! You can find Randy at PsychicAccess.com.