Finding Love With Online Dating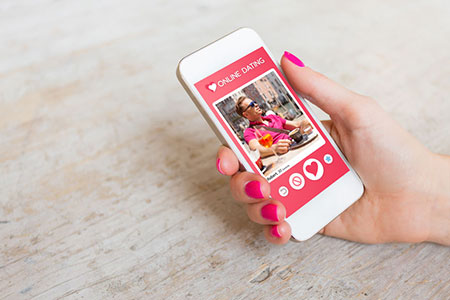 I believe in the power of romance and love. I believe in soulmates, synchronicity, and love at first sight. I could not practice my job properly if I did not believe in such things. And is this not what many of us are dreaming about? The knight in the shiny armor on a white steed, coming to save the damsel from her misery?
So, let's talk about online dating.
We all know the dangers and the threats of dating online. Many of us know someone who was deceived, or even got scammed. It can also be a very frustrating or disappointing process. But it is not impossible to meet your soulmate online. I personally have witnessed many success stories. But I also know of some incidents of 'love makes you blind,' as well as lonely, bankrupt and insecure.
I often get asked to do a reading about a person someone met online. It is important to be cautious and careful. For example, if you only connected with somebody online, you have not actually met anyone yet. The best way to be sure is to actually meet them in person, or at least have a video call with them. It is best to meet the person in a public place first. Inform your friends or family where and when you are to meet, and who the person is.
Our study we found that the success of a relationship did not depend on whether the people met online or not. Ultimately, it doesn't matter how you met your significant other, the relationship takes a life of its own after the initial meeting ~ Michael Rosenfeld
Better yet, take some of your friends with you for the 'meet and greet.' Ask your trusted friends about the person afterwards. What impression did they have? What did they observe? That is a good way to find out, if somebody is up to no good.
You may also want to ask your favorite psychic if they can sense any red flags, or see potential issues in the cards or in your horoscope. If your friends observed something that you would like more clarity about, a psychic can read on it, and reveal what is not always visible at first glance. What traits does she have? Is he a liar, or does he deal in truth?
In the end, let your gut feeling make the decisions, and not your fear. Life is full of miracles and good people. Follow your intuition. Visualize the outcome. Give yourself a chance to fall in love.

About The Author: Sabina

Sabina was born in Germany but is now a Canadian resident in a happy relationship with her partner and their many Chihuahuas. She entered this world with powerful, predictive gifts she displayed at a young age. Later she learned to accurately read poker cards, using them like Tarot, while channeling answers for her many thousands of clients. She's worked on TV with a psychic show that ran for 10 years, and has read for many celebs, including J.Lo, accurately predicting her pregnancy with twins. She's read for 61,000 callers on a European site and has proven her gifts time and time again on radio call-in shows. Though her mom once called her crazy for making predictions at the age of 4, her eerie accuracy has proven that what is unusual and impossible for most, is normal and highly possible for Sabina. In 2008, she wrote a book about her uncanny technique of reading poker cards, and she has held many of her own seminars, sharing her techniques with others. A survivor of a very bad relationship, she dove into every book she could get her hands on to dissect the mechanics of unhealthy relationships and to help others understand that they are survivors and not the guilty ones in that scenario. If you'd like a reading with this lovely, celebrity psychic and channeler, you can find Sabina at PsychicAccess.com.