The Novel Coronavirus And The New Earth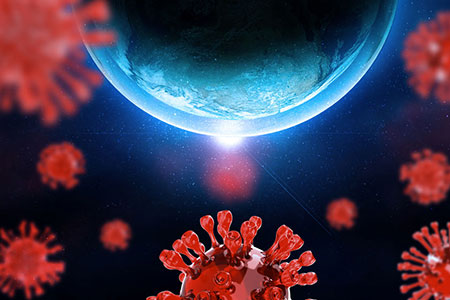 We have all been going through a very difficult time, dealing with the new coronavirus disease, lockdowns and loss of livelihoods. We have heard many people complain about everyday inconveniences, discomfort, the lack of normality, and even seen some acting nasty towards others in the supermarket.
We have also had many reports of celebrities and public figures safely recovering from Covid-19. But what is seldom acknowledged is the actual suffering and deaths of people who have contracted the virus. I have personally had people around me become sick, and I feel it may promote greater awareness and compassion by bringing some attention to it. Many people are bereaved and currently in mourning, and their grief is not sufficiently respected and acknowledged.
One thing I can assure you from personal experience is that this new disease is no hoax, and certainly no joke either. My own son contracted the virus a while ago. He works as a seafood chef. His restaurant had been crazy busy with all of the take-out orders they have been delivering. A fellow chef, who works the evening shift, came down with this virus, and sadly he passed away due to complications. He was only 37 years old.
Soon after that chef became ill, about 10 days later, my son suddenly also had symptoms, including troubled breathing and a fever. He was home for three weeks. Happy to say, he did recover, but I was a wreck. Before he went back to work, he had to be cleared by the Department of Health.
Whatever we are going through is part of the planetary struggle to evolve ~ Barbara Marx Hubbard
At the grocery market, where I do my shopping, a young stock boy, a really nice young man, came out of the warehouse door one day, and sneezed loudly. The spray traveled pretty far. You could see that he was very sick. Well, I instantly did an about face, and got away from him as fast as my legs could carry me!
I didn't see him at the store for quite some time after that. I did pray for him, sent healing light to him, and I am happy to report that he came back to work last week and appeared to be once again in good health and spirits.
In my apartment building, I had heard the sound of a respirator running at night, coming from the unit above me. This went on for about two weeks, then it stopped. Soon after, a photo of the woman who lived above me, was put up in our lobby. She had sadly passed away. We have, in fact, had quite a few people passing in my building, due to Covid-19.
I came down with a low grade fever and sore throat myself, for about a week. I carefully monitored myself and my doctor prescribed some medication. Fortunately, I woke up one day and felt fine again. I will be tested for antibodies in about a week. If I did have the virus, I sure survived it due to a miracle!
All in all, I must say I have been noticing a significant improvement in many people's behavior since the initial panic. Almost everyone seems to be acting much kinder, caring and more patient towards others. It seems a slowdown in our daily rush has had its social and spiritual benefits after all? Could this be part of a divine plan? I wonder.
A religious awakening which does not awaken the sleeper to love has roused him in vain ~ Jessamyn West
I do believe we are entering a new age on the planet. It explains why so many Earth changes are going on at this time. This pandemic must be one of the great changes and a part of the shift that so many psychics, gurus and prophets have been predicting for years. I see that it will teach mankind the true meaning of unconditional love and compassion. I do believe the ultimate outcome of this challenging time will be a beautiful new age for all of humanity. The new Age of Aquarius, will be a much more peaceful and spiritually evolved time.
Meanwhile, the road will be bumpy for a while still, but there are better days ahead. It is tragic that so many people have had to sacrifice their lives and livelihoods. Those of us who remain healthy and alive at this time should make every effort to face the future with more gratitude, hope and faith. We must begin to live with a renewed purpose, and be more kind and compassionate to one another. It is the very least we can do.

About The Author: Gabrielle-Claire

Gabrielle-Claire is a spiritualist psychic reader who channels the messages her Guides provide. She is also a gifted psychic healer who has studied with some of the finest metaphysical teachers, including a renowned healer of the Aquarian Foundation. Through her connection with the evolved souls of her Guides and Ascended Masters, she is able to put all of her numerous skills and gifts to great use, providing answers and healing energy to clients, and helping them to find their own hidden talents and abilities. You can have a life-transforming reading with her today at PsychicAccess.com.