Holding Out For The Heroes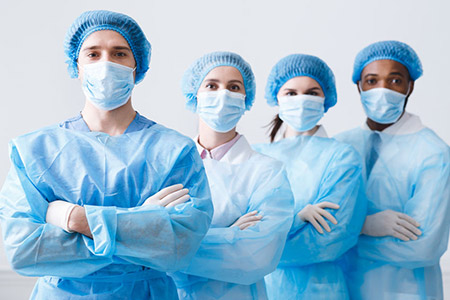 Every morning, while I am getting ready to face the uncertain world we currently live in, I put on that famous song by Bonnie Tyler, Holding Out For A Hero. And I turn the volume up – so loud that any anxiety or worry I might feel won't stand a chance over that song! It reminds me that while there are heroes in our world, there will always be hope. And we all are the sources of that hope, because we are all heroes in our own way.
Lately, I have been thinking especially about all the heroes and heroines out there on the frontlines of the Covid-19 pandemic, fighting every day for our greater good. So many healthcare workers, essential services personnel and volunteers are working around the clock, despite the danger and the risk to themselves and their families. Some of the first responders have to sleep in their cars or stations, not to affect their own families.
It is easy for ordinary folks to feel useless and insignificant in these times. What could the rest of us possibly do to support them in their valiant efforts? Personally, I have no medical education, apart from being a life guard in my teens. What could I possibly contribute during a global health crisis? Well, I'll tell you what makes sense. Many of us have special skills or resources that we can put to good use during these challenging times. Some people are sewing masks at home, or collecting food, while others are doing virtual volunteering and various uplifting online projects.
I am of certain convinced that the greatest heroes are those who do their duty in the daily grind of domestic affairs whilst the world whirls as a maddening dreidel ~ Florence Nightingale
But even if we feel we have nothing unique or special to contribute, there is one thing we can all do to support the efforts of those on the frontline. We can all stay home! Every person who shelters in place, and practicing social distancing, is helping to slow the spread of the new coronavirus, and potentially saving lives.
Living a spiritually aware life means to love and respect others, as well as yourself. How do we love and respect all the frontline heroes of the world, valiantly doing their jobs every day, if we disregard our own role in preventing the spread of this disease? The brave heroes of this pandemic have no time to fight over toilet paper! Instead, some of them have to repeatedly clean their precious N95 protective masks, until they fall apart. And they are still going strong. They share what they have.
A particular news story from Minnesota recently touched my heart. Dr. Sarosh Ashraf Janjua, a cardiologist at a coronavirus quarantine facility, was pulled over by state trooper Brian Schwartz for speeding on March 21, 2020. But instead of fining her with a speeding ticket, he just gave her a firm warning…and then handed her five N95 masks that he was supposed to use for his own protection! A stranger extending a helping hand in a time of need. One hero supporting another.
To be heroic may mean nothing more than to stand in the face of the status quo, in the face of an easy collapse into the madness of an increasingly chaotic world, and represent another way ~ Mike Alsford
Let us be grateful in our prayers, and appreciate each and every one of the unsung heroes and heroines out there: the janitors, the cleaning crews, the nurses, the deputies, the troopers, the doctors, the cops, the firefighters, the delivery guys, the grocery shop workers,  the bus drivers, the teachers, the caregivers, the volunteers.
Meanwhile, instead of just holding out for all the official heroes, let us not forget that we are all in this together and that we are all potential heroes ourselves. Let us be courageous and selfless. Let us support each other in every way we can possibly imagine. We must stand united and each be our best in these troubled times. It is the only way we are going to beat this as a global community.

About The Author: Sabina

Sabina was born in Germany but is now a Canadian resident in a happy relationship with her partner and their many Chihuahuas. She entered this world with powerful, predictive gifts she displayed at a young age. Later she learned to accurately read poker cards, using them like Tarot, while channeling answers for her many thousands of clients. She's worked on TV with a psychic show that ran for 10 years, and has read for many celebs, including J.Lo, accurately predicting her pregnancy with twins. She's read for 61,000 callers on a European site and has proven her gifts time and time again on radio call-in shows. Though her mom once called her crazy for making predictions at the age of 4, her eerie accuracy has proven that what is unusual and impossible for most, is normal and highly possible for Sabina. In 2008, she wrote a book about her uncanny technique of reading poker cards, and she has held many of her own seminars, sharing her techniques with others. A survivor of a very bad relationship, she dove into every book she could get her hands on to dissect the mechanics of unhealthy relationships and to help others understand that they are survivors and not the guilty ones in that scenario. If you'd like a reading with this lovely, celebrity psychic and channeler, you can find Sabina at PsychicAccess.com.