Numerology, Tarot And Astrology For 2020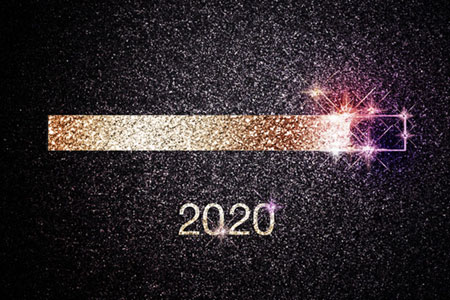 Are you ready for the coming year? According to the ancient art of Numerology, the year 2020 is a 4 Universal Year and energy. To calculate a Universal Year, we add the individual numbers: 2 + 0 + 2 + 0 = 4. The energy of 4 is grounded, practical and will build stable, solid foundations this year.
Although there will be ups and downs, focus, determination and patience will pay off this year. Whether it's your business, relationship, finances or career… slow and steady will win the race.
The Japanese concept of Kaizen is an approach to creating continuous improvement based on the idea that small, ongoing positive changes can create major improvements. Small steps lead to substantial change over time. This is the easiest way to change habits and reach our goals. This is notion is very true for 2020, as it offers us the stage to take our plans and create success.
In Tarot, the number 4 is represented by the Emperor in the Major Arcana. He is ruled by Aries and his element is Fire. The energy is masculine, yang energy, the Great Father. He's all about getting down to business; he's on it. He also has vision, can see the big picture, and he is consistent and disciplined, even during the slower times or when there are delays. He has Divine reason and order, and sees things as they are realistically.
The Emperor knows how to use the yin energy from the Empress, the Great Mother, and her imagination, ability to go inward, and patience. He is in his higher polarity, he's charge using mercy and justice. He rules with his inner power. However, on the lower end, he can be a bully, cruel and self-absorbed.
And suddenly you know: it's time to start something new and trust the magic of beginnings ~ Meister Eckhart
Astrology for 2020 predicts some 'pot holes' and it's a time to get serious, as Jupiter, our benefactor and planet of luck, moved into Capricorn late 2019, joining Saturn and Pluto. This is a cosmic powerhouse to start our year.
Jupiter, the Adventurer and Free Spirit, is not as comfortable in Capricorn as it feels restricted here, but it can lend a hand if we are disciplined and willing to do our work. Capricorn is about structure, hard work, building things and Jupiter will expand anything you put your attention on.
So, the saying "where attention goes energy flows," is one to remember and implement this year. Set your goals, believe in yourself and doors will open where you would not have imagined there could be doors. But, remember, Jupiter in Capricorn is all about the doing.
Jupiter stays in the sign of Capricorn until December of 2020.  Saturn has been in Capricorn for a while, and is Capricorn's ruling sign, so Saturn currently shows its best self. There is an industrious, ambitious energy afoot, including opportunities in business and building, and creating strong foundations with practicality and realism, which helps us do what is necessary even when we don't feel like it.
If you do the work this year, you will see results, especially around your career and business. Saturn moves out of Capricorn at the end of March, and into Aquarius and then re-enters Capricorn in a Retrograde in July, until December of 2020.
Take the first step in faith. You don't have to see the whole staircase, just take the first step ~ Martin Luther King Jr.
Pluto has been in Capricorn since 2008 and has a long stay until January of 2024. Pluto in Capricorn reforms things that are not authentic in our lives and also things that are toxic. Pluto transforms the things that Capricorn influences: political structures, religious institutions, aging, security, material resources, how we deal with money, status, power.
This also plays a part in our conscious and unconscious thoughts, and the choices we make. It's not always easy, but some of the darkest nights transform and strengthen us. Pluto is like the phoenix rising from the ashes. We can utilize the energy of this cosmic team to build what we desire this year, and reach our goals!
On January 25, we ring in the Chinese Lunar New Year – the Year of the Metal Rat. Metal conducts energy, so it can become a very busy year, pushing through many obstacles. The Rat is also traditionally associated with the Hindu god Ganesha, The Remover of Obstacles. The rat is often shown sitting next to Ganesh, eating sweets, or acting as the deity's vehicle, symbolizing Ganesha's ability to overcome anything to get what he wants.
The rat is the first sign in the Chinese Zodiac which starts a new cycle. Like the characteristics of a rodent, 2020 is a year to be productive, shrewd, spend time in nature and find your tribe. You can learn things quickly, as rats are intelligent.  Because of the busy nature of this little creature, you can find yourself overworking and worrying, letting little things 'nibble around your edges.'
2020 will be another year of extensive change as the universe continues in its accelerated transitional period but, given the rat's traits, the world will be equipped to cope ~ Kathryn Wortley
This can also be a year of abundance, but since metal is associated with water, don't let the abundance slip through your fingers. With health, let emotions move through you and do not get stuck. Stuck emotions can create emotional and health problems.
It's also a year to be in communities that support you and your interests. Isolation is not healthy for rats, as they are social creatures. The Year of the Metal Rat can be a good year for love, if you stay confident and warm, since metal can be a bit cold, and insecurity creates holes in relationships. By the way, Venus also goes Retrograde in bridal season, from May 13th until June 29th, so plan accordingly.
So, as we begin this exciting new year, consider these wise words from the novel, The Wind in the Willows by Kenneth Grahame. "This is the place of my song-dream, the place the music played to me," whispered the Rat, as if in a trance. "Here, in this holy place, here if anywhere, surely we shall find Him!

About The Author: Maggie

Maggie helps people turn the radio dial up on their vibrations to hear the messages you're meant to receive. It all began as a teen with a dog-walking job in the neighborhood that—if you'll excuse the pun—unleashed Maggie's innate Gifts as a powerful Intuitive Reader. What followed was a rewarding career as a Tarot Reader, Numerologist, Reiki Master, and Angel Card Reader—to name just a few of her remarkable skills. Maggie's accomplishments include on-air co-host for Blogtalk Radio, several published articles on Tarot and Numerology, she's an endorsed reader for The Tarot Guild, and a much sought after Intuitive Reader hired for both corporate and private events. In addition, she has a YouTube channel where you can view and subscribe to her weekly vibes. If you'd like to personally tune-in to Maggie's unique and highly accurate vibe, for yourself, you can find her at PsychicAccess.com.