The Simplicity Of God's Love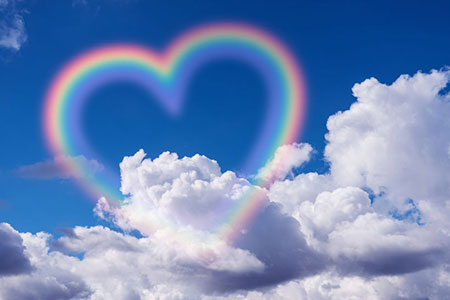 People tend to make spirituality much more complicated than it need be. God's Love is pure and God's Love is uncomplicated. I's supposed to be easy to live with the simplicity of God's law. Unfortunately it is not for most of us.
God's only law is Love. And this Love is much stronger than, and very different from, romantic love, family love, friendship love, and even stronger than parents' love for their children.
Many people who have had Near-Death Experiences (NDEs) have experienced a few moments of God's Love. They usually return to this life remembering that incredible feeling of total bliss. I had that experience myself a few years ago.
I had lost consciousness in my apartment. My son came to visit, but I didn't answer the door. The ambulance was called and I was taken to the emergency room. I had been pronounced dead, no signs of life, then I remember hearing someone screaming. It was my son. The doctors told him I was gone. But, he called for me and eventually I did come back. There was a television on in the room, and the nursing staff heard me 'talking to the television?' They ran over, examined me, hooked me up again to all kinds of medical equipment, and I spent two weeks there.
During that time I felt the unconditional love of God all around me. It was deep and profound. It surrounded me, and streamed through my very being. I can't really explain how deep and powerful God's Love is, but I have never experienced anything else like it. I do wish I could feel it again.
I now believe and trust that God gives us life as an expression of love and that the purpose of life is to grow in love ~ Iyanla Vanzant
It turned out that I had a severe case of Salmonella infection. I guess it wasn't my time. Maybe part of my mission here is to tell people about God's Love. Getting back to everyday life, I do believe that living a spiritually conscious lifestyle means that we all are here to love and be kind to each other. Easy to say, yet hard to do!
Whenever we have trouble with a fellow human being, especially when they do something to hurt us intentionally, the natural thing to do is usually to fight back. We want to hurt them right back. But this is not the spiritual way God expects of us. We must forgive them. Just like Jesus said, when he was dying on the cross, "Father, forgive them; for they know not what they do."  To be true to God's Love we must strive to become more Christ-like. We must listen to the powerful Avatars and Ascended Masters, who were put on this Earth to guide us to our own spiritual ascension.
Before anybody can even come to understand or even show love to another person in a relationship is to know that God is love, which is the ultimate key to unlocks all other love ~ John Franks
In today's world it does seem like people are becoming more crazy, and negative. So, it is a hard job these days to 'forgive and forget.' Well, part of spiritual duty is also to remember to take care of ourselves. Being spiritual does not mean that we have to take abuse from others. We have to learn how to say enough, I can forgive you, but I will not permit you to hurt me anymore.
When we eventually become evolved enough to understand and express the totality of God's pure Love, then God willing we will never have to come back to this life again. We then free ourselves to do the work of God in other ways, and delight in his eternal Love forever more. Until then we must strive every day to follow the 'golden rule' by treating others in the way we expect others to treat us. Quite simple really.

About The Author: Gabrielle-Claire

Gabrielle-Claire is basically a spiritualist psychic reader. She gives the messages that her guides are giving her. She is also a gifted psychic healer and works with a senior member of the Aquarian Foundation. She gives readings and healings at her home, and also at a shop near to where she lives. You can have a reading from her at Psychic Access.com.