Spiritual Living Still Requires Sustainable Action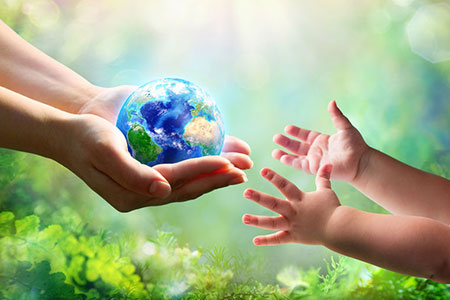 As a spiritual counselor to many with the gift of intuition, my goal is to connect with the unseen to inspire others to live in the world that I know is still possible, where avoidable suffering and tragedy are events of the past, and where each of us can live our best lives ever.
A dear friend recently contacted me from beautiful California, where multiple wildfires, fueled by the annual Santa Ana winds, have been raging throughout the state. I asked how she was faring during the season of high winds and smoke, and her reply was that life was normal as usual and that nothing out of the ordinary was occurring.
Having lived through wildfires, earthquakes, storms, and other extreme events of nature, I was taken aback that my friend seemed unshaken by the present threats. But then I remembered the refrain that my dear mother often repeated, "This too shall pass." This was often coupled with another reminder that prayer, or positive thoughts, also require a corresponding, uplifting action.
Before my conversation with my friend ended, I carefully coached her to always be ready to protect herself and her family in the face of developments that were beyond her realm of control – especially from that deep spiritual center she draws her life's energy and direction.
Spiritually speaking, we all have the right to be safe in the presence natural events, or unexpected crisis that may arise in our worlds. But living a life guided by Spirit also requires that we do our part to protect ourselves. This protection might take the form of creating a financial nest egg to keep afloat in the event there is a major change with employment, for example. Our personal responsibility might also manifest as shoring up one's pantry with food and water in event a grocery supply is hampered.
The world will not be destroyed by those who do evil, but by those who watch them without doing anything ~ Albert Einstein
In recent times, national news outlets have filled our living rooms with images of the public water crisis in places like Flint, Michigan. We've also read about the Red Tide recently threatening marine life along Florida's southwest coast; extreme weather conditions that have caused gas pipelines to shut down; bodies of water where overfishing has impacted entire communities; continued loss of biodiversity; rises in sea levels; and the melting of polar ice caps that could cause a rise in worldwide sea levels of 220 feet of more.
These are very real dangers that have impacted communities at home and abroad. While environmentalists caution that we must practice better stewardship of our amazing planet, there are however some individuals who have little concern for preserving the many wonders of our planet. But I believe that our protection as individuals and communities is intrinsically connected to how we maintain and protect our environment, especially our immediate surroundings.
By following the 'three Rs' of conservation, namely Reduce, Reuse, and Recycle, we can start conserving natural resources, as well as landfill space. By joining cleanup campaigns in our neighborhoods, we can help to protect our watersheds. By educating ourselves, we can help others more meaningfully understand the value of stewardship and how to protect our natural resources. By using water more smartly, we lessen runoff and wastewater, both hazards that contaminate our oceans.
Through a very simple actions, such as planting a tree, we can become super heroes by increasing oxygen levels, cleansing the air, and waging a battle against climate change. By choosing to live a more sustainable life at the individual level, we invest in our wellness and collectively transform the health of our entire planet.
We must face up to an inescapable reality: the challenges of sustainability simply overwhelm the adequacy of our responses. With some honorable exceptions, our responses are too few, too little, and too late ~ Kofi A. Annan
Just as my mother taught me, spiritual work must also correspond with physical action in the world in which we live. As we envision a healthier, happier, thriving, peaceful, more sustainable planet, let us also take real action in our communities to manifest the change we seek.
While writing this, I am consciously aware of my dear friends in California and the dangers that many live with as the wildfires continue to threaten the natural and manmade environments. My prayer is twofold:
Divine Presence within the Universe, please calm the winds and bring higher intelligence to urban planners, builders, engineers, and environmentalists to ensure that communities are safely built with adequate clearances between power lines and forests and structures, more emergency access roads, and shelters for animals and humans alike to avoid the disasters that we are seeing too often.

About The Author: Shawna

Shawna lives in the American Southwest and is a third generation Spiritualist and Clairvoyant. She recognized her own gifts at a young age, fully embracing her calling as a Clairvoyant, Medium, Spiritual Astrologer, Tarot Reader, Aura Reader, Water Reader, and Healer, training under the tutelage of some truly gifted mentors. Shawna utilizes her natural psychic gifts to help individuals navigate through personal challenges and discover the higher manifestations of their life paths. She's provided positive, spiritually responsible, and ethical readings in-person, over the phone, and online, and has read for clients in Los Angeles--at psychic fairs--and at the Crystal Gaze Spiritual Center, in Lakeland, FL. She is also a trained practitioner in Clinical Herbalism (University of New Mexico), Ayurveda Medicine (San Diego College of Ayurveda), and Reiki. Shawna has channeled messages for political leaders, celebrities, and has accurately predicted the outcome of national campaigns, as well as a big career opportunity for a talented actor that resulted in a Tony Award! If you'd like an enlightening and empowering, full-spectrum of guidance, you can find Shawna at PsychicAccess.com.