Honor Your Ancestors As The Wheel Turns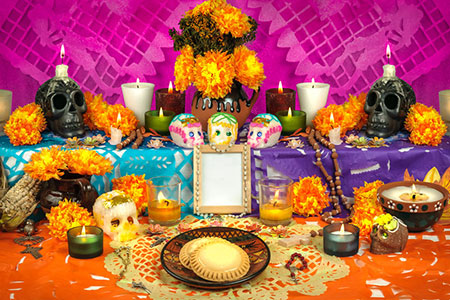 The Wheel of Fortune in the Tarot signifies change and transformation in our lives. We are now moving into a new season, but also other changes are coming. We can feel them! When we live close to the seasons and cycles of life, nature assists us through this transformation.
As the wheel turns, we come into the time now of Halloween, Samhain, Hallowmas, and then All Souls' Day to honor our ancestors. Our elders are many: the ancestors, the wisdom keepers, our inner wise one, as well as those who give counsel and pass it on to those who seek them out. They are the healers of old and can come through as ancestors or guides.
These wise ones can slip between the worlds, transforming inner reality into outer reality, reminding us that we can too. They ask us: what do you want? What is your dream and vision? What's holding you back?  What are you willing to give up for something greater, a bigger vision? What needs to be healed? What would you do if you tapped into, and trusted your own wisdom?
Our European sister, the Baba Yaga, Hecate, the Greek Goddess of the Crossroads, is someone I deeply connect with, as is Mother Mary and Archangel Azrael. In my practice one of my specialties is working with those going through transitions and metaphorical crossroads of all kinds. Crossroads are places of power. It's a place where we can give an offering of gratitude, or petition, or prayer.
At this time of the year the veil is thin, a time when we celebrate and honor our ancestors. There are many ways we can do this, for example by changing up our altars or creating a sacred space where we can display pictures of our loved ones, friends, pets, and adding things around it that they loved in this life, along with candles, and flowers.
Our dead are never dead to us, until we have forgotten them ~ George Eliot
There may also have been a poem, prayer or story they loved that we can read aloud. You can also record in your journal any messages you receive from those that have passed, those that come in our dreams, or sychronictistic experiences.
Reciting prayers using beads, a rosary, or malas, are gifts to our ancestors given from us during this liminal time. The practice and repetition of saying a mantra or prayer shifts our energy into one of peace. You can even craft prayer cards with a picture of your loved one.
As we begin to celebrate All Souls' Day, many people have remembrances in their home of those who have made their transition. Some may visit their family and friends in a cemetery at this time, light a candle on the grave or bring flowers. I always prepare my family grave, at this time of the year, with flowers and decorations, as it's also my father's birthday.
You may not live close or may be unable to visit your family's resting place, but you can visit any other cemetery close to you. I have participated in several cemetery walks around the time of All Souls' Day. Some of the graves are so old that there may not be any relatives or friends left to visit them. So saying their name aloud (they may not have heard it spoken in awhile) they will know they are remembered, and not forgotten!
Another idea is to make small soul cakes to take with you to leave at the graves. A soul cake is a small round cake or muffin, which is traditionally made for this day, to celebrate the dead. Originally they were made with whatever grain the community had available. The cakes, often simply referred to as 'souls,' were given out to soulers, children and the poor who would go from door to door, singing and saying prayers for the dead. The 60′s folk music group, Peter Paul and Mary, recorded a song based on an old rhyme for soul cakes, called A' Soalin.
Walking, I am listening to a deeper way. Suddenly all my ancestors are behind me. Be still, they say. Watch and listen. You are the result of the love of thousands ~ Linda Hogan
Día De Los Muertos, or Day of the Dead, is another festival celebrated in parts of the World, especially in Mexico and also the United States, and particularly where there are large Latin American communities. Day of the Dead events, which typically come in the form of festivals, parades and group celebrations, are held on November 1st and 2nd, to coincide with All Saints' and All Souls' Day.
During these celebrations some people wear masks and create beautiful decorations to honor the dead. Some community centers invite people to commemorate their deceased loved ones with offerings that include food, symbols, flowers, candles, photos and other mementos. Altars in memory of the dead are also made in people's homes. A decorated skull is often used in these celebrations, which symbolizes death and rebirth. The traditional flower associated with the dead is the marigold. The marigold represents the rays of the sun, which is about life, to symbolize the deceased not having lost their place in the Universe.
So, as the wheel turns, notice the changes in the world around you, and how it's reflected within. Pay attention to how we move and flow with the seasons. When we are in sync, we feel more of a connection with everything and find more ease, grace, and joy in our lives. What plans do you have as the wheel turns? What questions are coming up for you during this liminal time. You don't have to rush. You have the time, and you have the answer, and it may just come from an ancestor or guide.

About The Author: Maggie

Maggie helps people turn the radio dial up on their vibrations to hear the messages you're meant to receive. It all began as a teen with a dog-walking job in the neighborhood that—if you'll excuse the pun—unleashed Maggie's innate Gifts as a powerful Intuitive Reader. What followed was a rewarding career as a Tarot Reader, Numerologist, Reiki Master, and Angel Card Reader—to name just a few of her remarkable skills. Maggie's accomplishments include on-air co-host for Blogtalk Radio, several published articles on Tarot and Numerology, she's an endorsed reader for The Tarot Guild, and a much sought after Intuitive Reader hired for both corporate and private events. In addition, she has a YouTube channel where you can view and subscribe to her weekly vibes. If you'd like to personally tune-in to Maggie's unique and highly accurate vibe, for yourself, you can find her at PsychicAccess.com.