Mastermind Manifesting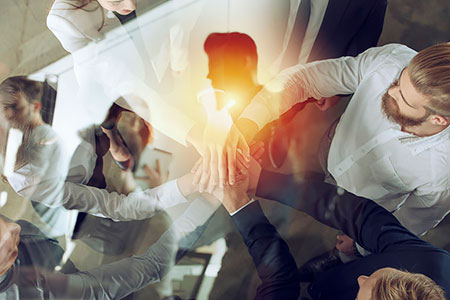 We all love to create. That's what we've come here to do. One of my favorite processes for manifesting is a type of 'mastermind' visualization exercise, which I have used successfully for over 30 years.
I discovered this technique decades ago at a Unity Church event, where my mentor, Jack, demonstrated many spiritual practices during a weekend retreat. The one that stood out I still use to this day, and even teach to others, adding my own spin to it.
The concept is similar to author Napoleon Hill's concept of a  mastermind group. In his books, Hill discussed the idea of the 'mastermind,' which referred to two or more people coming together in harmony to solve problems.
It's a very powerful practice, because many people around the world are using this process, or a similar one, which connects us and supports our visions. It's a short process, it's fun and I know you will enjoy it.
Originally it was done in a group, in a quiet space. As you would in meditation, we would close our eyes and hold an image or situation we want to manifest, along with also holding the visions of the other people in the room. You can do this on your own at home, but still co-create with other people all around the planet. You will be holding and building up the energy of their vision too, as they are for you.
To begin, relax in a chair, with your feet touching the ground, and close your eyes. Take a deep breath in through you nose and breathe out though your mouth. Continue to focus on your breath and relax your body until you are ready to proceed.
It is literally true that you can succeed best and quickest by helping others to succeed ~ Napolean Hill
Next, imagine a beautiful white light in front of you. This light is turning into rainbow colors like prisms. It begins to slowly come closer to you, until it reaches you and begins to fill you up. The light, the energy, is now inside of you, inside of each cell in your body, and all around you. The other people doing this meditation, at this time with us, at another time, feel this same light. We are all beautiful souls and lights.
Imagine you are sitting in a comfortable easy chair. This chair is supporting you, has big arm rests. Take another breath in and breathe out. Imagine in your mind's eye, a movie screen, a stage, the ocean, the mountains, a meadow. Be wherever you feel safe and comfortable.
Now start bringing in the images of your desire. What you want to create and manifest? As you are seeing these images come to life, step out of your body and move into that scene. Notice, what it feels like. What time of year is it? What's around you? Are there other people present? Is there a breeze? Notice the colors and how you are feeling inside.
Visualize and see yourself in present time, doing, having or creating what you desire to manifest. How does that feel? Is there a lightness, and joy? Whatever feeling comes up for you is perfect for this moment. Take a moment to look around. Smile. Feel yourself being there, doing what you love, being with the person or people you love. It's your movie, your creation.
Start coming back into your physical body, but you can still in your mind's eye see what's going on in your movie, in that creation, in that place. See your future self there. Freeze that frame.
An individual can't create anything itself. All of our dreams come true with the cooperation and co-creation of other souls ~ Hina Hashmi
When you're ready, you'll notice on your easy chair, on the armrest there is a button, and when you're ready you will press the button and send your desire or 'movie' out into the Universe. Press your button. As you see it going out into the Universe, feel the other souls around you, the other light beings. Their dreams, their visions are also going out into the Universe. Some of you may connect, or you may never meet each other, but what we can do for each other is hold the vibration, the dream for each other. You can feel the other bodies of light. Our light gets brighter and stronger as we hold the vision for another.
In the next few days, weeks, months, you'll start getting ideas. Things will start coming to you, manifesting. You will feel inspired action from this dream that you sent out. You have released it out to the Universe, releasing any resistance. And you can always come back and do it again. See yourself in your vision, in your creation with the person in this place and you can add more to it, or this may be just perfect as it is.
Finally, when you are ready, take a deep breath and let it out, and then slowly feel yourself coming back to the present moment. Open your eyes, rub your palms together, ground yourself, and take a sip of water or tea.
In remembrance of my teacher Jack, who was not only my spiritual mentor, but also a piano teacher and singer, I conclude with the lyrics of a beautiful song he would sing at the end of every get-together or church service.
Something good is going to happen to you, happen to you, this very day.
Something Good is going to happen to you.
Look for the good today.

About The Author: Maggie

Maggie helps people turn the radio dial up on their vibrations to hear the messages you're meant to receive. It all began as a teen with a dog-walking job in the neighborhood that—if you'll excuse the pun—unleashed Maggie's innate Gifts as a powerful Intuitive Reader. What followed was a rewarding career as a Tarot Reader, Numerologist, Reiki Master, and Angel Card Reader—to name just a few of her remarkable skills. Maggie's accomplishments include on-air co-host for Blogtalk Radio, several published articles on Tarot and Numerology, she's an endorsed reader for The Tarot Guild, and a much sought after Intuitive Reader hired for both corporate and private events. In addition, she has a YouTube channel where you can view and subscribe to her weekly vibes. If you'd like to personally tune-in to Maggie's unique and highly accurate vibe, for yourself, you can find her at PsychicAccess.com.