Good Vibes At Home With Crystals, Stones And Feng Shui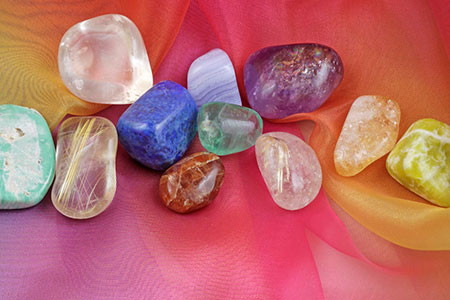 Crystals and stones have enhanced and blessed my life in so many ways. I like to use them in combination with Feng Shui. It's all about energy and vibrations and how to work with the energy of the stones in our home, office or even a temporary space. As with everything we do, the intention we give it amplifies the vibes.
I choose certain stones to place in the interior of my house, using Feng Shui principles and the attributes of various stones. After I choose the stones, I find the Feng Shui geographic directions using a compass. I then place one stone or crystal in each of the directions, to correspond with the Feng Shui system. They can be placed on window sills, cabinets, desks, or any place where they will be secure.
As I place each stone, I say my intention or prayer aloud and ring a bell. Many of my selected stones have been in place for years. Once a year, I take a soft cloth and lovingly wipe the stones to clean them, before I replace them. I also reaffirm my intention, say a prayer and ring the bell again. Sound reactivates a crystal or stone. I then offer my gratitude and appreciation to the stone or crystal 'guest,' and thank it for the blessings it brings and energetic work it does.
Below are a few suggestions for combining Feng Shui with the energy of various crystals and stones, to imbue your space with good vibrations. These are suggestions from my personal knowledge and experience, but I recommend that you bond with those stones or crystals that resonate with your own intention.
They are present and available, each singing with its own voice, and through them all the voice of the Earth vibrates softly in our hearts. When we listen, when we answer, the dance begins ~ Robert Simmons
South – Reputation, Fame & Luck
Carnelian
The element is Fire. Carnelian, the Great Motivator, is wonderful placed in the South of a room, home or office. Its energetic attributes include clarity, integrity, reputation, and illumination. It is also a wonderful stone for working with the Root Chakra. Alternatives include Citrine, Clear and Rutilated Quartz, Fire Agate, Garnet, Gold, Herkimer Diamond, Ruby, and Sunstone.
Southwest – Relationship, Love & Marriage
Rose Quartz
The element is Earth. The energy of Rose Quartz invites love, partnership, receptivity, and openness. When two are placed together in the bedroom, they enhance your love relationship, or can bring new love into your life. Two rose quartz hearts are perfect!
West – Creativity & Children
Blue Lace Agate
The element is Metal. Blue Lace Agate attributes include children, future, joy, and inspiration. Alternatives include Labradorite Jade, Aquamarine, Blue Chalcedony, Silver or Opal.
Northwest – Helpful People & Travel
Citrine
Also the Metal element. Citrine's energy attributes are unseen assistance, travel, benevolence and synchronicity. Alternatives are Gold, Rutilated Quartz, White Quartz.
North – Career & Life Path
Black Obsidian
The element is Water. Attributes include protection, life journey, purpose, courage, and career. Snowflake Obsidian is a protective stone. It grounds our energy and can help remove negativity in our environment and personal space. Other stones that are wonderful here include Azurite, Black Tourmaline, Smokey Quartz, and Sodalite.
Northeast – Wisdom, Spiritual Growth, Skills & Knowledge
Moonstone
The element is Earth. Attributes of this stone includes inner knowledge, self-improvement, stillness, and introspection. You can also use any other cream or beige color stones.
East – Family & Health
Aventurine
The element is Wood. The attributes are elders, community, group support and strength. You can also use Amethyst or Celestite, which has an uplifting and calming emotional energy.
Southeast – Wealth, Prosperity & Abundance
Jade
The element is Wood. Attributes include prosperity, blessings, appreciation and gratitude. You can also use any other green stones. I keep a jade stone on the Southeast corner of my desk.
In the center of a room or your house, where people tend to gather, you can also place a clear Quartz or Citrine cluster. The attributes include the heart of chi, unifying forces, balance and vitality. Since we are all one, it strengthens group energy, but the points allow us all to be unique individuals.
I invite you to experiment with these Feng Shui placements for the beneficent spirit and energy that the stones and crystals can offer you. After all, they come from the Earth, our home.

About The Author: Maggie

Maggie helps people turn the radio dial up on their vibrations to hear the messages you're meant to receive. It all began as a teen with a dog-walking job in the neighborhood that—if you'll excuse the pun—unleashed Maggie's innate Gifts as a powerful Intuitive Reader. What followed was a rewarding career as a Tarot Reader, Numerologist, Reiki Master, and Angel Card Reader—to name just a few of her remarkable skills. Maggie's accomplishments include on-air co-host for Blogtalk Radio, several published articles on Tarot and Numerology, she's an endorsed reader for The Tarot Guild, and a much sought after Intuitive Reader hired for both corporate and private events. In addition, she has a YouTube channel where you can view and subscribe to her weekly vibes. If you'd like to personally tune-in to Maggie's unique and highly accurate vibe, for yourself, you can find her at PsychicAccess.com.