Astrological Magic Of The New Moon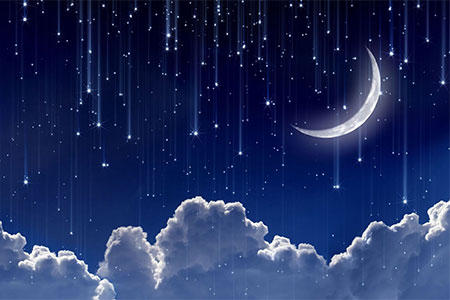 The Moon card in the Tarot reminds me of the Facebook relationship status: It's Complicated. It not only can bring up our deepest fears, but also speaks of the natural cycles of life. I am ever changing, reinventing myself, navigating by Moon time.
In the summertime and living in a big city, my mother's fear for me always used to be that I might "get into trouble," since I had "way too much time on my hands." So, every summer, before I was old enough to get my work permit to land a summer job, she would schedule summer classes just to keep me busy.
One particular summer, I was enrolled in a sewing class at a woman's house down the street from us. I was able to choose from several projects, and I immediately chose the two piece bathing suit! I was so proud of my work, and could not wait to show it off, but my mother was understandably cautious, because of my red hair, fair skin, and freckles. I suggested a compromise: "moon bathing."
Reluctantly she agreed, so I took out the lounge chair, flashlight, my small transistor radio, and some reading material. Wearing my two-piece bathing suit, I basked in the Moon's glow, while listening to music, reading, and even dancing. That's the summer when I fell in love with the Moon, and started on the path of following her cycles. And I have been forever changed.
For me, every New Moon brings her own magic and invites us to make wishes for that lunation. Each New Moon has her own personality and asks us to dwell in the possibilities. We also experience different New Moon energies according to the annual procession of the Zodiac. As you make your wishes for each lunation on the New Moon, the ideas below may inspire you in setting your own New Moon intentions for every month of the year.
I am a child of the Moon being raised by the Sun in a world walked by stars and a sky drawn with flowers ~ Zara Ventris
New Moon in Aries
Be bold, go for it, it's about passion. You are the Child of Spring! You will feel more courageous and confident. The Aries New Moon inspires action. The Aries 'infant soul' has a natural trust and a touching faith in the unseen force of goodness, which will miraculously grant all its wishes.
New Moon in Taurus
Determination is yours. You can manifest luxury and the finer things. Venus rules! The New Moon in Taurus reminds us it's  a wonderful time to plant those seeds which will be grounded in success!
New Moon in Gemini
Time to socialize! A gentle, witty energy and time where an exchange of ideas can be just what you were looking for. Feed your mind with good thoughts. The Gemini New Moon inspires us to filter out all the noise and hear the messages that will benefit you.
New Moon in Cancer
It's all about your home and nurturing. New beginnings. Leave insecurities behind and listen to your intuition. The Cancer New Moon reminds us that it's a great time to give and receive healing energy.
New Moon in Leo
The Leo New Moon is a great manifestor, and as a mentor, inspires you to shine brighter, love more passionately and know that the Universe adores you.  Leo's New Moon's advice: step out on the stage of life.
New Moon in Virgo
Pay attention to details as you will be given the information you require. Healing can take place this month and wellbeing is front and center. Virgo's New Moon reminds us it's progress not perfection. Remember you are perfect by being just who you are.
The moon likes secrets … and secret things. She lets mysteries bleed into her shadows and leaves us to ask whether they originated from otherworlds, or from our own imaginations ~ Charles de Lint
New Moon in Libra
A good time for negotiations and bringing balance into relationships. Look for the beauty around you. A wonderful time to create, collaborate, and support each other. The New Moon in Libra inspires us to take a walk out in nature; you will be inspired and the mind-body will feel more balanced and at peace.
New Moon in Scorpio
A transformative time as messages come through. Listen to your 'spidey sense.' Information may be revealed and resources will appear. It's also about love and passion, but take a kind approach. The New Moon in Scorpio invites you to put on your detective hat, as this is an excellent period to research for your next book, or investigate areas you've been curious about. A problem can be solved.
New Moon in Sagittarius
Travel, adventure, education and freedom are the energies for our New Moon. Your secret sauce is looking on the bright side of life. Thoughts and actions can magnetize your desired outcomes.  Just like the Archer, aim for your mark. Sagittarius' New Moon whispers to make room on our magic carpet so others can enjoy the ride with us.
New Moon in Capricorn
Your hard work will pay off and be appreciated. What you imagine, you Can create this month and into the future months.
New Moon in Aquarius
Expect the unexpected and follow your heart There is a vibe of freedom and innovation so take advantage of this energy. New ideas are bubbling up. The Aquarius New Moon reminds us we are Star People.
New Moon in Pisces
Dreamy and creative energy flow in. If you are a journaler, blogger, writer, this is your time. The focus is on your inner child and children. A mystical time to receive messages for your future self. Each Zodiac sign has a mantra and for Pisces this is "I Believe."

About The Author: Maggie

Maggie helps people turn the radio dial up on their vibrations to hear the messages you're meant to receive. It all began as a teen with a dog-walking job in the neighborhood that—if you'll excuse the pun—unleashed Maggie's innate Gifts as a powerful Intuitive Reader. What followed was a rewarding career as a Tarot Reader, Numerologist, Reiki Master, and Angel Card Reader—to name just a few of her remarkable skills. Maggie's accomplishments include on-air co-host for Blogtalk Radio, several published articles on Tarot and Numerology, she's an endorsed reader for The Tarot Guild, and a much sought after Intuitive Reader hired for both corporate and private events. In addition, she has a YouTube channel where you can view and subscribe to her weekly vibes. If you'd like to personally tune-in to Maggie's unique and highly accurate vibe, for yourself, you can find her at PsychicAccess.com.