The Day Inner Guidance Saved My Life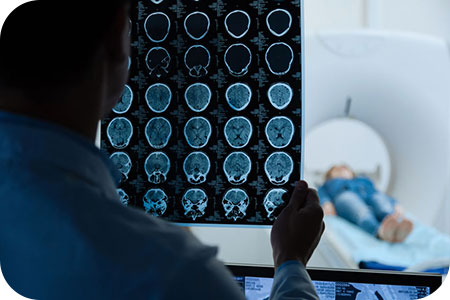 Two months ago, I miraculously survived a major aneurysm. That day, I listened to my inner voice and went to the hospital, to see why I had such a strange pain in my head. Thankfully, I paid attention to my inner guidance and the problem was discovered in time.
That voice I heard from within belongs to my spirit guide. He has been with me my whole life. Once he even appeared to me in an apparition and I was speechless, to say the least.
The aneurysm became apparent one morning as I woke up. I had an unusual headache in only on one part of my head. A headache is usually all over, not just located in one spot. Whatever could this be, I thought. A migraine maybe? How unusual, I thought.
I got up and made coffee, then I went back to bed, after taking some paracetamol. At that moment my guide's voice came in and said… investigate the pain, something isn't right. So, I called a nearby doctor's office, but the receptionist advised me not to worry, she got these headaches too. "You will be fine," she assured me. I took her word for it and went back to bed.
But, the voice within returned loud and clear. No, this isn't right! I called another doctor's office. The nurse there advised me to go to the hospital and have the pain examined. I called 911 and they sent an ambulance. When it arrived, the emergency medical technician said this could be very serious and placed me very carefully in the ambulance.
Practice listening to your intuition, your inner voice; ask questions; be curious; see what you see; hear what you hear; and then act upon what you know to be true. These intuitive powers were given to your soul at birth ~ Clarissa Pinkola Estés
I was taken to a nearby hospital. Very quickly, I was given an magnetic resonance imaging (MRI) scan. Soon after, a nurse came, and put in a transfer for me to go to a larger medical center down the road. She said something abnormal had shown up on the MRI.
The medical center had a very large neurosurgery practice. I was given another MRI, and then found myself being taken to the neurosurgery operating room. I was so surprised by all of this happening so fast! I was first given an angiogram. After that, I rested a bit, and was told that I had a large bubble that was ready to burst. It had to be operated on immediately, or I could face an early demise! So, I told the surgeons to go right ahead. I was in shock. Silently, I thanked my guide.
After the surgery, I was treated very well. The doctors kept testing my motor functions, and my memory a lot. I was alright! I am now becoming renewed, replenished. I am redefining myself, and I do like the 'new me.' It seemed like almost a miracle that I survived such a major aneurysm. I have spirit to thank for this. If it weren't for my guide's constant inner voice prodding me that morning, I surely would not have made it.
No effective guidance will ever be achieved by seeking the approval of others, for they all desire different things of you. Constant, pure guidance from Source comes forth from within you. It is always there ~ Abraham-Hicks
The moral of the story is: whenever you have an ache or a pain, and you can't really figure out why you are in pain, do go and have it checked out. I urge you to go, especially if your gut is telling you something is wrong. It may be spirit trying to guide you.
Get to know your own spirit guides or guardian angels. We all have them, and usually one is more predominant. You can become acquainted by asking your guide at bedtime to send you a message in your dream state. You will start getting information sent to you. Or you can use self-hypnosis or meditation, to meet up with your guides. Learn to listen to your inner voice and pay attention. It may just save your life someday.

About The Author: Gabrielle-Claire

Gabrielle-Claire is basically a spiritualist psychic reader. She gives the messages that her guides are giving her. She is also a gifted psychic healer and works with a senior member of the Aquarian Foundation. She gives readings and healings at her home, and also at a shop near to where she lives. You can have a reading from her at Psychic Access.com.


Posted in

Alternative Medicine, Angels, Healing, Intuition, Metaphysics, Paranormal Phenomena, Psychic Phenomena, Spirit Guides
|
Tagged

awareness, consciousness, disease, disorders, foreboding, forewarning, grace, guardian angel, guidance, gut feelings, Healing, health, inner guidance, inner voice, Intuition, intuitive, life lessons, medical intuitive, Meditation, miracles, pain, premonition, presentiment, psychic awareness, renewal, self-awareness, sensing, sixth sense, spirit, spirit communication, Spirit Guides, spiritual awareness, spiritual guidance, spiritual messages, Spirituality
One Response to The Day Inner Guidance Saved My Life
This site uses Akismet to reduce spam. Learn how your comment data is processed.