Dealing With Depression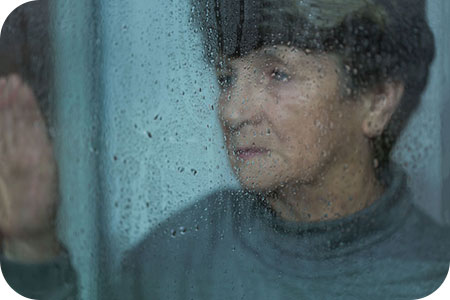 Why are depressed people often considered a 'downer'? To feel depressed is one of the most scorned, stigmatized emotions. Why, one has to wonder? I believe part of the reason is that people are uncomfortable being around someone who suffers from depression. Again, why? Are they maybe so unstable in their own façade of happiness that being around a depressed person will somehow set them off, tipping the balance in their fragile construction of superficial happiness?
Maybe the discomfort is due to others feeling compelled to 'help'… only to end up feeling angry, frustrated or helpless around the depressed person, because they just don't know how to be of any real assistance. This attempt at 'helping' is usually aimed at getting rid of the depression, but in truth an important part of real help is simple acceptance.
If one is truly centered, it usually does not matter if another is depressed or angry. Dealing with someone else's depression is simply like accepting the weather. You wear a raincoat if you have to go out, or you simply stay inside and wait for the storm to settle.
Various genetic, social and environmental factors can affect mood and cause depression. Poverty, abusive relationships, family violence, addiction, toxic environments, including food additives and air pollution (including off-gassing), can all be factors in causing depression, as well as weight gain, anxiety, sexual dysfunction, and so on.
So, depression is not a simple phenomenon, neither is it a choice. It is not something you can tell someone to 'get over' without some investigation into the actual causes. Without data and information you cannot effectively look into different methods of self-care and treatment. Intuition alone is also not enough. Spirit created us with a left brain too, for a reason!
Telling a depressed person to be happy is the same as telling a cancer patient to cure themselves ~ Dissentient
If you have a fear, prejudice or even revulsion towards depression, you will most likely run away from delving into why you or someone you love is feeling depressed, and instead opt for denial or superficial cover-ups. Many people are in denial about being depressed, because it is considered to be such an 'unacceptable' expression of emotion.
However, while there are extreme cases of mental illness, there is also a predisposition in modern society to over-diagnose and over-prescribe anti-depressant medication. In some cases, depression is merely an emotional 'winter season.' It is a time of slowing down, hibernating, resting. It is a time of slow days, hot chocolate, cozy fires and warm beds, with gatherings of friends and readings of books.
During depression you are forced to be in a relationship with your Self. You are forced to seek out resources for support, make changes in your lifestyle, and reprioritize. When you are depressed you are more prone to practice mindfulness. You have to, because life seems so heavy and slow… forcing you to experience everything more deeply and intensely. It is an opportunity to develop greater self-care.
During a depression we learn to never again suppress our feelings. We learn to not remain silent, because the ultimate price is too high. We learn to be kind, because in our depression we discover that when we bury our feelings and spiral into depression, our hurt becomes rage, which then leaks out randomly like radiation. It hurts everyone in our circle, because we are too weakened or emotionally crippled to confront what was destroying us. Depression teaches us to make amends to the Self, and others.
Character cannot be developed in ease and quiet. Only through experience of trial and suffering can the soul be strengthened, ambition inspired, and success achieved ~ Helen Keller
A bout of depression therefore presses you into becoming an authentic person, which is ultimately the 'cure' for depression. No wonder people are reluctant to be around a depressed person.  The authenticity developing in that person, as they struggle to become whole and more balanced, might 'infect' or confront you.  Authenticity is terrifying for many people in this day and age.
So, depression means you are healing. It is a step up from 'numbing out,' or addictive behavior in order to numb out. It does not mean you are a 'bad person' or a 'downer.' People who react poorly to your depression do so because you are triggering unhealed emotions in them, stirring up their unhealed issues and threatening their fragile 'house of cards' built on denial.
Note, if you are severely depressed and completely non-functional, you do need serious professional help. And if you are depressed and just getting by, you still need some help. Depression is a red flag that you are out of balance. The causes can be spiritual (past lives, entity attachment), environmental or physical (toxicity, nutritional deficiencies, genetics), or psycho-social (family, cultural history, trauma). Whatever the causes may be, you do need help to re-balance. You need someone teaching you how to have the courage to feel your feelings, and the skills to express those feelings, so in the future you can better maintain your balance through life's challenges.

About The Author: Nonna

Nonna lives in Southern California, and is a professor of psychology and a teacher of psychic development, energy work and meditation, who has recently finished her PhD. She has been a counselor for both humans and animals for thirty years, removing energy blocks through her expertise in the spiritual arts. She also has numerous years of study and practice with classic psychological therapeutic models, family work, twelve-step processes, nutritional and body/mind/spirit healing, complementary, alternative, and quantum medicine. Nonna is brilliant at unearthing the gems in every client's soul and polishing them to a fine finish. To release your own soul's sparkle, contact Nonna at PsychicAccess.com.