The Holy Guardian Angel Within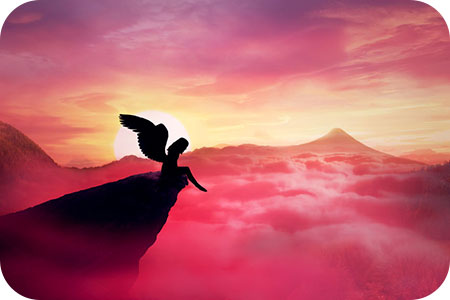 There are angels all around us, guiding us, whispering to us in our dreams, trying to get our attention. Life can get so busy that we often don't see or hear their subtle messages.
I was at a spiritual expo recently, doing readings and sharing messages. Several clients who sat down for a session, mentioned the intense energy they felt in the building that day. Some even experienced a glow or halo effect around the building, before they walked in.
Energy was indeed everywhere that day. There was the energy emitted by crystals on display, which we can entrain to balance our energies, as well as the many other sacred items the vendors were selling. There were also various kinds of healing techniques being practiced, as well as the many other metaphysical services being offered. But, most importantly, I believe there was the light inside each person that was amplified by our own Holy Guardian Angel.
There was an invisible connection happening with all of us there that day. We were seekers on the same path, acknowledging the Divine spark within each of us. Everyone was kind and patient.  I have experienced this phenomena repeatedly at spiritual retreats and events, but also in the everyday places of life. Life is sacred and we are magical beings.
I do believe that we not only have guardian Angels and angels who are here to help us, but also our own Holy Guardian Angel who resides within, the Teacher, our Higher Self. We can connect to this part of ourselves when we can lower our ego, soften our gaze, let the judgment of a person or situation dissolve… knowing it's not about being right, and see with the eyes of compassion.
Every being is a spark of the Divine, or God. Look into the eyes of the dog and sense that innermost core. When you are present, you can sense the spirit, the one consciousness, in every creature and love it as yourself ~ Eckhart Tolle
This Holy Guardian Angel within helps us with our Great Work. It is the purest and highest form of our essence and connects us to each other and the Divine, the Source of all life. It carries us over the abyss when challenges come up.
William Wordsworth wrote in his poem Ode: Intimations of Immortality from Recollections of Early Childhood, "Our birth is but a sleep and a forgetting; The Soul that rises with us, our life's Star… Thanks to the human heart by which we live, Thanks to its tenderness, its joys, and fears, to me the meanest flower that blows can give thoughts that do often lie too deep for tears."
I rejoice in the tenderness of the human heart and feel the love of our Holy Guardian Angel inside us. I know we can see the celestial light, the beauty in all creatures; we will remember again the vision and the dream. May we all remember the Divine Child we are, the love we have to give, and the glory of new dreams.

About The Author: Maggie

Maggie helps people turn the radio dial up on their vibrations to hear the messages you're meant to receive. It all began as a teen with a dog-walking job in the neighborhood that—if you'll excuse the pun—unleashed Maggie's innate Gifts as a powerful Intuitive Reader. What followed was a rewarding career as a Tarot Reader, Numerologist, Reiki Master, and Angel Card Reader—to name just a few of her remarkable skills. Maggie's accomplishments include on-air co-host for Blogtalk Radio, several published articles on Tarot and Numerology, she's an endorsed reader for The Tarot Guild, and a much sought after Intuitive Reader hired for both corporate and private events. In addition, she has a YouTube channel where you can view and subscribe to her weekly vibes. If you'd like to personally tune-in to Maggie's unique and highly accurate vibe, for yourself, you can find her at PsychicAccess.com.