Reboot Your Goals With 'Reset Mondays'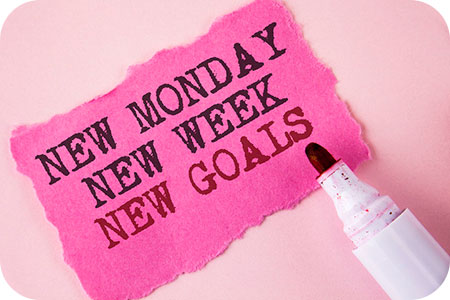 We all have goals. We plan to go big in our business, relationships, health, and many other areas of our life. Then we stumble as life happens.
Maybe you cutting out sugar this year, and then you had those chocolate chip cookies. Or did you commit to a workout schedule, only to skip a few sessions and finally give up altogether? Maybe that first date wasn't quite what you expected, or you chose to stick with that familiar person who still doesn't want to commit. You know what I'm talking about.
Failure and disappointment can cause us to lose our peace of mind and stay out of the game longer than we should. It then becomes more difficult to start again.
Maybe we need to be kinder to ourselves when it comes to our life goals, and appreciate the effort and progress we have already made. And when we do fall off-track, we need to consider what is underneath this action. Taking time to examine the 'why' can help us see the underlying cause. Sometimes it's boredom, or old habits, fear of failure, or just that 'little goblin' in our head. It can also be fear of success and being seen – a new level, new devil.
When we are willing to look at the why, we can find ways to plan for the big , as well as the little 'stumbles.' We can become inspired again. We can then get back on the path and choose again.
Adding flexibility into our goals is another way to choose a gentler approach. Looking for perfection is a rigid approach, which doesn't lend itself to reaching our goals. We just end up feeling bad and beating ourselves up, and it can take us out for a longer period of time. We accomplish more when we take the kinder and more patient approach. It helps us go the distance.
Hey, I know it's Monday but it's also a new day, a new week, and in that lies a new opportunity for something special to happen ~ Michael Ely
I recently discovered the concept of 'Reset Mondays.' Reset Monday is the chance to start fresh, which has helped me with several of my goals. If we have stumbled a bit we can set ourselves up for renewed success on Mondays. We can reset on any day of the week, but Mondays makes a great mini New Year. Before Monday arrives, we can plan for our reset and set ourselves up for success by remembering why we chose this goal or focus, and become excited again. The other added value to resetting at the beginning of the week, is that Monday is often thought of as the dreaded day of going back to work or school, or facing what has piled up or lacked attention. Using the Reset Monday approach one has something to look forward to instead.
For example, one of my priority goals is healthy eating, and therefore I now do a 'Meatless Monday.' So, I begin my week with healthier protein choices and plan accordingly for the remainder of the week. I get excited about it and post a photo of a delicious meatless dish on social media, collect other recipes around this theme and listen to inspiring podcasts on the subject. I often receive new ideas and recipes from other people on a similar path and even meet new friends with similar goals.  We are now encouraging each other, sharing tips and most importantly having fun while we keep our momentum going!

About The Author: Maggie

Maggie helps people turn the radio dial up on their vibrations to hear the messages you're meant to receive. It all began as a teen with a dog-walking job in the neighborhood that—if you'll excuse the pun—unleashed Maggie's innate Gifts as a powerful Intuitive Reader. What followed was a rewarding career as a Tarot Reader, Numerologist, Reiki Master, and Angel Card Reader—to name just a few of her remarkable skills. Maggie's accomplishments include on-air co-host for Blogtalk Radio, several published articles on Tarot and Numerology, she's an endorsed reader for The Tarot Guild, and a much sought after Intuitive Reader hired for both corporate and private events. In addition, she has a YouTube channel where you can view and subscribe to her weekly vibes. If you'd like to personally tune-in to Maggie's unique and highly accurate vibe, for yourself, you can find her at PsychicAccess.com.